League One: Rotherham chairman Tony Stewart says Steve Evans is staying at the club
Rotherham chairman Tony Stewart says manager Steve Evans will remain with the club next season.
Last Updated: 26/05/14 2:15pm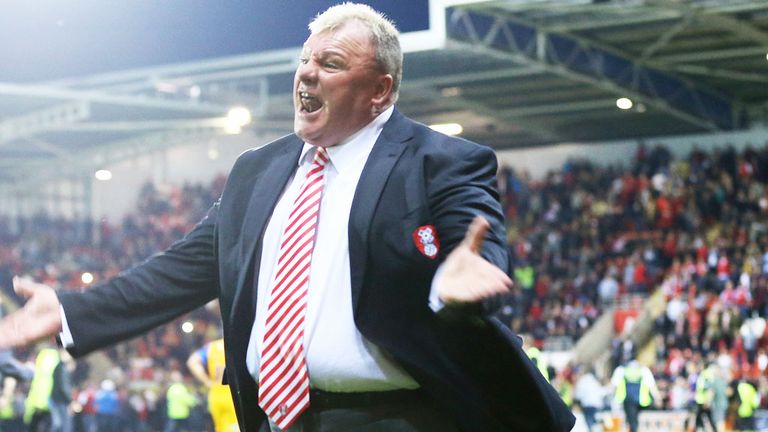 Rotherham won promotion to the Championship after beating Leyton Orient on penalties in the League One play-off final at Wembley on Sunday, and Stewart is prepared to give Evans the financial backing he will need to keep the club in the second tier.
Stewart told Sky Sports News:"Steve and myself have been together for two seasons. We get on very well and are both on the same page.
"We are both ambitious and what we are building, incrementally, as we move forward is a team to compete at all levels. That test will be in the Championship and Steve, like me, is looking forward to that challenge and we can't wait."
When asked if he would be giving Evans the funds he will need to attract
the right players to the club, Stewart answered:" Yes, my job as the chairman is to do, not all the biddings of the manager, but also to listen to the manager.
"He needs the tools to do the job and my job is to make sure he gets the tools to do that."
Evans added: "We have had a few celebrations last night. Our chairman was with us quite late. We sat as a group, had a bite to eat and a few drinks, it was well into the early hours before we went off to bed.
"I was very honoured that Tony Stewart thought highly enough of me from a distance to want to pay a lot of money to bring me (from Crawley) to his football club.
"The chairman took me through what it was going to be like and I had a look at the infastructure he was putting in place. I did believe the day I walked in that I could deliver him successive promotions. I believed we could do it and we have never stopped delivering.
"We will go up and try and strengthen and try and sign some good players as good as our current squad. I want to be aiming towards the play-offs."