Bees are buzzing
As part of Sky Sports' Sky Bet League One spotlight, Chris Burton catches up with Brentford defender Tony Craig.
Last Updated: 21/01/14 5:09pm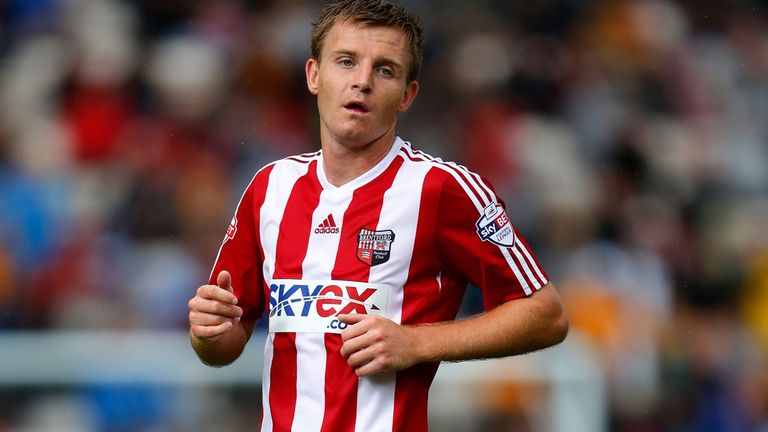 The 2013/14 campaign is now past the halfway stage, with divisions beginning to take shape.
Here at Sky Sports we will look to take you to the very heart of the Sky Bet Football League over the coming months, with our Spotlight features intended to give you a greater insight into the clubs and players that keep us on the edge of our seats.
We hope to bring you the views and thoughts of a representative from each of the 72 teams over the course of the season, with those involved asked to give their take on the division they compete in, the club that pays their wages and those we should all be keeping an eye on.
Brentford's Tony Craig is next into the hot-seat, with the Bees defender taking time out to discuss bouncing back and changes in the dugout with Chris Burton.
You're 15 unbeaten in the league, have won 13 of those games, you're absolutely flying aren't you and must be full of confidence?
We're on a good run at the moment. Obviously we have got a good few wins, but we are just a team that takes every game as it comes. We just look at the next opponents, and that's coming up on Friday against Gillingham, which is a game we're all looking forward to.
It must be all the more pleasing to be on this run and be where you are in the league given how last season ended - to have recovered and responded to that so well?
Definitely. We are a tight knit unit, all the boys get on with each other. It's one of those where we came back at the start of this season, spoke about it, but it's then forgotten about before the season has started. You have got to move on as quickly as possible and at the moment everything seems to be going well - long may that continue.
How long does it take for disappointment to be put to one side and determination to take over?
When you are away you do think about it, but we came in for the first day of pre-season, had a little chat about it and you just forget about it. It wasn't meant to be, it's happened, but I think it has made us a lot stronger and we want it more. Hopefully that has been justified by the results at the moment.
I take it top two is the only target now, you don't want to go through the play-offs again do you?
We'll take it any way it comes. At the moment we're in a good position and hopefully that can continue.
It's going to be tight, though, isn't it as the teams that were expected to be up there - Wolves, Peterborough, yourselves - they are starting to bunch together?
It's a good league this season. You have got some massive clubs in it - Wolves have got a massive budget, good players and have come down from the Championship. Preston North End and Leyton Orient, they have done superbly well with the squad that they have got. Ourselves, we have got a good squad and have good players who aren't in the squad at the moment who are ready to come in and take places in the team.
Is it all about short-term targets now, game-by-game and month-by-month?
It's a boring one but we are taking it game-by-game. Last week all of our focus was on Walsall, but after the game on Saturday then our focus turns to Gillingham.
You've done really well to respond to Uwe Rosler going as well, that transition appears to have been fairly seamless?
The gaffer was part of the backroom team already, chief scout and all that. He has come in and he hasn't really changed much. He has signed some players, but when he came in we were on a good run then. For the manager to come in for his first job, he has done extremely well.
I suppose it's a case isn't it of, 'if it ain't broke, don't fix it'?
Spot on. There wasn't much to fix. We were on a great run at the time and he's just come in and brought a few fresh ideas, which is understandable, and it seems to be working at the moment. Hopefully that can continue.
But Uwe Rosler deserves a lot of credit doesn't he for putting the foundations down and getting the club on this track?
Definitely. I spent 18 months with Uwe Rosler as my manager and I hold him in high regard. He was a good man-manager and he did exceptionally well at the club. When he moved on, everyone gave him their best wishes.
Mark could have gone with him couldn't he, but I suppose it says a lot about the club that he wanted to stay and believes you could be in that division next season any way?
The chairman decided to act very quickly and he's got somebody on board who certainly knew the squad and certainly knew the players. The gaffer now, he's got a few players into the club and he knew a lot about our strengths and our weaknesses because he had been there for the duration.
And David Weir as well, a good experienced head to have around?
Definitely. David Weir has been here for about a month now and he's come in and settled in well, he's certainly putting his points across. As a centre-half myself, he played until he was 40 years old and played at the top level, so every word he says you listen to.
On a personal level, are you happy with how things have gone?
Yeah, the season has gone pretty well so far and I've played in more or less every game, which as a professional footballer is what you want to do. Our record isn't bad at the moment either, so hopefully that can continue.
As a defensive unit you must be delighted with your record - 24 goals conceded, and only Wolves can better that?
As a defender you take pride in clean sheets and how many goals you concede. As you say, only Wolves are above us so we haven't done too badly so far.
Looking further up the field, you have a lot of loanees in - is that an issue heading forward or do you look at it as an opportunity to do permanent deals and freshen things up further down the line?
You don't worry about it. They have come in and down exceptionally well. George Saville has been in since the start of the season, he has come in and done really well and settled into the group. Marcello Trotta obviously knew us from last season, so he knew what we were about. Alan Judge has come in and done very well in the last few games and Chuba (Akpom) made his debut on Saturday and did well when he came on.
Alan Judge is a great signing for that level isn't he, a proven performer in League One?
Of course he is. Last season he was the best player in the league, so he knows what League One is all about. He has come in and done exceptionally well. Marcello Trotta was there last season and he is a goalscorer. Hopefully he can get the goals to take us on.
He deserves a lot of credit for coming back doesn't he, it would have been easy for him to look elsewhere and not put himself back under the spotlight there?
He is a good lad. No-one holds anything against him. Everyone keeps saying he has got a point to prove, but we know as players what he is capable of and at the moment he is doing exceptionally well. We just hope that continues.
Tony Craig was talking to Sky Sports on behalf of Sky Bet, the Title Sponsor of The Football League.
For a wide range of match odds and specials on all Football League matches and a £5 free bet every week, go to skybet.com.