Keep your chin up
York skipper Danny Parslow discusses avoiding another basement battle and the long road to recovery.
Last Updated: 21/12/13 9:55am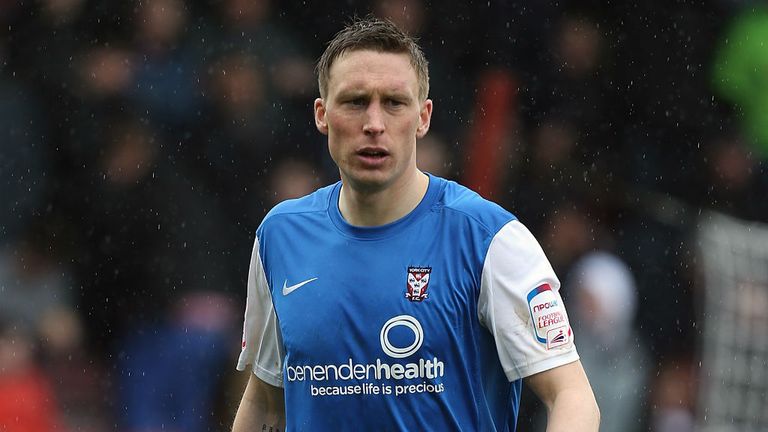 The 2013/14 campaign is now well under way, with divisions beginning to take shape.
Here at Sky Sports we will look to take you to the very heart of the Sky Bet Football League over the coming months, with our Spotlight features intended to give you a greater insight into the clubs and players that keep us on the edge of our seats.
We hope to bring you the views and thoughts of a representative from each of the 72 teams over the course of the season, with those involved asked to give their take on the division they compete in, the club that pays their wages and those we should all be keeping an eye on.
York's Danny Parslow is next into the hot-seat, with the Minstermen skipper taking time out to discuss avoiding another basement battle and the long road to recovery with Chris Burton.
We're approaching the halfway mark in the season now, how would you sum up how things have gone for the club?
It's been a bit up and down. We're not doing too well at the minute. Obviously we would like to be a bit higher up the league, but it's small margins in this league and anyone can beat anyone. We just need to find those performances, get some wins and hopefully climb up the table.
You say you're not doing too well, but you've become hard to beat - five draws in your last six?
This is it, we're close, it's just getting over that finishing line and getting three points. If you can turn a few draws into wins, before you know it you are up the table.
Can you put your finger on what it is that you need to do?
We've had spells where we've conceded some sloppy goals and we have struggled for goals. It's about finding that combination of shutting them out and then scoring. We have been going ahead in matches and trying to hang on to leads, but unfortunately we have been pegged back. Hopefully, starting on Saturday against Oxford, we can put that right.
It's so tightly packed in the division, though, isn't it that a couple of wins over Christmas and you could be mid-table heading into the New Year?
You're right. Christmas is a busy period and there are a lot of games in a short space of time. If we can string three or four wins together, then we can really jump up the league.
You've got some big games coming up as well haven't you - Oxford will be tough but then you've got Accrington and Bury, who are both in and around you?
They are. Like you say, Oxford will be a big test - top of the table coming to our patch, it will a great test where we can go out, express ourselves and hopefully show what we're capable of. Then we have got the likes of Bury and Accrington, who are where we are as well, so they are very big games.
I take it everyone is desperate to avoid a similar situation to last season when you were sweating on your Football League status heading into the final few weeks?
Exactly. It was a huge test towards the end of last season, very tiring mentally and physically. The games come thick and fast and knowing that you're trying to save your Football League status, we don't want to be in that position again, not at all. We need to start picking up points to ensure we avoid being in the horrible position we were in last year.
Has the adjustment to League Two been tough? Is the standard higher than people sometimes give it credit for?
The likes of Crawley and Stevenage have just got promoted and Fleetwood, they are up at the top end as well. Teams that get promoted, teams in the Conference, maybe feel that if they can get out of the Conference then the sky is the limit. But League Two is very competitive and you need to be on your game every Saturday and Tuesday night. It's a very competitive league, very.
A lot of teams are coming up with bigger budgets than you, though, aren't they?
I think you're right. The likes of Fleetwood have invested heavily to try and kick on and get out of the league again. Rotherham, financially they blew others out of the water last year, and it worked as they got out of the league. There are teams with bigger budgets than ours but we have got a squad of players who are more than capable of doing better than we're doing at the minute. We just need to knuckle down and get some wins.
People need to remember where the club was 10 years ago don't they, it's been a long road and you have to take small steps - don't try and run before you can walk etc?
We were out of the Football League for nine years, I think it was. To then get promoted, I think everyone needs to be realistic about the size of the club and the ambitions. We all want to be ambitious and play at the highest level possible, but these things take time and aren't going to happen overnight. We are where we are for a reason and we need to just make sure that we consolidate, build and then be in an established position to kick on.
On a personal level, how's the knee? Just waiting to get surgery out of the way now?
Yeah, that's it. I have been unfortunate. I have ruptured my cruciate and it's come as a big shock. I'm 28 and this is my first serious injury. It was tough to take at first, but I've had reassurances off the surgeon and from lads that have been through the same thing. It's just good to know that if I work hard in my rehab I will be back fit and strong for next season.
As you take in your first serious spell on the sidelines, are you expecting to be a bad spectator - you want to be out there, don't you?
Of course. It's going to take some getting used to. Not being available, and not be available to win matches for York, it will be tough but I have to be a supporter until the end of the season and cheer the lads on. We have got a strong squad who are more than capable of picking up results and pulling us away from the drop zone.
This is obviously not how you wanted your season to end, but it's your eighth with the club and I take it you still feel that York is the perfect place for you?
Of course. I've been here a long time and have enjoyed every second. There have been highs and lows along the way - we've had relegation scraps in the Conference, then we had the promotion year when we won at Wembley twice in a week. I signed a two-year deal in the summer. This injury has come at an unfortunate time, but my main concern now is to work as hard as I can once I've had the operation, get fit and be in the best possible shape I can be for the start of next season.
You signed the new contract in May and will need another one to get to 10 years, but is that something in the back of your mind that you would really like to achieve?
To be fair, I haven't really thought about it. Everyone goes on about 10 years and that it doesn't happen very often nowadays. I have got another season left, which takes me to nine seasons, but who knows what will happen in football. Like I say, I have enjoyed my football at York. I have played over 300 games and I would like it to be many, many more. Who knows, let's wait and see.