Cod Army General
Fleetwood skipper Mark Roberts talks stepping down a division in order to join an ambitious project.
Last Updated: 05/03/14 5:56pm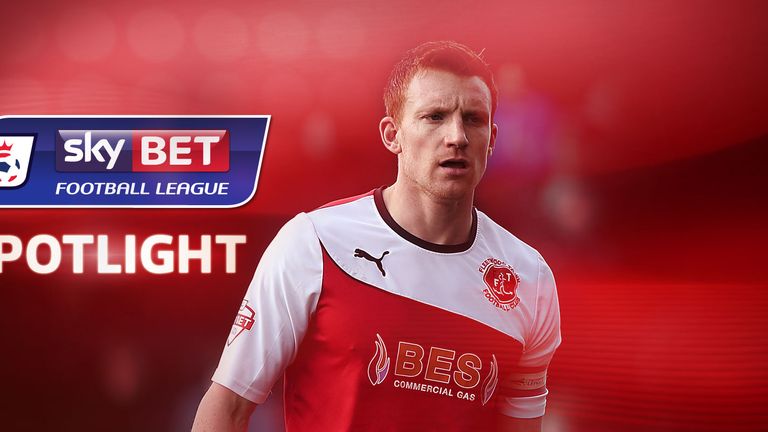 The 2013/14 campaign is now entering the final straight, with divisions beginning to take shape.
Here at Sky Sports, we will look to take you to the very heart of the Sky Bet Football League over the coming months, with our Spotlight features intended to give you a greater insight into the clubs and players that keep us on the edge of our seats.
We hope to bring you the views and thoughts of a representative from each of the 72 teams over the course of the season, with those involved asked to give their take on the division they compete in, the club that pays their wages and those we should all be keeping an eye on.
Fleetwood's Mark Roberts is next into the hot-seat, with the Cod Army skipper taking time out to discuss stepping down a division in order to join an ambitious project with Chris Burton.
I imagine you are all more than happy with where you are at the moment aren't you, but aware that you need to really kick on from this point?
Yeah, we do. We're a bit disappointed to fall off the pace with the automatic positions because we've been in and amongst it all, but there is still a great opportunity for us to finish the season strongly. We have just got to concentrate on ourselves, get as many wins as possible and see where that takes us.
You've had a bit of a wobble recently, but I suppose you would rather have that now wouldn't you than a month down the line - given the amount of games that are coming up?
Exactly. It's been one of those seasons in League Two this year where one team has taken the top mantle and seems to be kicking on, then they'll have a bad patch of results. Every team has gone through those runs and those blips. But we've also gone on runs where we've won five games on the bounce, or four games out of six, so we know we're more than capable of producing that series of results. We need to do that now.
The odd thing is that the goals have dried up - none in your last four - because that hasn't really been a problem this season has it?
At the start of the season we were free-scoring, we were looking really confident in front of goal and throughout the season the goals have come from all over the pitch, we have never been reliant on one striker or one person to get the goals. It's been well shared, and I think that's a big positive. Also, although we haven't scored many goals in our last four, five, six games, we've got the players that are capable of doing so. We've had a couple of injuries to key players, that's not helped, but we know as a team that we need to share that burden and whether it's a defender or a midfielder, come the next game we all need to make sure that we're looking to get on the scoresheet.
It's just about plugging away isn't it and, on paper at least, the next few games look winnable?
At this stage of the season, whoever you are playing in this league, they are all fighting for points for different reasons. We play Torquay on Saturday, who are fighting relegation, so their need for the points is just as great as ours. We just need to make sure we get ourselves together, show the desire and make sure we want it a bit more than them.
For Fleetwood, expectations keep on rising don't they and you are expected to be in the promotion mix this season?
The club is used to winning, it's geared to win and wants to win. It's very ambitious and that's why myself and the other players have signed up to be a part of it. Expectancy comes with that and you've got to enjoy that pressure. That's what being a footballer is all about, it's about winning games and fighting for medals at the end of the season. We've given ourselves an opportunity to do that and we want to make sure all of the hard work we have put in, what we have produced, ends with what we aim to do.
I take it that it was that ambition which drew you to the club in the first place - having been through something similar at Stevenage?
Definitely. Not just myself, there are other players that have experienced promotions and experienced success at other clubs. Those experiences will be vital in the weeks and the games ahead. I'm all about winning and I wanted to be a part of it and surrounded by people who felt similar. The gaffer and the managing staff are all very ambitious, they are all geared towards winning every single day - whether that is on the training ground or on a match day. That sort of environment is where I think I thrive and that's what I want to be around.
The club has bought into that philosophy hasn't it - getting experienced heads on board like yourself, Ryan Cresswell, Jon Parkin etc?
Yeah. We've also got the likes of Steve Schumacher, who captained Bury to promotion from League Two, we've got Parky, who is a great character around the place, Stevie Jordan, who won promotion to the Premier League with Burnley. We've got some experience and that experience is vital, whether it is players out on the pitch or in and around the dressing room. Those people and those characters, personalities, are what are going to help you to get over the line.
Was it also about taking on a new challenge for you - you could have stayed at Stevenage and played it safe?
For me it was. I had a fantastic time at Stevenage and memories and experiences that I will remember for the rest of my life and the rest of my career. But I felt it was the right time to move on and the opportunity to be part of something new was exciting. I want to make sure that I now help the team and the club get to where we all aimed for at the start of the season. It was always about promotion, about taking the club on to the next level. We had a really good run in the JPT, we had a lot of success there and just missed out on a Wembley appearance, but we want to make sure now that we don't fall short in the league. We want to make sure that next year we're playing in League One.
On your time at Stevenage, you did a bit of everything didn't you - a couple of spells as caretaker boss - but now it's all about the football?
It was a fantastic time in my life. I was working with people and players that are still good friends to this day and that experience will stay with me for a long, long time. I did have a time as caretaker manager on a couple of occasions and although that was surreal, it was something that helped me on and off the pitch. Personally, I felt like I developed as a player. It's something I'd like to do again in the future, but at the moment I'm fully concentrated on playing and helping Fleetwood get promotion.
Do you feel that you are now at a club that has no glass ceiling, one that can keep on climbing?
Definitely. When you meet the chairman, when you meet the gaffer, it's all geared towards being the best you can be and not thinking that the impossible is impossible. We are trying to make that possible, we are trying to keep growing the club and the chairman and the club are working tirelessly behind the scenes to keep evolving, keep growing and increase the fan base. It is up to us on the pitch, though, to keep taking the club forward because you know that you are going to get that support and that backing from behind the scenes. That's very important because there is an opportunity there. We've shown this year, although it was in cup competitions, we've played four or five League One clubs and beat them well. We have shown the capability of the squad and there is a lot of potential, a lot of ability and a lot of ambition. When you get all of those things together, you have got a great chance of moving forwards.
On a personal level, has it lived up to expectations and been everything you hoped it would be?
Yeah, I'm really enjoying it. I'm really enjoying my football. I'm really enjoying playing for Fleetwood and captaining them. This is the time of the season now, with 12 games to go, where it's what you work so hard for. It really is important that you have something to play for at the end of the season, something to go for. All of those hard runs over the winter and all of those games and all of the effort you have put in, it's about the last 10-12 games and pushing for success and knowing you can look back on all of that hard work and know that it was worthwhile.
Having been handed the armband shortly after arriving, I suppose you're just looking for the icing on the cake now aren't you, the perfect ending to a productive season, and that would be promotion?
Exactly. That was my ambition, that was the club's ambition and the reason that I signed, to get the club promoted and help any way I can. We have got that opportunity still ahead of us. It's going to be hard work, there will be ups and downs, but we need to keep ourselves focused on where we want to get to. If we can keep on that track, I'm sure we'll stick together and get to where we want to.
Mark Roberts was talking to Sky Sports on behalf of Sky Bet, the Title Sponsor of The Football League.
For a wide range of match odds and specials on all Football League matches and a £5 free bet every week, go to skybet.com.