League Two: York v Fleetwood play-off semi-final first leg postponed
York's League 2 play-off semi-final against Fleetwood at Bootham Crescent was postponed due to a waterlogged pitch.
Last Updated: 11/05/14 9:15pm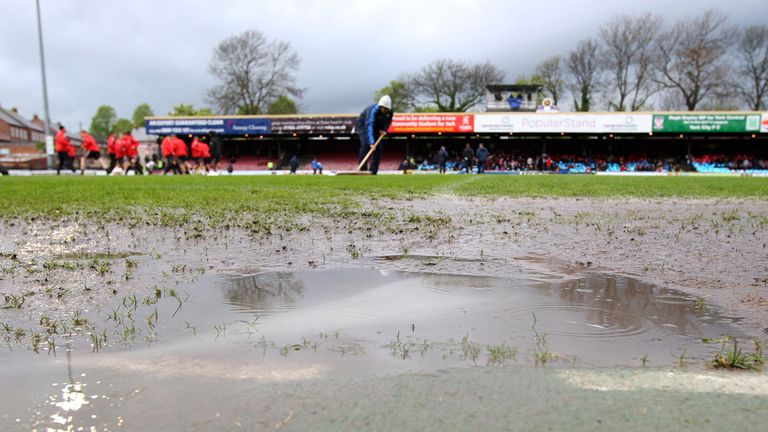 Hull referee Carl Boyeson opted to delay the first leg for almost an hour following a late pitch inspection but with more rain falling the playing surface was deemed unplayable.
The game has been rearranged for this Monday with a 7:45pm kick-off - the second leg takes place in Fleetwood on Friday night.
Boyeson said both York manager Nigel Worthington and Fleetwood counterpart Graham Alexander had fully supported the decision.
He stressed: "Obviously when I arrived at the ground there were concerns about the pitch and the weather.
"It was holding water. At 7.15pm it stopped raining but the pitch was still unplayable at that point.
"I gave the groundstaff 45 minutes, with it not raining, to get the pitch in a position where we could play the game.
"But, unfortunately, during that 45-minute spell it started to rain again and the harder the groundstaff were working, the worse the pitch was getting because of the rain.
"I can't say enough about the effort the groundstaff have put in to get this game on but they've been beaten by the weather.
"You don't expect a game to be called off in May because of rain but with it raining all day a decision was made at 7.50pm to call the game off.
"Both managers supported me throughout, they were patient, they listened, they went out there when I asked them to look at the pitch.
"It's stopped raining now and the pitch could be playable but, in 10 minutes, it could be torrential and that's the way it's been."