The next step: David McGurk
The former York City and Darlington defender speaks to Sky Sports about calling time on his professional career at the age of just 31 and his plans for the future.
By Rob Parrish - Follow me on Twitter @RobParrish75
Last Updated: 02/06/14 2:51pm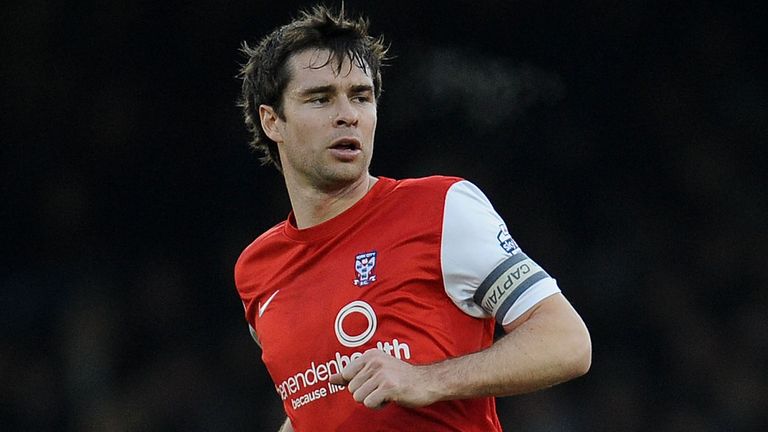 While Yaya Toure's now-infamous agent Dimitry Seluk does little to dispel the perception that some of those at the pinnacle exist in an alternative reality to the rest of society, there are scores of Football League players searching for new contracts, wondering where their next pay cheque will come from or contemplating a career away from the professional game.
Former York City and Darlington defender David McGurk is arguably one of the fortunate few. Although the centre-back has elected to walk away from a full-time football career aged just 31 due to the impact of ongoing injury problems on his home life, he does so with a clear path for his future.
But in a 13-year career which saw him make 395 appearances - the most memorable two of which came at Wembley in the 2009 FA Trophy final and the Conference play-off final the following year - McGurk has seen his team-mates struggle through some difficult times when their deals expire.
He told Sky Sports: "Fortunately, I've always had time on my contract. I've always had that extra year on top. But it's horrible - people are talking about mortgages and livelihoods here, it's not like they can go and fall back on something else they have got behind them.
"It's not nice seeing your friends being released. You speak to them a couple of months later and they still haven't got a job and they have to sell their car and things like that. It's hard.
"To be fair to the PFA (Professional Footballers Association), they are doing everything they can to get people to have courses and degrees behind them, and if I could go back to being 18-years-old again I would have three degrees behind me now.
"There are so many opportunities out there for young footballers to get degrees via the PFA fund, but when you are that young you don't really think that way."
While the weekly salary of some Premier League players is in an entirely different stratosphere to those plying their trade in League 2, McGurk insists that there is no resentment towards the men reaping the greatest rewards, but rather an ambition to join them.
"I would say the lads in the lower leagues have more respect for the players at that level," he said.
"That's what we want, that's what we're playing for. We want to get to that level because we can see the rewards.
"Every Saturday we are going out to try and get to that level that the Premier League footballers are at - we want a taste of it, we want a piece of it."
McGurk called time on his professional career in the wake of York City's Sky Bet League 2 play-off semi-final defeat at the hands of Fleetwood in May, a loss which denied the Middlesbrough-born defender the chance of a third outing at the home of football.
With the impact of surgery on a serious knee injury three years ago meaning his training schedule had to be carefully managed, McGurk found himself struggling with a back problem in the latter stages of this term which made him reassess his personal and professional priorities, particularly with his 15-month-old son to look after.
He explained: "I had a knee operation around three years ago and afterwards the surgeon said to carry on at the level I am, I was looking at another three to four years.
"Fortunately Nigel Worthington (York manager) understood that and he slowed my training down a little bit, but what I found was I was picking up little niggles because I wasn't training as much.
"I was going into games where I would have liked a lot more training under my belt, but when I was over-training I was picking up worse injuries.
"It got to the point where I got together with the physio and we had a plan where it was working fine and I had been fit and available for over 40 games this season, but towards the end of the season I started getting trouble with my back.
"I was getting through training, taking painkillers, but I was coming home and really struggling with my little boy. Your priorities change when you've got family that comes along - he is my main priority now.
"Since Christmas, my back has been into spasm about three or four times. It was getting to a weekend and I was managing to play, but it was really affecting my life at home.
"It wasn't fair on my boy when I'm spending my days off with him and he just had to sit on the floor because I can't even pick him up.
"It wasn't fair on the football club. The gaffer was making provisions for me. I would be due to play on Saturday, but after training on Friday I would need a fitness test on Saturday because of problems with my back or something else.
"The gaffer would have to drop another player on Friday, who would then have to play on Saturday after already being dropped. It wasn't fair on my team-mates and the manager to put them in that position."
McGurk already has his future mapped out, though. A move into the part-time game means his playing career will continue at a lower level, while he is working towards gaining his coaching qualifications having set up an academy for young players in Wakefield.
He said: "Coaching definitely interests me, management I'm not so sure of because I feel it can take over your life a little bit.
"I'm on my way with my badges; it's something I would like to go back into in a professional capacity. But I want to go away and get the full set and that takes three to four years. I started from the bottom two years ago and I don't think there are any short-cuts you can take in coaching.
"I went and worked with the York City Under-14s last season and I enjoyed it. You get great satisfaction in seeing kids developing in the training York are giving them.
"Me and my team-mate John McCombe have set up a little academy in Wakefield - it's called Pro-Player Football Academy - looking to improve kids in the area and send them on to professional clubs.
"We're hoping that local teams will bring their players along, hopefully we can improve the players and we've got contacts at professional academies where we can send them along to."
There is also gambling website betsofmates.com which McGurk set up with some friends and is now looking to 'take to the next level' via the increasingly popular method of gaining additional support via crowd funding, with the general public being offered the opportunity to invest in the business via crowdcube.com.
He explained: "At the time it was just an idea, I approached a couple of friends and from then on it just snowballed. Pretty much everything you see we have funded ourselves. Now we feel like we can take it to the next level.
"Anyone from the public can buy shares in our company. It's only been on crowdcube.com for 11 days and so far we've raised almost £33,000, so fingers crossed we can move towards our £200,000 target, but it's a bit of a Dragons' Den scenario."