Numbers Game
West Brom (9/4 DNB) are this week's Value Bet, while Liverpool are opposed and there are 9/4, 11/4, 2/1 and 11/8 tips lower down the ladder.
Last Updated: 19/10/12 3:46pm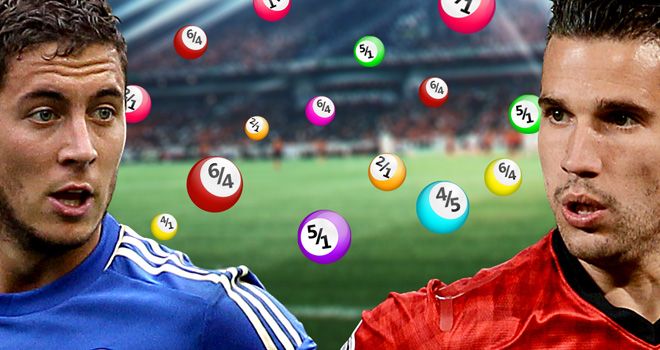 With the boredom of the international week behind us, @MattPBriggs' Numbers Game betting blog returns with all the usual stats and betting pointers. Liverpool and Manchester City both look vulnerable on Saturday and backing their opponents Reading and West Brom could well pay dividends. I'm also confident I've unearthed some big-priced gems in the Football League and there are some big opinions from the bookies.
VALUE BET
West Brom DNB v Man City at 9/4.
Sergio Aguero and Pablo Zabaleta have been away with Argentina all week, James Milner, Joe Hart, and Joleon Lescott were late back from England duty and David Silva will be missing after picking up a knock on international duty, while Jack Rodwell and Javi Garcia are also out. It could represent a great chance for the Baggies, who are four from four on home soil and playing well, to topple the champions.
STEAMERS
Sky Bet say the biggest move in the Premier League has been Arsenal, 4/6 into 1/2, which is understandable when you look at the problems Chris Hughton is facing at Norwich.
The other big move of the weekend is Gus Poyet's Brighton. The Seagulls haven't won since September 22 and have had disappointing performances against Birmingham, Ipswich and Derby. However, the market likes them and they've been punted from 10/11 into 8/11 to beat Middlesbrough at the Amex.
WHO'S HOT
Tottenham (7/5) have won last four Premier League games and host Chelsea (9/5) (12.45pm kick-off).
Chelsea (9/5) have won last three Premier League games and visit Spurs (7/5).
Leicester (23/20) have won last five Championship games and travel to Birmingham (23/10).
Crystal Palace (11/10) have won last four Championship games and host Millwall (12/5).
Cardiff (19/10) have won last three Championship games and travel to Nottingham Forest (11/8).
Tranmere (2/1) have won last three League One games and travel to Bournemouth (13/10).
WHO'S NOT
Norwich (11/2) have lost last three Premier League games and host Arsenal (1/2) (5.30pm).
QPR (11/5) have lost last three Premier League games and host Everton (6/5) (Sun, 4pm)
Walsall (1/1) have lost last three League One games and host Crewe (13/5).
Aldershot (11/5) have lost last five League Two games and host Rotherham (23/20).
TRADERS' VIEW
Sky Bet: From the bookmakers' point of view there are plenty of teams we're happy to get in the book this weekend. In the Premier League Liverpool 4/11 look the lay of the day. Brendan Rodgers' side have been struggling to date, add to that the loss of Fabio Borini, combined with Luis Suarez travelling halfway around the world and the England contingent coming back a day later and it all adds up to a cracking lay!
Other sides we're happy to get in the book are Swansea at evens, due to the current dressing room unrest at the club. And with David Silva picking up a midweek injury for Spain, Man City at 4/6 look a lay at The Hawthorns. West Brom have won four from four at home in the league and with Sergio Aguero and Pablo Zabaleta travelling back from South America we are keen to take on Man City.
BOGEY TEAMS
Spurs (7/5) have won just three of 40 Premier League games v Chelsea (9/5) and just one of last six.
Fulham (5/6) have won none of last six Premier League games v Aston Villa (16/5).
Man United (2/7) have won eight and lost none of last nine league meetings v Stoke (9/1).
Arsenal (1/2) have won five and lost none of last 12 trips to Norwich (11/2) in all competitions.
Portsmouth (11/10) have won nine out of nine v Shrewsbury (9/4).
BANKER
Dagenham double chance (win and draw) v York at 8/13.
John Still's Daggers have beaten Bradford and Chesterfield recently and they certainly look like a team on the up. Saturday's game in Yorkshire will be a clash of two differing styles, but I expect Dagenham's "up and at 'em" approach to triumph over York's neat passing game.
HOT-SHOTS
Torquay's Rene Howe scored in last six and is 5/4 to score at Bristol R.
Burton's Billy Kee scored two in his last four and is 5/2 to score at Gillingham.
Portsmouth's Wes Thomas scored last time out and is 11/8 to score v Shrewsbury.
Accrington's Padraig Amond has three in four and is a 2/1 shot to score at Oxford.
TREATMENT ROOM
Reading double chance (win and draw) v Liverpool at 2/1.
Fabio Borini is out with a broken foot, while Pepe Reina is a doubt. Steven Gerrard, Glen Johnson and Jonjo Shelvey were late back from international duty and Joe Allen, Martin Skrtel, Nuri Sahin, Daniel Agger, Jordan Henderson and Luis Suarez all started for their international teams in midweek.
Accrington to win at Oxford at 11/4.
Ever-present central defender Jake Wright is banned, while fellow centre-back Michael Duberry has been missing all season.
FAMOUS LAST WORDS
Rochdale to win at Plymouth at 8/5.
After last week's defeat by Morecambe, Dale boss John Coleman said: "I was disappointed with the first-half performance, I thought we were woeful in the first half. We had a great chance early on but their goalkeeper made a world-class save. We had a bit of bad luck with Kevin McIntyre's effort which took a double ricochet off the woodwork and we had one that just squirmed wide off their lad."
Chesterfield to win at Exeter at 5/2.
Spireites boss Tommy Wright speaking after last weekend's defeat by Dagenham, said: "Our first-half performance wasn't good and I'll take some of the blame for that because I picked a system that would suit us but it just didn't work. The whole first half none of the players were on the front foot and we seemed to lack the urgency and desire and we have to look at that because it shouldn't happen. I was pleased with the response in the second half, I kicked a few backsides at half-time and told them they couldn't go out on the field and expect things to happen."
Bournemouth to beat Tranmere at 13/10.
Speaking after last weekend's 3-2 win over Yeovil, Tranmere boss Ronnie Moore said: "We showed a lot of character to come from two goals down, but we were awful in the first half with the goals we gave away. We weren't at the races all day, but we showed a bit of courage, determination and togetherness and scored at the right time - just before half-time. I felt that once we got in at 2-1, it was a game we could go and win."
You can follow me on Twitter at @MattPBriggs