Right move
Torquay defender Aaron Downes talks promotion ambitions and a change of scenery with Chris Burton.
Last Updated: 27/05/13 11:47am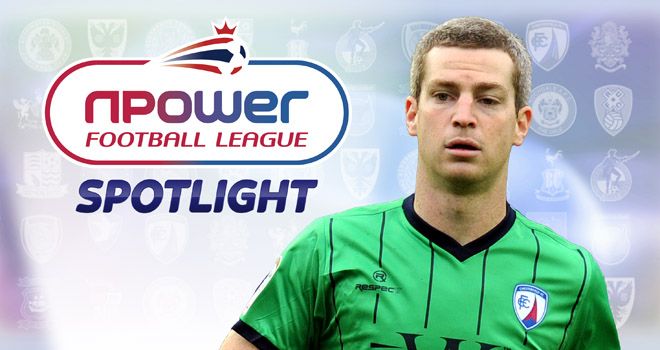 The 2012/13 campaign is now well under way, with divisions beginning to take shape.
Here at Sky Sports we will look to take you to the very heart of the Football League over the coming months, with our Spotlight features intended to give you a greater insight into the clubs and players that keep us on the edge of our seats.
We hope to bring you the views and thoughts of a representative from each of the 72 teams over the course of the season, with those involved asked to give their take on the division they compete in, the club that pays their wages and those we should all be keeping an eye on.
Torquay's Aaron Downes is next in the hot-seat, with the Australian defender taking time out to discuss the Gulls' promotion efforts and all things League Two with Chris Burton.
Would it be fair to say that Torquay's start to the season has been positive, but slightly inconsistent - you're yet to pick up back-to-back wins?
It's not something we are highlighting, we all know that ourselves. We have had some fantastic performances this season, but we've had some well below-par performances as well. No back-to-back wins is frustrating for us and is something we are trying to address. You could say it has been an inconsistent start but I still feel we have started well generally. I do think the best is still to come from us and we have still put in some really good performances, especially at home.
It must be really puzzling for the players and management, you do the same thing every week and one week it works, the next it doesn't?
It's frustrating, but it is still a relatively new team. There is a nucleus of players that were there last year, but myself and one or two others have come in this season and we're still gelling and getting to know each other - the goalkeeper Michael Poke, myself and one or two others. We are still learning about each other and the more we play together, the better we're going to get. We have still had a relatively good start, I feel, it's not gone too bad.
Are there still areas to work on? As part of the defensive unit, you've only kept three clean sheets so far.
Yes and no. Definitely we want to keep more clean sheets, but I feel the defensive partnership between me and Brian Saah is really good. I'm enjoying playing with him and as far as I know he's enjoying playing with me. We have great potential to keep clean sheets and get goals. I think we started really well, in the last couple of weeks we have conceded a few more than we would have liked, but we have started scoring more as well. It's just about trying to find that balance between being attack-minded, but also wanting to keep clean sheets as a team. It's not just four or five players that keep clean sheets, it's the whole team. It's about finding the balance - not being too defensive and not scoring any goals, but not being too attacking and conceding too many. I feel we are getting there.
There is an expectation to be successful this year isn't there, after the club made the play-offs last season?
I suppose there is a bit of expectation, you feel as though everyone wants to go one better. I said when I joined the club that one of the reasons I signed was because of that reason - I'm getting to the stage of my career, I'm only 27, where you look back on your career and you want to say 'I got promotion here, there and wherever'. I'm at a stage now where I want to win medals and I want to win as many things as possible so when you look back on your career, you're proud of it. Coming to Torquay is a great opportunity for me to go and do that and get a medal and a promotion on my CV. There was expectation coming in, but it's something I had myself. It didn't bother me too much because it's still early and we have plenty of time to achieve what we want to achieve.
You weren't part of it last season, but Torquay's wobble towards the end highlights how important it is to finish well doesn't it?
They had a little bit of a jittery start but through the middle of the season, middle and back end, they hit a great run of form, going a lot of games unbeaten. They were solid defensively and nicked a few goals, and I think that is what they are trying to build on this year. The last few games towards the back of the season didn't go too well for them. We are trying to aim to be a bit more consistent this season. We'll be looking to rectify that in the coming weeks. Last year they did fall away towards the end so hopefully we can do what they did last season, but not falter at the end and go one better.
What does it take to be successful in League Two?
Luck is definitely a factor, no matter what. When I was at Chesterfield I was injured for the season they got promoted, but I was there and around the changing room and part of the games every week. Luck is definitely a major factor in it, but hard work is something that has to be put in. If your team isn't working hard, the simple fact is that you will not win games. But if you are organised, have a manager who knows what he wants and sticks to a plan and players embrace that, you have got a great start there. I think that's what we have. We have players who are willing to work hard every game - even if we lose a game, we come off the field and everyone has tried their hardest. It might not have gone their way that day, they might not have had the best of games, but it wasn't for the lack of trying, and that goes for every member of our squad. Hard work is key to getting promotion and you need that luck - you need someone who is going to get you goals and you need a few clean sheets. It's not rocket science, it's just a case of putting that into play. I feel we have all the ingredients.
You must be happy with your summer switch - you're injury-free and playing regularly?
That's a major thing for me. This season, to go on and win something was important for me and it was a great opportunity for me to come here and be part of a club that is looking to be successful and looking to challenge at the top. But one of the main priorities for me was to, without jinxing it, stay as injury-free as possible and play as many games as possible. The last two-and-a-half seasons have been a bit of a write-off for me. Last season I played 20-odd games, but I sort of flitted in and out at Chesterfield and then went to Bristol Rovers and did quite well. It was a bit stop-start last season so this year I wanted to get a good run, play as many games as possible and win something. So far, that's going to plan. I'm not going to get carried away, but it's gone better than I could have hoped.
Do you feel that a change of scenery has done you good after so long at Chesterfield?
Eight seasons at Chesterfield, that's a long time and sometimes you can get bogged down. I absolutely loved my time at Chesterfield and it was a brilliant club for me, but I do feel that the time was probably right for me to move on. I did get a bit stagnant and things got a bit tough. As much as the club wanted me to move on, it was good for me to move on and down here is a fantastic place to live - it's one of the nicest towns in the country. The club is a lovely club and everyone has been really good to me. I'm just really enjoying my football, which is wanted to do. I've got very lucky, that's for sure.
You are hoping Torquay will be there or thereabouts come the end of the season, but who else do you see going well?
We have played the majority of the teams at the top, there are only one or two that we haven't. Obviously Gillingham, with the start they have made, have been very impressive. We played them the other night and were fortunate enough to get one over on them. You can tell they work hard, Martin Allen has got them really organised and they have had a bit of luck as well. You can see them being at the top. The way Port Vale are going, you wouldn't begrudge them being in the top three either. They are another team with experienced players and players who are willing to work hard and fight for wins. That's what you need. Those two will be there or thereabouts and I would think that we will be up there as well. We haven't played a team this season that has scared us, there is no team we have played and thought we couldn't have won that game. Every game we have played, we have thought we could have had something out of. It's frustrating that we haven't, but you can't win every week. But we are quietly confident. It would be nice for us to sneak under the radar and have a good run to the end.