London Calling
Bradford City fan Steve Pass looks back at the Bantams' remarkable Capital One Cup run, and foward to Sunday's final.
Last Updated: 23/02/13 1:19pm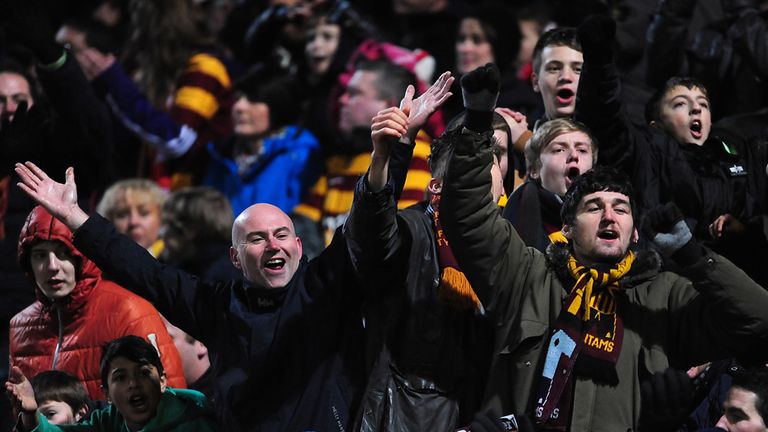 Like many City fans, Sunday is something I never thought I would ever experience in my lifetime - a Wembley final - and I still cannot quite believe it!
After ten years of un-mitigating doom and gloom, it is fantastic to taste this nectar of success. Every time I think of it, I have a big smile on my face and it is the same for everyone - it has given the City a real boost, everyone is talking about it and there is a real buzz about the place.
And no-one can claim we don't deserve to be there - beating higher-level opposition Notts County, Watford and Wigan away, coming from two goals down to see-off Burton and then disposing of big-boys Arsenal and Aston Villa.
On a personal level, this cup run came at a good time - my wife was diagnosed with eye cancer before Christmas and the Arsenal and the Villa home wins were a real boost during some dark times.
To make sure I got my Villa away ticket, I travelled over to Valley Parade from Harrogate where I live on my scooter at five in the morning - it was freezing! I was the tenth one there - the first had arrived before 3am and had sat in his car for an hour or so before the next arrived. There was good banter among the fans and I found out a lot about the club which I never knew - such as how much we spend on wages, how much we pay to rent the ground.
On the day of the match itself, I drove over from being with my wife in the hospital in Sheffield to meet my work-mate Raz and his brother in Edgbaston. They are Villa fans and we had a good banter before the game, there was plenty of anticipation. But I always thought we could beat Villa - like Arsenal, they didn't seem to have any leaders on the pitch and the Villa defence had looked so shaky in the first leg.
I also honestly think we are fated to lift the cup - I had been to the Burton match earlier in the run, where we came from two goals down at half-time to win 3-2 - Nahki Wells scoring in the last minute to take it to extra-time and then Stephen Darby notching a wonder-goal into the top corner with five minutes to go to win it. Then we beat Wigan and Arsenal on penalties - making it nine consecutive penalty shoot-out victories - setting a new English record!
Indeed, the way we keep defying the odds reminds me of Chelsea's run in the Champions League last year - I thought they were fated after beating Napoli, then Ramires scoring at the right time in the Nou Camp, just like we did when Villa got one back at Valley Parade, Carl McHugh scored soon after to make it 3-1 and re-establish our two goal cushion.
The fan I sat next to at Villa Park was a seasoned supporter in his 60s who had last been there when we had narrowly missed out on promotion in the 1988 season. We had lost 1-0 that day and he said he would settle for that again, which I agreed with. When the game got underway, we looked quite comfortable until Christian Benteke scored and then I got nervous, although I also thought we could score and when James Hanson notched his header, we were in the driving seat. Andreas Weimann then got a late Villa goal to make the last few minutes nervous but we saw it out to claim the win and the celebrations after were the best I have ever experienced - even compared to when we beat Wolves at Molineux to go into the Premier League.
People were cheering, crying or just closing their eyes and savouring a moment which will never happen again in our lives. Myself and the fan who I was next to hugged each over, sharing a special moment we will remember forever, despite not knowing each other's names.
After an hour wait for a bus - the Villa fans at the bus stop impressed me with their down-to-earth humour and good naturedness - the celebrations afterwards in the city centre pub/hotel were amazing - so good I forgot my expensive motorbike gloves when we left for a taxi and then went sleep-walking later that night, but that's another story! The next morning, I sheepishly went back to the pub in the hope of retrieving my gloves and luckily they had been handed in - a City fan at the bar said I should wear them as a lucky mascot at Wembley which I will.
I thought Hanson had been the man-of-the-match at Villa Park, his goal and work-rate were amazing, but Raz and his brother reminded me we had won because we had been a team. And that is the secret of our success and why I think we will win again on Sunday - Phil Parkinson has instilled a real team ethic; our players play for each other and the club.
Swansea will be tough to beat, though, as unlike Arsenal and Villa they possess a leader at the back - Ashley Williams. This exemplified itself both with his reaction after the infamous ball-boy incident in their semi-final when the Chelsea players were protesting, he was there arguing back, as well as when he was rested at Liverpool on Sunday and the Swans were over-run 5-0. While I think big Hanson's battle with Williams will be key on Sunday, the game is a one-off and will come down to who wants it most. And although our league form has gone since the cup run, we have been able to raise our game in the cup when it matters to make history and I truly believe this will happen again.
The atmosphere will be cracking - I have been told Swansea fans have been recorded as the loudest - and the City supporters will also be willing their team to win. And it is fitting Bradford will pay tribute to the 56 fans who lost their lives in the fire in 1985 by wearing specially-made tracksuit tops at Wembley - the fire disaster is never far from the minds of those who were there that day, I remember them every time I go to Valley Parade.
But in the end it will be City's team-spirit, which has taken us on this record-breaking-run - and not forgetting my motorbike gloves and countless other lucky mascots City fans will carry - which will see us prevail!