Crunch time
Exeter's Pat Baldwin talks promotion pushes, top bosses and stars of the future with Chris Burton.
Last Updated: 27/05/13 11:50am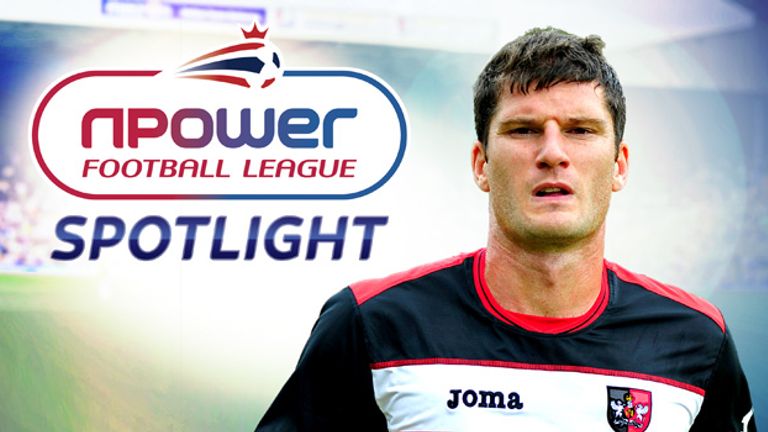 The 2012/13 campaign is about to enter the final straight, with promotion pushes and relegation battles now in full swing.
Here at Sky Sports we continue to take you to the very heart of the Football League, with our Spotlight features intended to give you a greater insight into the clubs and players that keep us on the edge of our seats.
We are hoping to bring you the views and thoughts of a representative from each of the 72 teams over the course of the season, with those involved asked to give their take on the division they compete in, the club that pays their wages and those we should all be keeping an eye on.
Exeter's Pat Baldwin is next in the hot-seat, with the Grecians defender taking time out to discuss promotion pushes, under-rated bosses and stars of the future with Chris Burton.
You had a disappointing result at the weekend at Burton. I imagine it was all the more frustrating because they are up there with you?
It was very disappointing. I knew that it would be a really tough game to go into with their recent home form - they have won six out of six now - but we have been doing well away from home. It was a game we were looking forward to and it was going to be an interesting game, but from our point of view it was very disappointing.
It's so tight at the top isn't it that one defeat drops you down a few places, but one win will bump you straight back up?
Exactly. It's been like that all season, really. We have had a few disappointing results but it's still been very tight. At the moment it is very tight and it's all to play for. We go again tomorrow night against Port Vale away.
Your form since the turn of the year has been really good hasn't it, you've put yourself right in the mix?
We have. We had quite a difficult period November time when we had quite a few games where we couldn't find a win, but we have managed to turn things around somewhat. We are still in the mix and we are going to give it our best shot to try and get up there at the end of the season.
It's been steady enough all season, though, hasn't it - you're always going to get dips from time to time?
You are, especially with the size of the squad that we have got. We have got a small squad and a small budget to work with. There are other teams in our league that have got a slight advantage over us from that point of view, but we have been gradually improving every week as a team and as individuals. Hopefully that will stand us in good stead until the end of the season.
You've got some big games coming up now haven't you, with Port Vale and Northampton flying high at the moment?
At this stage of the season there are always going to be big games - you are either fighting relegation or you are looking at promotion. They are going to be difficult games, especially two away games at Burton and Port Vale, but that's the league - every game between now and the end of the season is going to be tough. Hopefully we can pick up some good points.
Do you feel that Paul Tisdale gets the credit he deserves for all he has achieved at Exeter? He is rarely linked with jobs elsewhere.
I think he's massively under-appreciated in certain areas. Within the football community I'm sure he does get the respect he deserves. I think he is an outstanding manager that I really enjoy working under and learning from. He's worked absolute wonders at this football club and I'm sure that everyone with half a brain can tell that.
The club deserve credit for sticking with him don't they, as relegation last season has been quickly forgotten about?
Definitely. If you look at all successful managers in recent history, all the ones that are given that stability go on to do well. It's not just the first team he does well with, it's the whole youth set-up and the whole club. The way it's run is down to Paul Tisdale. He has worked wonders with the club.
From a personal point of view, are you happy enough with how the season has gone?
I came down here to get some games. It's a club I really enjoy playing for and it's an area I really enjoy living in. From a personal point of view, I have only missed three games, and that was through illness, so it's been the first season in a while that I have been able to get regular games. It has been really good from a personal point of view.
Has there been anybody really catch your eye at Exeter this season? Any of the young lads?
There is a large number of the youth lads that are coming through and stand a very good chance if they continue working hard. There is a real good group coming through and I think it is only a matter of time before we see quite a few of them faces playing in the first team.
It's important isn't it for a side like Exeter, a side not blessed with a lot of money, to produce your own players?
Of course it is. The manager has shown that he is not afraid to chuck in young lads - if you look at the likes of Liam Sercombe and Scotty Bennett that have come through and are playing regularly for the first team. There are a few more youngsters that I think that will be happening to as well.
As a group now it's all about finishing in the top seven isn't it, with anything less than that going to make the season a disappointment?
Of course it will. Our aim is ultimately to get promoted. If we don't make that then the season will be a disappointment. But that's part of life and part of football. It's still all to play for so we will give it our best shot.