Goals and gaffers
Dagenham's Luke Howell discusses goal returns, a change in management and hopes for the future.
Last Updated: 27/05/13 11:50am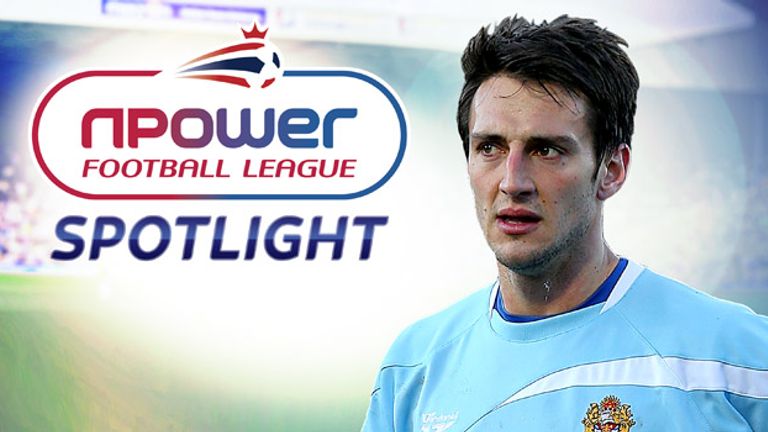 The 2012/13 campaign is about to enter the final straight, with promotion pushes and relegation battles now in full swing.
Here at Sky Sports, we continue to take you to the very heart of the Football League, with our Spotlight features intended to give you a greater insight into the clubs and players that keep us on the edge of our seats.
We are hoping to bring you the views and thoughts of a representative from each of the 72 teams over the course of the season, with those involved asked to give their take on the division they compete in, the club that pays their wages and those we should all be keeping an eye on.
Dagenham's Luke Howell is next in the hot-seat, with the Daggers midfielder taking time out to discuss goal returns, a change in management and hopes for the future with Chris Burton.
Another goal for you last night, but I imagine you were hoping for a bit more weren't you given the week that Bradford have had?
Obviously they would have been tired from Sunday's game, the cup final, and it would have taken a lot out of them preparing for Wembley. They did fantastic to get there and we were hoping they would be a bit of an easier game, but it wasn't to be. After going 1-0 up we nearly held out, but unfortunately they got one near the end. It was a bit gutting.
Nine for the season now for you - you have got to be delighted with that haven't you?
Yeah, definitely. I'm really happy with that. If you had told me at the start of the season that I would have scored nine goals, I would have bitten your hand off. After the season I had last year, I was just hoping to play 30-40 games and get back on track after missing most of last season.
Given your scoring record prior to this season, have you been doing anything different?
I'm not sure. I don't think I'm doing that much different. When I was at Milton Keynes I was playing a slightly deeper role in midfield or playing at right-back, so that obviously limits you a bit more. I think this year I have had more licence to get in the box when the opportunity arises. Maybe it's the role I am playing, more than me personally doing anything different. When I have had my chances, luckily I have taken most of them. It's a nice outcome.
How has John Still's departure gone down? Did it come as a bit of a shock?
I think it did. I think it was a surprise. He'd been there for nine years and was Mr Dagenham. It was a bit of a surprise and it came around rather quickly. But he took on a massive job at Luton. They have been in the Conference for a few years now trying to get out of it. They are a massive club and I think everyone would agree that they are a Football League team. With the fans they get and the way their team perform, and looking at their cup run as well, they have got the support and the players to suggest that they should be playing higher. I think he wanted to take that challenge on and get them back in the league. You can't really argue with that, if someone wants to take on a big challenge like that.
John was there for so long and did so much for Dagenham, but now there is a chance for the club to move in a different direction isn't there?
Exactly. Wayne (Burnett) has taken over and from what we have done this week, we haven't had long with him, he is looking to take it in a different direction, put his own stamp on it and play his own brand of football. For the fans and the players that are there at the moment, it's an exciting time because we will be playing a different way and are looking forward to it.
Are you setting any targets as a group for the remainder of the season?
It was only Tuesday that we had our first day with him and then had the game last night and have a big game on Saturday. Wayne and the players got together and said the work starts on Monday and we'll see where we want to go from there. We have got 11 games left now and the emphasis is on getting as many points as possible. Trying not to lose for the remainder of the season, that would be a massive achievement for us. You never know what will happen in football and you might get a few results and be up there. The league is so tight that anyone can do anything, teams are going up and down all the time. We will just try to win as many games as we can and see where that takes us.
Is it just about making sure you don't get dragged into a basement battle like last season?
Yeah, it was tough last season. For me, watching from the sides was tough. We struggled before Christmas and it left us with a battle for the last couple of months. Luckily we came out of it, but you don't want to be leaving it until the end of the season to get those points. We play Wimbledon at the weekend, who are down there, and they are really hard games at this time of the season. We want to get these wins under our belt and get to 50 points and push on from there. I think 50 points should make you safe. You don't want to be getting sucked into that.
On a personal level, you must feel that you are in the right place for your career - given that you have just signed a new contract?
Yeah, just signed a new contract last month. At the time it was John who was going to be in charge, but it's a good club, a family club, and they treated me well last year when I was injured. I get on well with everyone there, the group of lads is great, and we have got a really young team. Over these next couple of years under Wayne, hopefully we can build on that and progress and we will be looking for promotion next season with the players that we have got. It was always an easy decision for me because, with the squad and the set-up we have got, you know that we will be pushing up at the right end of the table rather than down the bottom.
You've signed up until 2015, that must be a weight off your mind. You can now focus on your football can't you?
Exactly, it's a nice bit of security for me. Because of injuries, you never really know what will happen if you sign a short-term contract. Unfortunately you can get injured and it puts you in a bad position. Signing for two years, it takes my mind off everything else and I can just concentrate on my football and carry on doing well for Dagenham.
You mentioned the club have got a lot of young lads involved at the moment, are there any that you feel deserve extra credit for their efforts this season?
There are numerous players playing really well this season. I think you could come to a number of games at Dagenham and there will be different players that impress you. It's a young squad throughout the team. The back four have been really young but really strong, I think we have kept 10 clean sheets - that's something to be proud of. We have attacked really well as well, so I wouldn't say it has been individuals, it has been a real team effort. With the young players playing a lot of games this season, that can only stand us in good stead for next season. They will get more experience from that and we will learn from our mistakes and hopefully next season we can push on.
So the focus now then is just on finishing the season strongly, to set you up for next year?
I think so. If we end this season well under the new management and playing well, we can take that on to next season. We have got some hard games coming up, especially away from home we have still got some top teams to play, so it will be a challenge for us, but one that we are looking forward to and looking to take it on to next season and push for promotion.