One step at a time
AFC Wimbledon boss Neal Ardley discusses point targets, learning his trade and hopes for the future.
Last Updated: 27/05/13 11:52am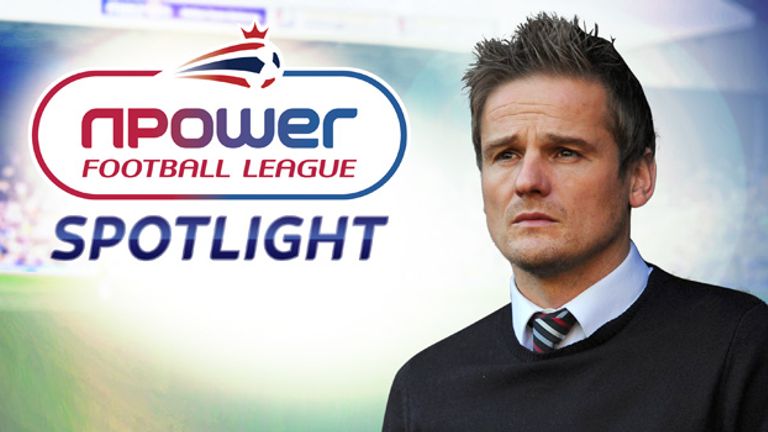 The 2012/13 campaign is about to enter the final straight, with promotion pushes and relegation battles now in full swing.
Here at Sky Sports, we continue to take you to the very heart of the Football League, with our Spotlight features intended to give you a greater insight into the clubs and players that keep us on the edge of our seats.
We are hoping to bring you the views and thoughts of a representative from each of the 72 teams over the course of the season, with those involved asked to give their take on the division they compete in, the club that pays their wages and those we should all be keeping an eye on.
Next in our hot seat is AFC Wimbledon's Neal Ardley, with the Dons boss taking time out to discuss point targets, learning his trade and hopes for the future with Chris Burton.
You must be absolutely delighted with the effort the boys have put in over the last few weeks to get the results you have?
Of course. We have had a decent 2013. We had a little blip - Port Vale away followed by Chesterfield away - which was a bit of a low point in the calendar year. In hindsight, looking at the performance on a really heavy pitch at Port Vale, that maybe took a little bit out of us going into the Chesterfield game, but we had a rally round, had a good team meeting on the Tuesday, there was lots of positivity, and have just taken away the fear for the boys to lose games. When you are down there, you fear losing more matches. We discussed it and decided that we were going to not fear losing games anymore. That had to come from all of us and seems to have paid a bit of dividends up until now.
It would have been easy to feel sorry for yourselves wouldn't it, but everyone has knuckled down and got on with it?
We rallied round, had a really positive chat and talked about making the place more positive. We talked about playing without fear. We had Bradford at home the following game and we didn't particularly play well, we went one behind and lost our way for 10 minutes after conceding, but we really dug in there and got an equaliser and then a winner late on from Gaz Alexander in the last minute. I'm not saying it turned the season around, but it certainly gave us a little bit of belief that we needed.
Is it down to little things like that, rather than any tweaks you have looked to make?
I don't think it was down to that particular moment, although it does help. Plain and simple, it is that we have got decent players, we have got a nice mix of good characters, experienced pros and good athletes - we have got a bit of pace in there now and have got more options. I think it has raised the standard in training, and the camaraderie around the camp. I have never seen such a buzz around the boys and there genuinely is that feeling that we are going to lose a game somewhere along the way, but so what. There is that attitude.
You have got a couple of important games coming up haven't you, with Aldershot and Accrington in your next two?
This league is unforgiving. We have had a couple of great results and, to be fair, Tuesday night's performance against Southend was probably the best since I have been here. But we know that we could quickly lose two games and be right back in it again. We have got to take that bit of belief with us, but make sure we take the ethic we have had recently as well.
Are you in a position yet where you can start looking upwards and focus on trying to better last season's 16th place finish?
I don't think we are in that position yet. I think we are in a position where we need, initially, eight more points. For me to start thinking like that, when we get eight points, then I will be looking upwards rather than downwards. I think that, for me, will guarantee the cut-off point. You can easily slip into old habits very fast and we have to make sure that we don't. I'm not going to get that confident just yet.
It's been a bit of a baptism of fire for you in your first managerial post, have you been able to enjoy it?
It's tough. Naturally, it's tough. When we first came in we had a hell of a lot of injuries, we had a squad that was playing under a different system and style under the old manager from the way I was looking to do it with the position we were in. It was tough. We had a full quota of loan players and there were times, I won't hide the fact, that you have to go home and spend that initial few hours after a game a little depressed. But you have to dust yourself down and go 'right, what am I going to do?' We put a plan in place a long while ago back in October and we have tried to stick to that plan as best as we can, which involved the January transfer window and certain types of players we were trying to bring in along the way. I think we have worked incredibly hard behind the scenes to do that as a club and, touch wood, we are edging closer to it being what we hoped it would be.I don't imagine there were too many clubs were there that could have lured you to a League Two basement battle?
I think it was a case that I had had five good years working with the academy, managing the academy, at Cardiff and I thoroughly enjoyed that. I always saw myself taking on a challenge like this eventually and trying to prove myself. It's always a problem in this industry, with your first job, you don't always get a second opportunity. So whilst I have always believed that I have got what it takes to be a good manager and manage at a top level, you have got to go and prove it and if you don't get that first chance right, you won't get the second. There are all those things that go through your mind, but I am a big believer that if you stick with it and you work incredibly hard, use the full repertoire of skills that you have got, then eventually the tide will turn.
Do you feel that you have done things the right way, as you could have got a job straight away couldn't you after getting your badges?
For 18 months I probably made a hell of a lot of mistakes, when I was first in charge of Cardiff, as far as coaching and stuff goes. You learn a shed load. Running an academy is a massive business - you have to learn how to manage your staff, you have to learn structure, you have to learn planning. So I got all of them skills and I worked on that - using different tactics, styles of play, how I deal with certain things. I have taken on an awful lot of knowledge, but a lot of what you learn in an academy doesn't relate to League Two and dealing with teams that will potentially beat you up, so you have got to adjust slightly.
But you can be rightly proud of what you achieved at Cardiff can't you, and how they are faring this season?
Definitely. I'm definitely proud of what happened in the academy. When I got there we had poor training facilities, the lads were in Portakabins, they didn't have hot food after training, they didn't have any of the development structure that we have got now. We had a philosophy, and in five years we turned all of that around - we got very good pitches, a new building and a philosophy. There is a core of a fantastic academy, so I am proud of what happened there. I, along with a lot of the other staff, played a big part in that and hopefully now I will come to Wimbledon and take that onto the level they want to move onto.
Your full focus is now on Wimbledon and it's important isn't it that the club don't just accept a League standing? It's been a great story, but you always have to keep moving forward.
It is a fantastic story. It's brilliant. When I took the job, they had had five promotions in 10 years and when that happens there always needs to be an element of stability brought in at some point. I think this is that time now to stop thinking that it's going to keep on happening like it has. They have taken massive strides, now we have to make sure that we are a team that doesn't ever look like going down from the League and slowly but surely, over a period of time, progress it and become a team that is challenging to go into the league above. With that comes more money, bigger budgets, they always help towards those things, and we are a not a club in that situation. What we want to do is to try and get behind the scenes sorted - get the staff, the management team where it needs to be and up to the levels. We want to put a bit of a better structure in behind the scenes and hopefully that will come to fruition as we go along.
Finally, what's the focus now then? Are you looking to get things sorted over the summer and kick on during your first full season in charge?
First of all, 50 points, let's get to that first and not let up until we get there, or not let up at all until the end of the season. Let's not think that we are going to be safe until we get to that mark. That's first and foremost, then we get to planning for the summer and can really drive on with that. Next season, we have been in a dogfight this season, hopefully we can bring in a bit more quality and better football and play a bit better perhaps than we have done while we have been in a scrap and try to progress what is going on behind the scenes. If we can do that, I am sure we will be developing and progressing the club.