Leaving it late
Oxford's Jake Wright discusses a late play-off charge, inconsistency and the absence of key men.
Last Updated: 27/05/13 11:52am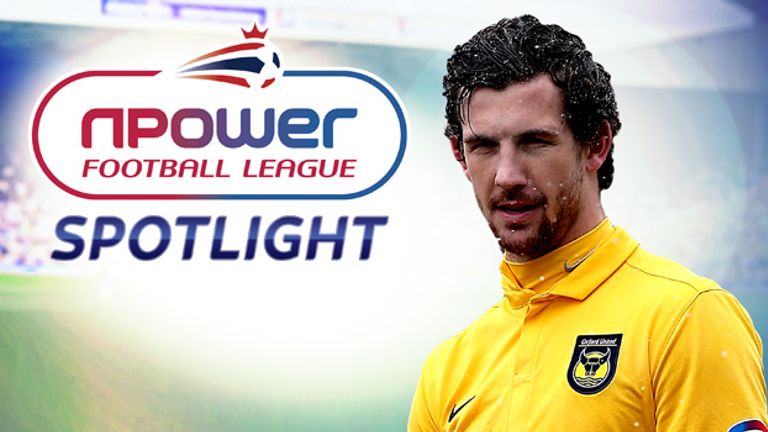 The 2012/13 campaign is about to enter the final straight, with promotion pushes and relegation battles now in full swing.
Here at Sky Sports, we continue to take you to the very heart of the Football League, with our Spotlight features intended to give you a greater insight into the clubs and players that keep us on the edge of our seats.
We are hoping to bring you the views and thoughts of a representative from each of the 72 teams over the course of the season, with those involved asked to give their take on the division they compete in, the club that pays their wages and those we should all be keeping an eye on.
Next in our hot seat is Oxford's Jake Wright, with the U's skipper taking time out to discuss a late play-off charge, inconsistency and the absence of key men with Chris Burton.
You are hanging on in there and if you are to make the play-offs, you are going to do it the hard way aren't you?
We have made it difficult for ourselves. There are six games left, and obviously 18 points, but it's going to be a difficult task. As long as there are games left to play we are going to give it our best shot and try and get as many points as possible. If there comes a time when we can't get in the play-offs, we are still going to give every game 100 per cent because there is still stuff to play for - contracts and playing next season.
You have six points to make up and six games left, how many of those games do you need to win to stand a chance of making the top seven?
I think we would need to win at least five to get in the play-offs. If we won six we would definitely be in there, if we won five we would maybe scrape in there. But you never know in this league, it's such an inconsistent league and everyone seems to beat everyone. We just need to give it everything we have got and hopefully we can do enough to get in there.
You have been inconsistent haven't you, with one step forward often followed by one step back? You haven't been able to establish momentum have you?
No, we haven't. We started really well, the first four or five games, and then we had a terrible September. From then on we have been climbing back up the table, getting a few points off the play-offs, and then having a bad run. It's the inconsistency that has cost us. We have played well in games. We have played the top three in the last five games - we have played Port Vale, beat them, beat Gillingham and we played Northampton on Saturday and should have beaten them. We have proved that we can do it against the best teams, but we have just been too inconsistent.
You beat Gillingham and Port Vale back-to-back and then lost 4-0 at home to Rotherham, it must be so frustrating for all concerned?
It is really frustrating for us - the players, the manager and the staff and the fans as well. It frustrates us that we go to Gillingham and play really well and deserve to win, then we go and lose at home to lesser teams. That's something we had to get out of our game early, but unfortunately we haven't done. There are only six games left, but there are still points there to fight for and we have to give it everything and see where that takes us.
You have Morecambe and Aldershot next up, they aren't in the best of form right now so it could be a productive Easter couldn't it?
We are looking to get six points from the games. We need six points out of those two games, definitely, and there is no reason why we can't do that.
You just missed out last season after ending the season badly, so I imagine there is a determination to ensure that doesn't happen again?
Yeah. Whatever happens, if we don't make the play-offs, we still want to finish really well. If we win four of six, that's not going to be good enough for the play-offs, but it's finishing the last six games well and it's important to end well, whatever happens. That helps to give the fans a little bit of something to cheer for next season and it's something to look forward to.
You've been part of the set-up at Oxford since they returned to the Football League, do you feel progress has been made year on year?
Definitely. It has been slow progress. We haven't gone out and got a squad of 24 and we haven't got a ridiculous budget, like some of the clubs have, and we haven't bought our way out of the league, like a few teams did last year. We have done it a slower way. People are getting frustrated, and we would like to be back in League One and we want to be up near the top, but it hasn't worked out like that. I think progress has been made, definitely, and we have got a lot better squad than when I first came in when they were in the Conference. The six months I was here in the Conference and we got promoted, we have got a lot better squad than that, the crowds are up and we have got better players. It has been slow progress, but I think we are getting better and better each year and if we don't go and get in the play-offs this year, I think we will definitely be looking to do it next year.
One of your former clubs, Crawley, have poured a lot of money into chasing the dream and I suppose they have shown what can be achieved when you step out of non-league haven't they?
They have done really well. I was pleased for them as I still know a few of the boys there, I know the manager, and I was pleased for Crawley to do that. They have been brave. The owner has come in and put a lot of money into it, and it's worked as they have got promoted. It's a risk if it doesn't happen, it puts them in a bad situation for a few seasons, but it's worked out for them - they have done well in the cups and have got money from that as well. They have done really well this year, I still speak to Dannie Bulman. Stevenage have done well as well. They are struggling a bit more this year, but it can be done. It's frustrating because we have played teams in League One - we have played Swindon and Bournemouth this year, they are both in the top five - and we beat both teams. On our day we are a really good team, but we have been too inconsistent.
On a personal level, are you happy enough with how the season has gone?
I'm happy with how I've been playing personally. I have been quite consistent this year. I have played 50 games, including the cup games, so I have been a regular. I have been doing well and getting plaudits off different managers and off the players. At the end of the season it is where you finish in the league, and if we don't get in the play-offs it has been a disappointing season for me as captain and for the team. We have conceded too many goals and we haven't scored enough goals, so it's been difficult. We have been up and down but we are going to try and finish on a high and try and get as many points as possible.
Looking at the squad as a whole, who has really impressed you this season, or who have you really missed?
We have missed a lot of big players. Andy Whing has come back in for the last seven or eight games and he has been our best player since he's come back, he's shown consistency and if he had been there since the start of the season I think we would have a few more points. Peter Leven has been out for a lot of the season, Michael Duberry has been out, Ryan Clarke, the keeper, Tommy Craddock has been out, Deane Smalley has been in and out. We have been really hurt with injuries. It's not an excuse, it's fact. We have got a small squad and we have had a lot of injuries. And the pitch hasn't helped us as well. We have got a team that wants to play football and pass the ball and the pitch has been ruined really badly. The rugby lads have been playing on it, so we have struggled a bit at home and have been better away from home. We have to get on with it and we haven't been good enough, really. Hopefully we can try and save it with the last six games.
Finally, you just need one big push now don't you and if you can get into the play-off places, you will have momentum firmly behind you and will be a team to be feared?
If we get in the play-offs, that means we will have shown really good form to get in there - we would have won at least five of the six to get in there. That would be really good momentum and I fancy us against anyone in this league home and away. If we got two legs against anyone, I would fancy us to get to the final. With the fans we have got, and the form we would have, we would take a big crowd there. But that's a long way off and we have just got to look forward to Friday's game, try and get the maximum points out of Friday and Monday and look at it after the weekend. Hopefully a few teams will have dropped points, we will have maximum and we will be a little bit closer.