Millers on the march
Rotherham boss Steve Evans discusses taking a step back, winning promotion and summer planning.
Last Updated: 27/05/13 11:54am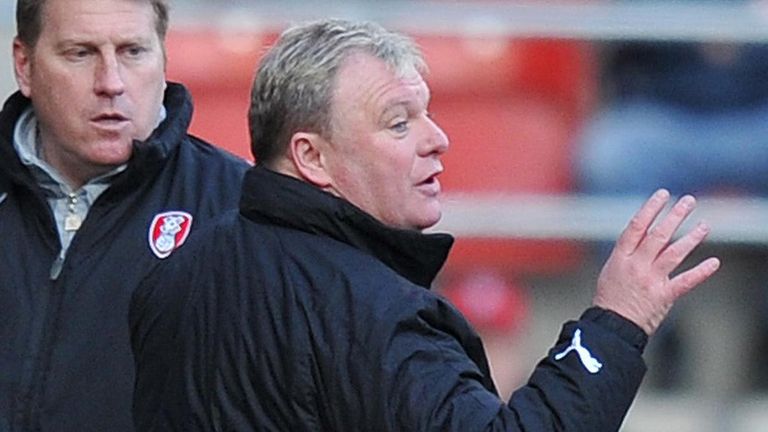 The 2012/13 campaign has entered the final straight, with promotion pushes and relegation battles about to reach a conclusion - or having already reached a conclusion.
Here at Sky Sports, we continue to take you to the very heart of the Football League, with our Spotlight features intended to give you a greater insight into the clubs and players that keep us on the edge of our seats.
We are hoping to bring you the views and thoughts of a representative from each of the 72 teams over the course of the season, with those involved asked to give their take on the division they compete in, the club that pays their wages and those we should all be keeping an eye on.
Next in our hot seat is Rotherham's Steve Evans, with the Millers boss taking time out to discuss taking a step back, winning promotion and summer planning with Chris Burton.
Has it all sunk in yet what you have achieved this season?
It takes a couple of weeks to enjoy it and appreciate what people have worked hard to achieve. On a personal basis, for myself and my assistant manager Paul Raynor, it's been three promotions in three consecutive seasons - two with Crawley and arguably the hardest and most difficult and best one yet with Rotherham United. We took a step back from the second promotion to go back into League Two with a superb football club, with a fantastic fan base and a club where three or four managers - excellent managers in my opinion - had failed in recent years. It sinks in enormously what we have achieved when you consider the quality of those other guys who didn't achieve it.
There must be a great sense of pride on your part that the club have been knocking on the door for some time and you've been the one to open it?
I think so. There were a lot of reasons why we came to the football club - the most important one was the chairman. He's gone on record in the last week that it's over £30million that he has invested in the last few seasons. It's a debt-free football club with a fantastic new stadium - it's almost a mini-Emirates, if you like. There are no spaces in this stadium, it's not just four stands with gaps in between, it's a complete bowl. It was built after the chairman spent two years planning it. He spent £24-25million on the stadium. The public have responded, the fans have been incredible. There were thousands that came out on Saturday, which shows you everything about the football club and the potential it has.
It's a great place to be at the moment isn't it, with all the changes off the field now being backed up by results on it?
Absolutely. To be fair to the supporters, they have had a few kickings over the last few years - with administration and that. Then, up pops Tony Stewart. He's a local man, a self-made man, he takes the club out of administration and takes them out of town to allow himself to get the stadium ready, and some people probably thought it was never going to happen. But everything he has ever told me and, more importantly, everything he has told the fans, he has delivered more. He brought the club home last year and the attendances are averaging over 8,000 and next season will probably be between 9,500 and 10,000 - which makes us, in terms of attendance levels, up there with most of them and will give us a real chance to compete.
You must be delighted as well with the manner in which you secured promotion - with five straight victories?
I think when it came to the end of the season, whether we went up or not, there was always going to be a meeting with the chairman and the board - almost a post-mortem about how the season has gone. There is no doubt that we have lost big players for us for months at a time - we lost our goalkeeper for four-and-a-half months, Scott Shearer we lost, Craig Morgan we just signed and was sensational until he broke his leg, we lost Micky O'Connor at a key time. We lost some big players at key times but we always had an inner resolve to come through that and we have kept a real positivity in the camp, which the chairman is famous for - he's a really positive guy - and we have kept that positivity through the bad days and at the end of it all you hope to go and deliver the prize. The last five games we have won them all with really commanding performances, being dogged, and there was no-one that ever doubted when you played Rotherham that we are the one team on our day who can beat anyone.
The consistency must have delighted you as well - you only dropped into the bottom half once and were in and around the top seven for much the season?
I think that in itself was difficult because we had to build a squad last season. We came in for the previous five or six games from last season to give us a chance to assess the squad and it was quite evident to us that whilst there were two or three top players in there, when you looked at it as a whole, it was a long way away from being a promotion side. Over the course of that summer we brought in something like 25 players, so it was a complete re-write. We always knew that - probably up until Christmas time, January time - there would be an inconsistency factor, and that happened. But we always believed that over 46 games we had enough for it to happen. To finish second was fantastic, but the good news going forward is that we won't need another re-write in the summer because over 70 per cent of the squad will go forward with us. There is a real continuity now and there are people around that are tried and trusted and we know what they are doing. League One clubs are the benchmark now and we have only played two - we played Stevenage and Notts County, both in the FA Cup. It's fair to say that we dominated both games and won with a little bit to spare.

Have you already started planning for next season?
Absolutely. First and foremost we will meet with the current squad this week and we have a scenario where we will review the season and we'll review the imprint of the season. Like at every club, there will be a lot of winners - the winners being that they go forward with us - but there will also be some players that are maybe out of contract that we won't take with us and one or two of the contracted players that we make available for transfer, but that's because of the players we are targeting in the summer we think will add to the squad and add value for money as we step up. We know we are stepping up, we're going into an environment where the size of the clubs are bigger and the resources are a lot bigger and it will be a challenge, but it's something that the chairman and the board and the supporters are looking forward to.
For you, you must be looking forward to making the step up into League One a year after passing up the opportunity at Crawley?
It was the most difficult decision I've had to make. I worked with some great people at Crawley, I'm still personal friends with the owner now. I worked with some great people and the fans were terrific. But no-one doubted that what I was going to was a massive opportunity for me as a manager. Sometimes as a manager, to move forward as a manager given what happens with jobs at the top level, sometimes you feel you have to take a little step back to make two or three forward. We feel we have done that. When we walked out on managing in League One last summer to go back into League Two, it was a big ask to do that again, but we felt confident in our abilities that we could do it. It's been an incredible few years, but the last 12 months managing the Millers have just been unreal. To see the scenes at the weekend - and the last few weeks, particularly on Saturday - it's been absolutely incredible. I'm sure there are still parties going on in Rotherham now - there certainly were last night because we were involved in them!
You obviously bought into the ambition of the club when you took the decision to join, and looking at League One, and how competitive it is, are you thinking anything could be possible?
It's tough. We are looking to go up and compete at the top level. We aren't going to hide from that. We are hoping that our players, there are probably three or four of them that could have been sold to the Championship back in January, such is the ability in our squad. The chairman is a self-made man, he's a very wealthy man, but he likes value for money. He started out as a young man with no money, so he's had to earn it and still goes around with 50p in his boot. We will look to go up and compete on the pitch at the top level in League One, but I have enormous respect for the managers and the clubs and the size of those clubs. But it's fair to see if you looked in isolation at the average attendances for last season, we are probably the fourth or fifth highest attended club. We are going to go up there and a lot of people are going welcome us, that's for sure.
It's just about enjoying this season for now, though, isn't it - it's been a long 46-game slog for everybody involved with the club?
As an individual, as a manager, I've had 14 days holiday in three years. Last year when I left Crawley, I had three days at Centre Parcs with the family, that's all I had. I'm looking forward to having 10 days away this year and relaxing. But before that we have to manage the current situation. We are targeting players and we know when we want to go and offer for one or two, that was all discussed at a board meeting yesterday. We have got another board meeting with the chairman on Friday and the vice-chairman. We'll sit down as three guys and make those decisions. Then the chief executive, Paul Douglas, who has been absolutely fantastic with his support, can go and make the offers and see if we can get them on board.