Free Agent - Chris Doig
The next free agent to fall under our microscope is former Nottingham Forest and York defender Chris Doig. Over the next month or so we'll be speaking to a host of footballers at a crossroads in their careers as they look to get hooked up for next season.
By Chris Burton
Last Updated: 04/07/13 2:54pm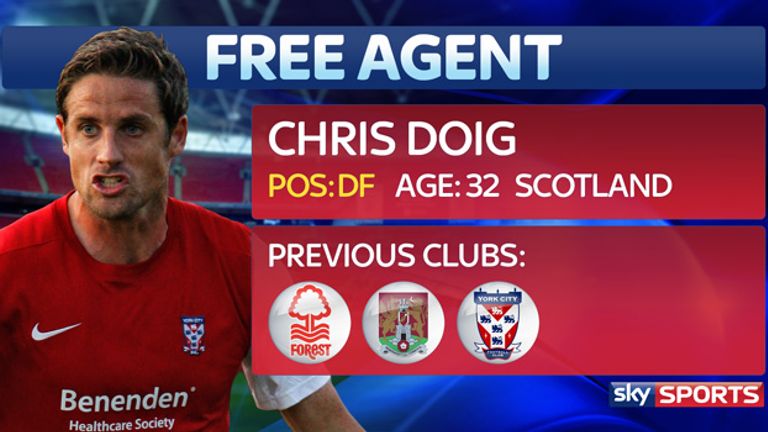 Chris Doig is a man prepared to take big decisions and is rarely ruffled as a result. After spending 12 years in England with Nottingham Forest and Northampton, he decided to head Down Under in 2009.
Two years away from British shores saw him spend time in Australia and Indonesia, before heading home to link up with Aldershot and York.
He helped the Minstermen to steer clear of relegation trouble in League Two last season, but is now looking to take on a new challenge - with the Scot preparing to pack a well-used travel case once again.
What's your situation at the moment and your mindset heading into the summer?
It's difficult. It's not easy. Obviously, it's the uncertainty about not knowing what's going to happen and where you're going to be. I'm actually quite relaxed about it, to be honest. When I came back from Australia, I had five months without a club and was training here and there and everywhere. I think that experience is standing me in good stead. That was a difficult time. Now it's quite early doors, we are only at the start of July. I think things will start to kick off now that teams get back training over the next few weeks. I am just keeping myself fit and not thinking about it too much. I'm just working away and waiting for the phone to ring. There's not a lot you can do. You just have to wait and hope that someone believes in you and wants to take that chance on you.
Do you have to accept that a lot of clubs only offer short contracts now and are working to tight budgets, so it might take a while for a decision on your future to be made?
I think you find now that a lot of managers will ask you to come and do pre-season, ask you to come and train and play a few games with them first before they commit to anything. Again that's not ideal because you could go there and do really well but still not get offered something, or you could pick up an injury which sets you back. It's not ideal at all, but that's just the way it is now. For players my age, when a chairman or a manager sees that you are 30 or above, they aren't interested. Experience seems to have gone out of the window now. A lot of guys are working on tight budgets and they want guys who are on less money and have a sell-on factor, chairmen will hope to sell guys on for more money and make money out of it. Guys my age, there is no real appeal to them, they can't really sell us on for anything. It's difficult but you've got to be patient. There is nothing I can do now apart from keep myself fit through the off-season, work hard so that when something does come up I'm ready to take it. It's just being patient. It's not easy, but that's all I can do.
Has there been any interest so far? Is your agent working on anything?
That's the other thing. That's their job and you have to leave it down to them. They are working hard behind the scenes. I think there are a couple of things, but nothing concrete. There are bits of interest here and there but until it's actually concrete and an offer is put in front of you, I don't really pay much attention to it. There is a lot of hearsay and things going on: 'Such and such are interested blah, blah, blah' but until there is actually an offer there in front of you, then it's nothing as far as I'm concerned. Hopefully he's doing his job behind the scenes, there is a bit of interest and hopefully in the next couple of weeks something will come up. Until then, it's fingers crossed.
Do you think you might have to go in somewhere on trial before landing a permanent contract?
Possibly, but hopefully not. That was certainly the case when I came back from Australia, but I knew that would be the case because you are basically out of sight and nobody has seen you for two years. A lot of people were aware of me from the past, but the fact that they hadn't seen me for two years meant they wanted to have a look at me first, so I was more than prepared to go and train and play games for teams. But I've been back in the country now for a couple of years so I would like to think that people have seen me and have liked what they've seen. Maybe I won't have to go down that route, but then again I might have to. It's just a case of keeping myself in the best condition possible. If we go down that route I'm okay with it and I'm more than capable of doing it. It's still early doors and I think teams now will start to push on with regards to recruitment. I think the end of June and the start of July there will be a lot more movement in the transfer market. Fingers crossed something will happen.
You have Premier League football on your CV, and Scotland U21 caps, that all helps doesn't it?
It's about what you can do now, that's what's important. I feel I have got at least a couple more years left in me, at least playing at the level I want to play at and I feel I'm capable of producing. That's what's most important for me, playing to the standard that I expect. I feel I am more than capable of doing that. Physically, I'm probably the best I have been in my career - as daft as it sounds. I'm 32 but I learnt a lot from my time in Australia and feel I'm capable of doing it. You need somebody to share that belief.
What level are you looking at? Did you feel comfortable in League Two with York?
I was in the Champ for the vast majority of my time with Forest, then it was League One with Northampton. I was in League Two last year with York and I felt more than comfortable. Again, it's what managers want. The game in League Two can be a bit more direct and I'm not your usual centre-half - I'm not head it, kick it. I can mix it no problem, but I like to get the ball down and play and that's what appealed to me at York under a manager in Gary Mills who wanted to play football from the back and play that way. I fitted in perfectly with what he wanted. There are not a lot of managers, certainly in League Two, who are going down that route. You just have to hope there is a manager out there who trusts you and thinks you can do a job for his team. I'd have no problems with League Two, so we'll see what happens.
Would you be willing to relocate again? Do you have to go where the offers are?
The last two years I have been here, there and everywhere since coming back from Oz. I feel like I have been living out of a suitcase and it's been difficult, especially the five months without a club when I seemed to always be on a motorway, bunking off friends to find a bed overnight. Ultimately, location isn't a problem and I will go wherever it takes to get a job. But certainly after the last couple of years it would be nice to settle down a little bit. There are only year contracts and there isn't a lot of security in the game at this stage, so it's very difficult to find a place to settle down. I've still got my house in Nottingham so if it could be within commuting distance I would move back there and just travel. It's one of those things you have to be prepared for, to go wherever. Being a single lad it's not too difficult, I haven't got ties and I'm not messing people around moving them about. There will be people with wives and kids in exactly the same situation as I am and it's a lot more difficult when you're having to take that into account. That's one plus side I've got. I'll go anywhere again.
What about heading home to Scotland, would that be an option?
It's an option. I'm prepared to go anywhere. I will look at anything that comes up and judge it on its merits when it comes. Scotland, again, wouldn't be an issue. I wouldn't just go back to Scotland for the sake of it, though, it would have to be the right offer for me. If I was to get what I feel is the right offer for me, then that wouldn't be a problem at all.
We would like to hear your thoughts on the best free transfers out there. Who should we be talking to? Who are this summer's bargains? Who should your club be targeting?
Maybe you are a player that would like to be featured, or an agent looking to get a client fixed up for next season. To offer your suggestions fill in the feedback form below or get in contact with either chris.burton@bskyb.com (@SkySportsChrisB) or alex.dunn@bskyb.com (@SkySportsAlDunn).