Shaun Derry, Kevin Davies and Guy Branston continue their blog
Our Football League bloggers talk controversial goals, waterlogged pitches, kit mix-ups and more..
Last Updated: 25/09/13 12:26pm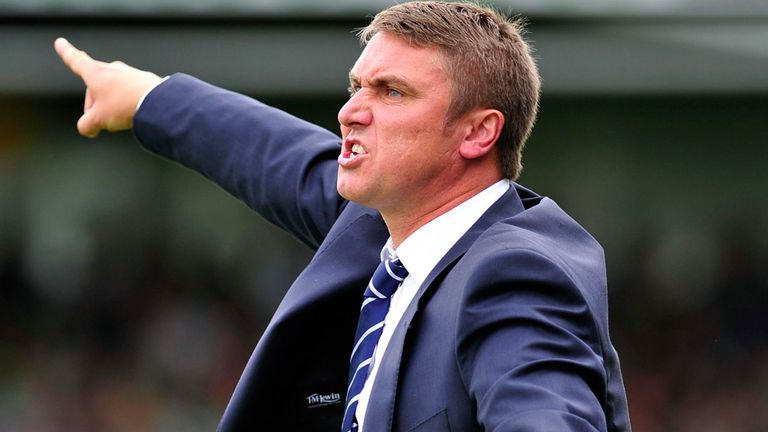 As well as a weekly blog from Crystal Palace striker Kevin Phillips, we will also be speaking to three seasoned campaigners in the Football League.
On-loan Millwall midfielder Shaun Derry, Preston frontman Kevin Davies and Plymouth defender Guy Branston - who all appear on Sky Sports News Radio's Football League Hour - will be chatting to us about all manner of footballing issues.
This week, Branston reflects on the Capital One Cup drama at Yeovil, Derry talks about his club's absent kit, and Davies explains why Simon Grayson was not a happy bunny at Sixfields...
GUY BRANSTON
There was a good debate in the Plymouth dressing room after what happened in the Capital One Cup, when Yeovil let Birmingham score an equaliser after they had scored into an empty net earlier in the game when a Birmingham player had been injured.
Some players said Yeovil's goal shouldn't have counted but my view was that, while it was gamesmanship from Byron Webster to score when the 'keeper wasn't ready, the goal should have stood.
It was a big decision from Yeovil manager Gary Johnson to let Birmingham score later on, as well, and one I don't think he should have made because it wasn't looking out for his club.
These freak things happen in football and I wouldn't have let the other team go unopposed and have a free shot at goal.
If the referee said it was a valid goal it should have stood as a valid goal - and if I was the Yeovil chairman I'd have been spewing because his team are not the biggest and could have benefited from a cup run.
There was also controversy on Saturday when Charlton and Doncaster's match was abandoned because of a waterlogged pitch.
I get that safety might have been an issue but if both sets of players want to play, the managers want to play and there are no dodgy tackles flying in, why should the referee stop fans who have paid a lot of money from seeing a game?
I think games are called off now for something they wouldn't have been 10 years ago and health and safety does go a bit mad at times, but football has definitely changed for the better and the style of play has improved so we shouldn't always complain.
SHAUN DERRY
The big story at Millwall this week was us forgetting our kit for the game with Sheffield Wednesday!
Steve Lomas told us that the kitman had made a massive mistake but the boys were brilliant about it, wearing the Sheffield Wednesday kit before changing into our third kit at half time.
A few of the boys were saying that a silly thing like this could be a changing point for our season because it coincided with our first point, which we got at one of the toughest places to go in the Championship and against probably the most physical team in our league.
We really dug in to get a point and are now looking forward to playing Brighton on Saturday, but I'm sure all of our players will be watching Sky Sports News on Monday to see who goes where on Transfer Deadline Day.
We love it and talk about it as much as the fans.
When I was at QPR I was always looking at who was coming in and going out and I learn about it from TV; in our first season back in the Premier League, Anton Ferdinand and Shaun Wright-Phillips came through the door at 11.30 at night and I was watching the telly in amazement.
Your club can completely change in half-an-hour and while I don't think there is going to be an abundance of activity at Millwall on Monday, there might be at QPR and another of my old clubs, Crystal Palace, so it will be a really exciting watch.
KEVIN DAVIES
We scored four goals against Coventry last week but we let in four as well and our manager, Simon Grayson, wasn't particularly happy with our defending or our tempo of our play. He had a few strong words for us but we all took them on board and played better against Burnley in the cup.
We weren't sure what to expect when he pulled up at Sixfields to play Coventry and there were only a few fans dotting about, but there was decent atmosphere in the ground, probably because of the way the game went, end-to-end and with eight goals.
The boss made a few changes for Burnley and, as I said, we did better than at the weekend; night games under the lights are always exciting and we controlled parts of the game and passed the ball with real purpose on a wet surface.
We were disappointed to lose 2-0 but the boss was happy with us and said that if we play like that most weeks in League One we will win more games than we lose, so we took some real positives out of what happened against our local rivals.
Derbies are always passionate - there was lots of emotion in our win over Blackpool in the last round and we wanted to replicate that against Burnley.
We took a lot of fans there, who never stopped singing all night and got right behind us, so it was frustrating we couldn't win.
Don't forget to tune in to tune in to the Football League Hour every Thursday night at 7pm on Sky Sports News Radio or download the podcast here on Friday morning.