FL72 Review: Don Goodman reflects on Football League weekend
Every Monday night, the Sky Sports experts will review the weekend's Football League action on FL72. Here's Don Goodman's take on big wins for Blackpool, Blackburn, QPR, Leyton Orient and Wolves.
Last Updated: 25/09/13 12:00pm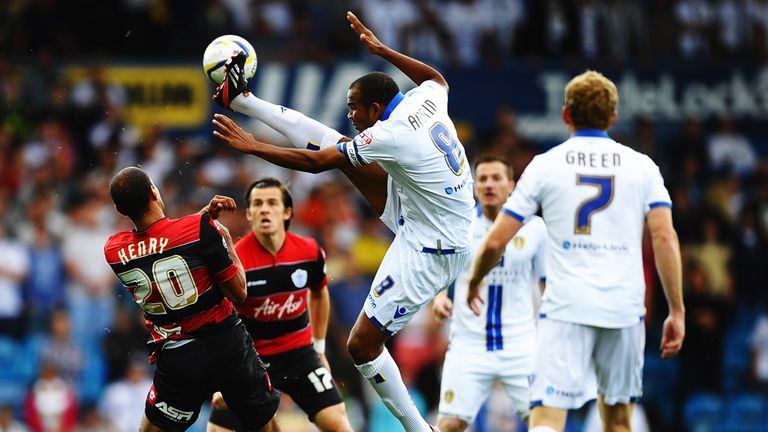 I'm sure Blackpool have surpassed everybody's expectations, even Paul Ince's, with the start that they've had. Along with Burnley I'd say that they are the surprise packages in the top five in the Championship. They've beaten some good teams - Reading and Watford - so it's not like they've been grinding out results against lower opposition; they've pulled off some good victories. What stands out more than anything is that he's got them really well organised with three clean sheets already and three 1-0 wins. That's a template for success. You would fancy Troy Deeney to score from the penalty spot because he has a decent record, so he'll be disappointed. Watford did have chances and hit the woodwork a couple of times, but you've got to be ruthless. Generally when you're not ruthless in football you pay the price and that's what happened.
Leeds 0-1 QPR
QPR are only in second gear as an attacking force. Defensively they have been very miserly and they're only going to get better, for me, which is the worry for the rest of the Championship. Harry has continued his theme of buying players that he knows, players he has faith in that he trusts with his life, whereas a lot of the players they brought in last season when they were in the Premier League were gambles and they turned out that way. I think there's a feel-good factor from Leeds United and that's because they've got Brian McDermott in charge. With no disrespect to other people that have been in charge, the pedigree he's got at this level is fantastic. He knows what it takes and it's a work in progress for Leeds, but they've certainly started very well.
Charlton 2-1 Leicester
Charlton's win was notable because Leicester had been going very well. Leicester will be disappointed because the goals were poor defensively - two corners - and Nigel Pearson will be really disappointed, but it's a massive boost for Charlton. It's very difficult at this stage of the campaign to put your finger on why a team have started sluggishly and Charlton are not one of the biggest spenders in the Championship, so from their perspective it's about getting off to a solid start. They hadn't done that and that's why the win at the weekend was very important.
Blackburn 4-1 Bolton
Blackburn have certainly got the players there, but then again they had the players there last season and it all went horribly wrong. There was no stability, no togetherness within the whole club and you sense that's different now with Gary Bowyer in charge. He seems to be a very calming influence and he's got the players, the board and everybody else pulling in the same direction and I think they'll have a much better season. David Dunn showed wonderful feet and we've seen him do it over the years on various occasions. He's still got the quality even though he's into his thirties now, so whether the legs are still the same remains to be seen, but he showed he's still capable of producing magic moments.
Port Vale 1-3 Wolves
Kenny Jackett, from the day that he got in, said the emphasis would be on a youthful and hungry team and I think his remit has been to get a disciplined, organised and together team. That's something that Wolves haven't had in the last few seasons and they've paid the price for that, but this season he's got them going and they really have grown into the season. I do see them as a genuine automatic promotion contender. The supporters are voting with their feet, they're getting very big crowds by League One standards and there's a different atmosphere on the terraces. A new manager has come in and the fans are appreciating that they're going into a different buying market and giving younger, home-grown players an opportunity. The fans are really identifying with that and getting right behind the team.
Colchester 1-2 Leyton Orient
This was Leyton Orient's biggest test so far, there's no doubt about that. They've beaten the likes of Carlisle, Shrewsbury and Stevenage but it's not really another three games before they come up against anybody that we would consider serious promotion contenders in Brentford away and that will be a test. David Mooney and Kevin Lisbie look like a really good combination. Kevin Lisbie has been around the block a few times, for a good long while and never really struck me as an out-and-out goalscorer, but last season and this season he's made a huge contribution with the goals and experience that he brings to the team.
Click here to sign into Sky Go and watch FL72-Review in full.
See all of the weekend's Football League highlights for free on your computer