Peter Beagrie
Football League Expert & Columnist
Peter Beagrie says Man United's Nick Powell is like Teddy Sheringham
Teddy Sheringham graced Old Trafford and Beags says Man Utd now have a similar player on their books...
Last Updated: 25/09/13 11:35am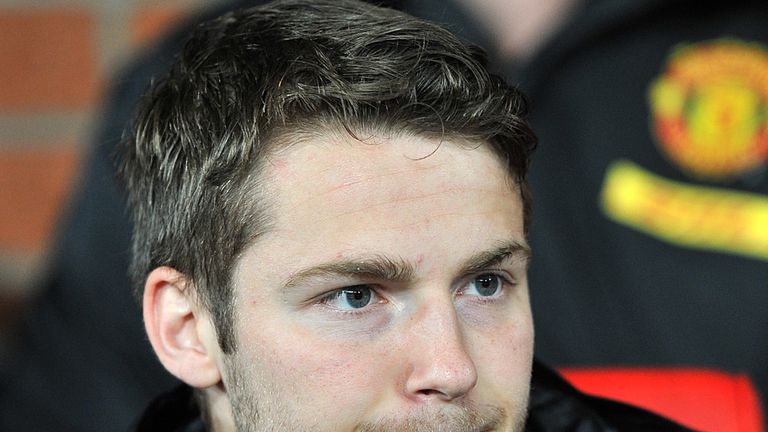 The former winger, who played over 770 games, representing clubs in all four tiers of the English footballing pyramid, including Manchester City, Everton, Bradford, Sheffield United, Scunthorpe, and Grimsby, forms part of the Sky Sports punditry team for all the big matches in the Championship, League One and League Two.
So if you have a poser for Peter, whether it's about your team, a player, match or incident that has caught your eye, or a wider point on the Football League, send it in.
Read below for this week's column where Beags compares Man United youngsters Nick Powell and Jesse Lingard and names the most underrated footballers he teamed with...
LINGARD VERSUS POWELL
Jesse Lingard. Nick Powell. Who is better? Steve Bartlett
BEAGS SAYS: Good question, Steve. If you include Federico Macheda you have three Man United starlets getting on the scoresheets for Championship clubs. None of them are out-and-out centre-forwards but they each excel in their ability to find space between the lines, drop off centre-backs and run at defences. Lingard (pictured) and Powell realise that physically they cannot cope if they get into a battle and allow centre-halves to bully them, and spatial awareness is a huge factor in their games. Lingard is a more dynamic player with speed of movement and he's a better finisher, whereas Powell has a razor-sharp brain, moves with ease and grace and has an air of the spectacular; you could say it is a case of one being a great goal-scorer and the other a scorer of great goals. However, I think Powell is the closest thing to Teddy Sheringham I have seen in the modern game, so even though Lingard took a four-goal haul on his Birmingham debut versus Sheffield Wednesday, it's Powell who gets my vote.
TWIN PEAKS
How big of an influence do you think the Chambers twins are having on Walsall? Pete Entwistle
BEAGS SAYS: Adam (pictured) and James are having a major influence, Pete. They are good people, good professionals but, most importantly, good players. Both have great attitudes and are a manager's dream and are enjoying playing together and being part of an excellent Walsall side that, despite the loss of Will Grigg, are showing the form of last season at the beginning of this. Dean Smith is doing a brilliant job, backing up a fabulous derby win over Wolves with a draw against rampant Rotherham. Four points from those two fixtures only emphasises the spirit and ability at your club with the Chambers twins, fresh from signing new contracts in the summer, a huge part of that. Keeping captain Andy Butler fit and making sure dribbling wizard Craig Westcarr sees plenty of the ball could see Walsall continue to ruffle the feathers of a few more League One big boys.
TAYLOR MADE
What will Gary Taylor-Fletcher bring to Leicester? His signing seems a little odd to me. Marcus Kemp
BEAGS SAYS: Taylor-Fletcher will bring Leicester's striking options up to Nigel Pearson's magic number of four; he will join David Nugent, Chris Wood and Jamie Vardy and provide cover, competition for places, work ethic and a guaranteed goal threat. Gary also enables Pearson to opt for an alternative as he is equally happy playing in the middle or wide in a front three or behind the striker/strikers. He has played in big games at different levels throughout his career and scored lots of goals in them, and that can't be underestimated. Plus, if Leicester maintain their excellent form, his experience could be vital come the business end of the season.
UNDER THE RADAR
Who was the most underrated player you ever played with? Alex Hales
BEAGS SAYS: That is a tough one, Alex, but after some thought I can think of several in different positions who wouldn't grab the headlines and didn't get the credit they deserved, but were brilliant team players. Tony Coton (pictured), my keeper at Man City, was sensational; a brilliant shot stopper with the best distribution of any number one I have played with, he was easily worth 12-15 points per season and was a fantastic, acid-witted character, too. Neil McDonald, an England Under-21 team-mate and full-back for Everton, was a brilliant trainer with a sledgehammer of a right foot and he should have been employed in central midfield as his distribution was top class. Macca was a non-conformist who spoke his mind which was probably the reason the management and old guard didn't warm to him, but if people are saying things to your face they are not saying things behind your back and I know which I prefer. That is probably why we got on so well! Paul Rideout would be another to fit into that category. He was the shyest footballer I ever played with and a real introvert- until he had a few beers. A winger's dream, he dropped off, played the ball wide and disappeared into the box and, though not the tallest, he was nicknamed 'the Bullet' because, such was his technique, the ball exploded off his forehead. Paul's brilliant movement and ability to time his runs made him a centre-half's nightmare and he was an unsung hero - but he was a villain on a night out as he had an unfortunate knack of knocking tables over as he rushed to the toilet due to his ridiculously weak bladder. Not good, particularly in Sweden at £8 a pint!
DERBY DAYS
I was listening to Ray Wilkins on Goals on Sunday and he said he couldn't enjoy derbies as a player. Was that the same for you or did you love being part of them? Will Buckton
BEAGS SAYS: I can understand Ray's reservations about derbies. The midfield is a minefield and you get no time on the ball due to the frenetic pace these games are played at. I, though, loved them and as a winger they gave me an added advantage as full-backs were desperate to leave a bit extra on you and were more likely to lose discipline by diving in or overcommitting. I enjoyed the Merseyside derby better than the Manchester one as the atmosphere was as passionate but less intense and there seemed to be less animosity between the two sets of fans - although that might also be down to having more success against the Reds as opposed to the Red Devils. These derbies get all the headlines but if you played in the Potteries head-to-heads the dislike is tangible and bragging rights absolutely everything. Euphoria and a buzzing dressing room, for the winners, desolation and the worst week of your life for the losers, especially if the defeat is on your own patch.
SIGN A STRIKER
Do you feel Burnley can sustain their current form, or will the fact they have such a small squad come back to haunt them? Ryan Castle
BEAGS SAYS: Ryan, your team's current form is nothing short of excellent. Sean Dyche has adopted a traditional 4-4-2 system with every player knowing their role and that is serving the side well, but you are right to have reservations about the size of the squad over a 46-game season. Ross Wallace's injury has not impacted too much as Dyche has made a welcome and quality addition in the shape of Stoke's Michael Kightly, a proven Championship performer and someone who he worked well with at Watford. My big worry would be that an injury to one of the front two of Sam Vokes and Danny Ings would derail a brilliantly consistent start and that is a position I would be looking to strengthen, especially after the departures of Charlie Austin and Martin Paterson close season. It is a fine balancing act for Sean not to upset the harmony of the dressing room so he should perhaps look to offer experience to a young striker at a Premier League club who wouldn't expect to go straight into the starting line-up and would be willing to be back-up to the blossoming partnership of Vokes and Ings.
AND FINALLY...
Leyton Orient turned their magnificent seven into eight by beating Brentford on Monday night, so do you think Slade will have another Christmas number one? The last time they had one was with Merry Christmas in 1973 but Russell's boys could be set for top spot.
The game with the Bees was the real test and a battle between Brentford's power and physicality and the craft and individual ability that Orient possess, but Slade's team came through with flying colours. They can hit you from all areas going forward but they answered loads of questions by dealing with set pieces and keeping Brentford out.
Russell (pictured) will be playing things down because Tranmere won nine of their first 12 games last season but didn't get in the play-offs. However, this Orient side is different to Rovers because it is made up of full-time signings that have been together for a couple of seasons; they have real camaraderie and spirit as well as ability.
Send your question to Beags
1. Mail them to skysportsclub@bskyb.com
2. Use the feedback form at the bottom of this page or at the bottom of any of Peter's articles...