Steady Shrimps
Morecambe goalkeeper Barry Roche discusses ambitions at the Globe Arena and his contract hopes.
Last Updated: 19/12/13 4:52pm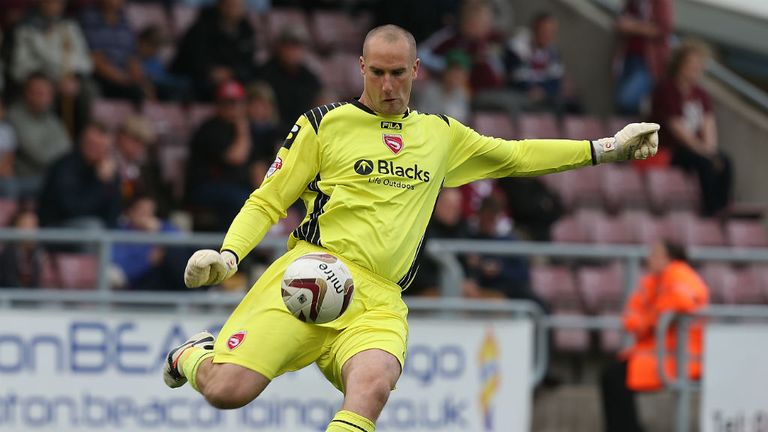 The new season is upon us, with the 2013/14 campaign starting to take shape.
Here at Sky Sports we will look to take you to the very heart of the Football League over the coming months, with our Spotlight features intended to give you a greater insight into the clubs and players that keep us on the edge of our seats.
We hope to bring you the views and thoughts of a representative from each of the 72 teams over the course of the season, with those involved asked to give their take on the division they compete in, the club that pays their wages and those we should all be keeping an eye on.
Morecambe's Barry Roche is next into the hot-seat, with the Shrimps goalkeeper taking time out to discuss ambitions at the Globe Arena and contract hopes with Chris Burton.
You've found a nice bit of form again, six unbeaten in the league, does it feel like everything has clicked?
It certainly does. We felt in the first two or three games that we were better than it looked, we didn't get the results we deserved. Then we got a couple of good away wins and suddenly we found a bit of confidence. Even in the last few games, where we haven't played particularly well, we've managed to get some good results.
Things could have been even better as well couldn't they, given that you conceded a last-minute goal against Dagenham and drew a blank at Northampton?
The game at Dagenham, we were by far the better side. We were camped in their half for the majority of the game, so we only have ourselves to blame because we should have been out of sight going into the last 10 or 15 minutes. Instead, we invited a bit of pressure on ourselves and we paid the price. It looks like a good point at Northampton last week, which it was and was another clean sheet and it's not an easy place to go, but I thought we were the better side. There weren't any clear-cut chances in the game, but the chances that did come along we felt were mainly for us and on another day we could have got a one or two nil win.
That was a rare blank as the goals have been flowing and you've had everyone chipping in, which always helps doesn't it?
Yeah, we have been fortunate in that we have been getting goals from all over the pitch. To score three goals in away games at Newport and Southend was excellent, we really played well for a good 45 minutes in each of those games and got three goals. Saturday, there weren't many chances and it wasn't a pretty game - unfortunately the ball was in the air an awful lot. We had to just dig in and grind out the draw rather than playing decent football.
What was the target coming into the season? Having finished 16th last season were you taking aim at the top half and seeing what happens from there?
The first target is to get to the 50-52 point mark and get safe as soon as possible. But we felt after the pre-season we had and we've had quite a big player turnaround and looking at the new squad, we felt a top-half finish certainly isn't beyond it. As soon as you get the top-half in sight, you are going to want to go one step on again and aim at the play-offs. It's a big ask for a club our size, considering the other clubs that are in this division - there are some much bigger than us, with bigger budgets. But we feel with the players that we have got that a top-half finish isn't beyond us.
The set-up is there to move forward isn't it, with the new stadium and some quality players in the squad?
Everything is in place, there is no doubt about that. But, as I said, I think it will be a very big ask because we have got a very young squad. The game against Dagenham, our bench consisted of two youth team players, four youth team graduates who have only been out of the youth team a year or two and the oldest player on the bench was our reserve goalkeeper, who I think is only 23. We have got a very young squad and with that age of player on the bench, it is a lot to ask of them at such a young age. But they have come back for pre-season, given it a good go and have all put themselves in the reckoning. We aren't really setting any targets in terms of play-offs, top-half finishes, but we have given ourselves a good start and if we can continue that form, then you never know.
You've been there for over five years now, how has the club progressed in that time?
It's progressed and come on so well, on and off the pitch. The big thing was the new stadium for the club, to really establish itself as a League Two club and having the possibility to take the next step we needed to move out of Christie Park. We have got a great new ground now, we still haven't got the fans that we would possibly want. The club is aiming for over 2,000 fans - 2,200 - and we have been averaging around 1,800. But unfortunately that's the way it is, football is a very expensive hobby. But everything is in place to take the next step, but it will be a big ask.
I take it you are still enjoying your time there, that you feel you are at the right club for you?
Absolutely. I've loved it up here, I've loved every minute. Five-and-a-half-years here, I have really enjoyed it, there are great people running the club and there is a great atmosphere around the place. We have got an excellent coaching staff and a really tight-knit group of players which, for me, is a good thing at any club - when you have got 20-odd lads who all get on with each other on and off the pitch, it makes a big difference.
It's a sensibly run club isn't it and in Jim Bentley you've got the ideal man in charge, someone who knows the club inside out?
Jim has been here now 13 or 14 years and there isn't anything he doesn't know about the club. It is very sensibly run, the club isn't putting in stupid amounts of money in the hope of securing promotion. You see some clubs that have done that in the past and things have gone wrong when they haven't got promotion. They aren't in debt to anyone, as far as I know, so a lot of credit has to go to the club for sustaining a Football League club.
You've got Chesterfield on Saturday, which will be tough, but are you looking at the rest of October's schedule and thinking there may be a chance to really kick on?
There is always a chance to kick on in this league. As good as some other teams are, on any day in this league anyone can beat anyone. You see that time and time again. I don't think many people gave Mansfield a chance of going to Chesterfield on Saturday and getting a result, but they did. It was an excellent result for them. It will be a very tough game for us, Chesterfield will be looking to show a good reaction to the loss, but no-one gave us a chance of going to Southend and getting a win, but we went down there and won quite convincingly. We know, on our day, that we are more than a match for anybody.
And for you, is it all about performing to your best and earning yourself a new deal?
That's all it boils down to. I'm out of contract this year. As I said earlier, I love the club and I want to stay. I've been really happy with my form so far so as long as I can keep that going, then hopefully the rest will take care of itself.