Iron-willed
Scunthorpe's Etienne Esajas discusses a bright opening and returning to football after a year out.
Last Updated: 19/12/13 4:52pm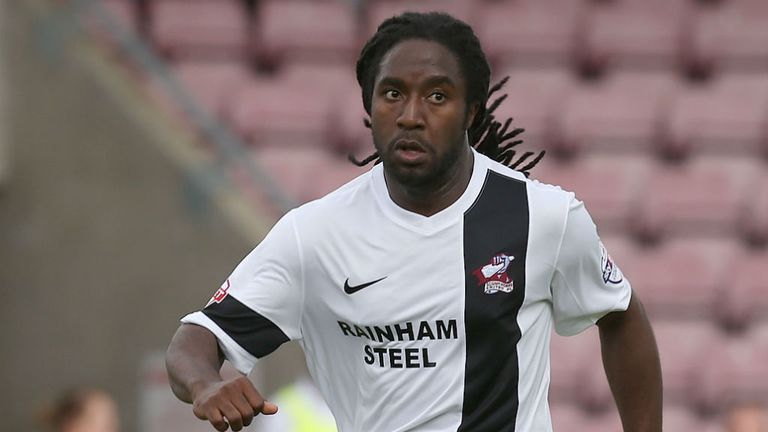 The new season is upon us, with the 2013/14 campaign starting to take shape.
Here at Sky Sports we will look to take you to the very heart of the Football League over the coming months, with our Spotlight features intended to give you a greater insight into the clubs and players that keep us on the edge of our seats.
We hope to bring you the views and thoughts of a representative from each of the 72 teams over the course of the season, with those involved asked to give their take on the division they compete in, the club that pays their wages and those we should all be keeping an eye on.
Scunthorpe's Etienne Esajas is next into the hot-seat, with the Dutch winger taking time out to discuss a positive opening and returning to football after a year without a club with Chris Burton.
You're six unbeaten in the league, with only one defeat, it's all started how you had hoped hasn't it?
We've been doing well as a team - especially at home. I think it's all credit to the team. We all stick together whether we are 1-0 up or if we are looking for a draw, we always look to get something out of the game. I think it's best if you can't win the game to not lose it. That's our motivation, but we've been doing well.
As a club that got relegated last season, it's even more important to start well isn't it and get that confidence flowing again?
I think so. If you got relegated, then you want to be up there. I think we have got a good enough squad to be up there this season. I think the manager is doing a good job as well, so we just need to keep going on this run.
Is it just a case of getting the basics right and giving yourself a chance to pick up points - with three clean sheets in your last four?
We know what we need to do in the games to not lose games, and to win games. It's minor mistakes in games which cost us points. On a couple of occasions we have been unlucky, but that's football, I suppose. If we get it right, I think we will be one of the better teams in this league.
On a personal level you have two goals in your last three, so it's nice to be back on the score sheet I take it?
Oh yeah. I'm here to do well for myself, of course, as well. I'm happy to help the team out defensively and offensively - scoring goals and putting assists in. On a personal note, I had been out for a year so I'm hungry to play every game and to do well.
It was four years since you last scored - that's a long time to go isn't it?
It is a long time. I scored my last goal for Swindon, but that was a cup game. In the league it was four years because I didn't score for Swindon in the league. It's just been a hard year the last one for me, to not be able to play the game that I love. That's why I'm so happy to be back on the pitch.
Was there ever a point when you doubted that you would be back, or did you always keep the faith?
I've always had confidence in myself. You need to get chances if you're out of the team, to be able to show yourself and your abilities. I did trials, but trials are the hardest things to do because you need to show your abilities in a couple of days and not over a whole season. I have always been believing in myself, with my family behind me, and I've never doubted myself for a moment. Then Brian Laws came and gave me my chance and I think I have taken it with both hands. I'm happy that I did.
Has it helped that you've worked with Brian Laws before - he knew what you were capable of and you are comfortable working under him?
Yes, of course. When I was out of the team he told me that I didn't need to come in to show my abilities because he already knew what kind of player I am. He just wanted to see my fitness. I came in and I was obviously at a bit less fitness than all of the others because I had been out for a year, but I tried to work hard. I came back and showed him that I'm willing to work hard on my fitness level and that's what I have been doing. Quality comes by itself if you work hard, I think.
Was it always a case of wanting to stay in England? Did you consider going home?
No, I always wanted to stay in England. The UK, I think it's one of the best countries to play football. I came from Holland and the first time I played a game for Sheffield Wednesday it was incredible - the atmosphere, the fans, it's such a big difference from Holland. In Holland, it's a bit quieter in the stadiums and the atmosphere is a bit different. Obviously the games here a lot tougher. In Holland, it's a bit more technical. But I adapted well to the game in the UK and I like it.
You've played in the Championship with Sheffield Wednesday, I take it that is a level you would like to play at again?
Of course. I think everybody wants to be as high as possible. But, then again, in life it's tough and if you drop, you drop. If you are able to get up there again, that will be amazing. No-one would put a ceiling on themselves. I think I'm capable of playing at a higher level than I'm playing at the moment. I need to get my level up again. That's all I can do at the moment - work hard, work hard for my team-mates, keep my fitness up and show my ability on the pitch.
You're doing that at the moment aren't you - your player of the month nomination was nice recognition for what you're doing and the hard work you have put in?
I need to give a lot of shout-outs to the team, because without them I couldn't do it. I have good players behind me who trust me when I don't have the ball I will just go and do my stuff, and when I do have the ball I have trust in my defenders and know that if I do lose it they will get it back. It's always a good feeling to know that when you get the ball you have those players around you. I'm happy with the way things are going and hopefully I can keep this momentum up.
The club have pieced together a useful squad haven't they, with great experience in the likes of Deon Burton, Chris Iwelumo and Andy Dawson? You need that in League Two don't you?
I think so. You need experience. We know as a team what is needed to win games. The gaffer gives you instructions before the game, but in the game you need experience to know how to win a game and keep calm. I think we have the experienced players to do that - with the likes of Mirf, Dawsy. We have got Sam (Slocombe) behind us, and he has been terrific for us this season. As a goalkeeper it's not easy and we have to give so much credit to him because he has been outstanding.
As a club, taking the players out of the picture for a moment, it's all very sensibly run isn't it - no debts - and it's all there to take a step forward again?
Of course. I think Scunthorpe are ready to get back to a higher level - on the pitch and as a club. I think it's a good atmosphere at the club - in the stadium, everybody in the dressing room - and that helps.
You only signed a one-year contract, so I take it you are hoping that there might be something extra there - you don't want to be in the same situation again next summer?
Of course. Obviously it is a big risk to sign a player who has been out for a year. I think the gaffer took a risk in signing me with me being out for a year. I understand that it was only going to be a year contract. All I want to do is work hard and show my ability and try to earn another contract.