Lowe and behold
Cheltenham defender Keith Lowe discusses dealing with raised expectations and giving your all.
Last Updated: 19/12/13 4:51pm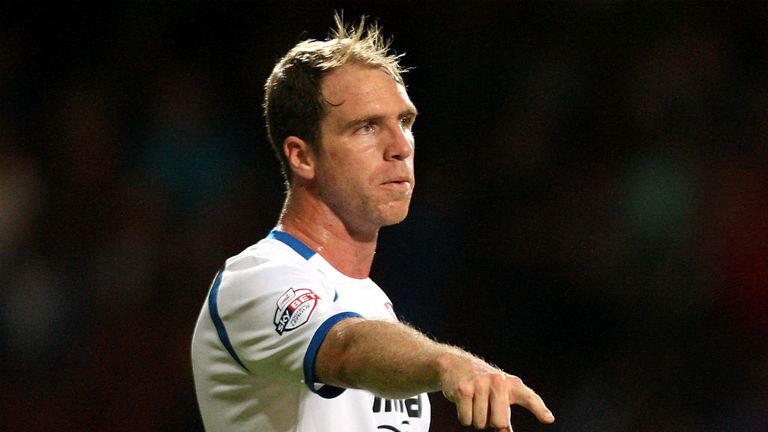 The 2013/14 campaign is now well under way, with divisions beginning to take shape.
Here at Sky Sports we will look to take you to the very heart of the Football League over the coming months, with our Spotlight features intended to give you a greater insight into the clubs and players that keep us on the edge of our seats.
We hope to bring you the views and thoughts of a representative from each of the 72 teams over the course of the season, with those involved asked to give their take on the division they compete in, the club that pays their wages and those we should all be keeping an eye on.
Cheltenham's Keith Lowe is next into the hot-seat, with the Robins defender taking time out to discuss dealing with raised expectations and giving your all with Chris Burton.
You've had play-off disappointment in each of the last two years, is it fair to say you've had a bit of a dip at the start of this season and taken a bit longer to get going?
Yeah, it has taken longer than we had wanted to get going. Obviously it has been disappointing at the end of the last couple of seasons, but a lot of things have changed and the expectation is a lot higher than it was. It has been a bit of a disappointing start, but hopefully the win at the weekend will get us going.
In League Two you get this inevitable turnover of players that makes it difficult to maintain consistency, but that's the challenge you have to take on as a squad don't you?
It is. It's something the players have to accept and, I suppose, the management team do as well. The players are lucky to get a two-year contract in League Two, so there is a big turnover. It makes the start of every season a bit worrying because you don't know how things are going to go.
Like you say, expectations have risen the last couple of years and that adds pressure on the manager as well, but I take it Mark Yates - who is now the fourth-longest serving manager in the country - still has the full backing of everyone at the club?
Of course. It just goes to show the stability of the club. The chairman does a great job running the whole thing. I don't think the club is in any debt, it doesn't spend beyond its means, which makes the fact that we have been challenging up the top of the league for the last couple of years even better.
We do seem to have reached silly season when it comes to managers, but it's important isn't it that stick by people and give them time?
Definitely. It's easier to keep that stability and it does help everyone to settle. With things turning around so quickly, it's nice to have something that's constant.
You won at the weekend, two in three now, do you feel that the form is coming back slowly but surely?
Yeah, I think so. It did take us a while to get going, which is obviously not great for us, but two wins in three and I think the one on Saturday was probably the best one of the lot. It was hard work and it really felt like we deserved all three points.
Back-to-back home games coming up, there's a chance isn't there to really kick on from here?
Definitely. We have been away the last couple of weeks so it will be nice to be back in front of our home crowd and hopefully give them something to cheer about.
As one of the defensive boys, only two clean sheets, that's an area which needs to be addressed isn't it?
Definitely. We have been working hard since day one to get things right. A few things have changed personnel-wise and things like that, but we seem to be turning things around and we need to repay the lads that are scoring the goals up the top of the pitch by keeping clean sheets at the back.
You popped up yourself at the weekend, nice to be up and running and in an important game as well?
Yeah, it was nice to get off the mark. I got a few last season so I was hoping to continue that this year. It was nice for us. The win was down to all of the lads really, we put a really good shift in and we definitely deserved it.
You got four in the league last year, it's important isn't it that you chip in again?
I enjoy it, especially going up for set-pieces and things like that. I like to try and get my head on things and force my hand in the opposition penalty area as well as shutting them out at the other end.
Are you confident that Cheltenham will be in the mix again, the table doesn't really start to take shape does it until Christmas/New Year?
A couple of wins can change things. I think we went up five places just from the win on Saturday. There are a lot of things that can change, especially this early in the season, so I don't think anyone will be counting us out of it yet.
While the play-offs haven't been very kind to you recently, I take it you would snap up a top-seven finish if it was offered to you again now?
Definitely. It's great to extend your season and still be in with a chance of getting promotion. If you don't make it into those automatic places, then the play-offs are a great way of getting promotion.
You just have to keep knocking on the door don't you and eventually, hopefully, it will open?
You'd think so. Even in the games that we have lost we have played well in and been unfortunate. You have to keep knocking and one time it will open and go your way.
It's such a competitive league thought isn't it - you look at how Mansfield and Newport have settled since coming up - there's a real level playing field in League Two now?
The clubs in League Two now are massive, not just the teams that are coming down but also the clubs that are coming back up out of the Conference - they seem to have good backing behind them and are making a good go of it.
Do you think a couple more in on loan could help you out, as you haven't got the biggest of squads have you?
No, but we never seem to have the biggest squad in the league, which shows how well the management and chairman have done on such a budget. But we will always welcome good players in on loan to help the cause.
On a personal note, are you enjoying it at Cheltenham and happy with how things are going?
Yeah, I'm into my fourth season now. I'm really settled. The fans are great with me and the club has always been great to me. I'm enjoying my run in the first team now.
And hopefully a new contract at the end of the season?
Yeah. I'm always looking to prove myself. I always give everything I have got in every game I play in. That's what I'm here to do, let the fans know that I'm really trying my best and hopefully get the rewards at the end of it.
You have to keep doing that don't you with short-term contracts, you have to perform week in, week out?
You can't rest on your laurels at all. One bad performance, one mistake and you are out of the team and someone snaps your hand off to take your place. There is no place for rest, to be honest.