Peter Beagrie
Football League Expert & Columnist
Peter Beagrie blogs on Leicester, Stevenage and Kevin Keegan
Beags discusses the three biggest teams in the Football League and meeting Kevin Keegan.
Last Updated: 25/10/13 9:00am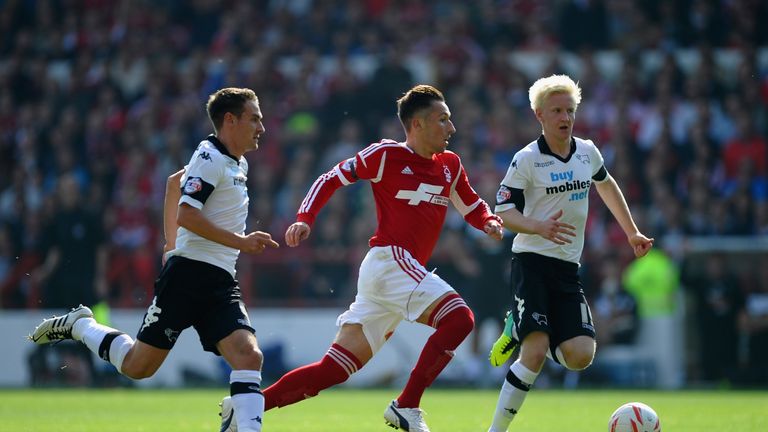 The former winger, who played over 770 games, representing clubs in all four tiers of the English footballing pyramid, including Manchester City, Everton, Bradford, Sheffield United, Scunthorpe, and Grimsby, forms part of the Sky Sports punditry team for all the big matches in the Championship, League One and League Two.
So if you have a poser for Peter, whether it's about your team, a player, match or incident that has caught your eye, or a wider point on the Football League, send it in.
Read below for this week's column where Beags gives his take on Leicester, Stevenage and his maiden meeting with childhood hero Kevin Keegan...
FANTASTIC FOXES
Leicester have had a great start to the season with only two losses. We are keeping up with the top two and Wes Morgan and Liam Moore are formidable at the back. Do you think we will be in the title race come the end of the season? Josh Swan
BEAGS SAYS: Hi Josh. Leicester seem to be relishing the focus being placed on other teams and are quietly and efficiently going about their business. Brilliant home form has always been a plus but I feel the away form could be their Achilles heel this year, with defeats already to Charlton and Doncaster. Nigel Pearson will be determined to put that right, particularly with the next 11 games being a sterner test than the first 11 as they face six of the current top 10. I feel, though, that if the present squad stays relatively injury-free it has the quality to be involved in at least the play-off shake-up. I couldn't believe it when Liam Moore - a player I have rated for some time - was allowed to go out on loan to Brentford last season; Michael Keane was preferred at centre-half but after making a good initial impact, he seemed to visibly tire with regular league football and international fixtures taking their toll. Moore is back now, though, and the experienced Wes Morgan could be the ideal man to play alongside him. Theirs is a partnership that should only get better.
SLEEPING GIANTS
Hi Peter, Who do you think are the three biggest teams in the country not currently competing in the Premier League? Pete Davidson
BEAGS SAYS: That is a tough question to answer as how do you measure the size of a club? Is it fanbase, tradition, past successes or even global appeal? Brighton top the attendance averages in the Championship but fall short on the other aforementioned factors, so, in my opinion, the biggest clubs outside the Premier League are Leeds, Nottingham Forest and Derby, who tick the history - both past and recent - and fanbase boxes.
PUSH THE TEMPO
Beags, My team Stevenage seem to be having a tough time finding a suitable style of play under Graham Westley. Do you think we can turn it around or do you think we'll be struggling for a while to come? Jordan
BEAGS SAYS: Recent results against Brentford and Crewe have offered renewed hope, Jordan, but the players have to remain brave and have a positive mind-set as the next four fixtures against Crawley (h), Wolves (a), Rotherham (h), and Peterborough (a) are not for the faint hearted. It is impossible to have a good season thinking about damage limitation and surviving each match, you must offer a threat and in the Crewe game Stevenage certainly did - without compromising their solidity. Tranmere apart, the clubs below yours, Jordan, can and will add to their squads between now and the end of the season so Graham Westley must keep encouraging the Stevenage boys to play with a high-tempo and test opposition's defences in different ways. In Francois Zoko, Graham has a physical presence and lots of pace, and Filipe Morais off him should provide a bit of craft and creativity, while there are good options out wide and Luke Freeman will get more service when the confidence grows in the team/squad. League One is a tough division - as your next four games will prove - but best of luck for the rest of the season.
MR PERFECT
How important is it that Charlton keep hold of manager Chris Powell? Phil Barnett
BEAGS SAYS: Chris has a great affinity with the fans, association with past successes and a vital understanding of where the club now find themselves in terms of their financial parameters and restrictions, so taking that into consideration, Powelly is a perfect fit for Charlton at the moment.
SUPER KEV
Who was your footballing hero as a child? Thanks Mark Forbes
BEAGS SAYS:It was Mighty Mouse himself, Kevin Keegan. Being a bit of a tiddler myself I was always told I was the best technically but wouldn't make the grade because physically I wouldn't grow enough to be a professional - which was total rubbish, as Kevin, who was small but had a huge talent and an even bigger heart, proved. I always put him on a pedestal. I have been fortunate enough to meet him on several occasions - the first of which left me speechless. I was in a North East restaurant at the time with my wife, Lynn, who was ribbing me for being so star-struck and astonished that for the first time in history I had nothing to say! I was not left disappointed as Kevin and his wife bought us a drink and he then told me that I had tormented Newcastle's Swiss full-back Marc Hottiger so much that he would not be called up by the watching national team boss and, therefore - to Kevin's delight - had no chance of getting injured. He quipped: 'He couldn't mend broken bones but he could mend the bruised ego from the chasing you had given him!'. When you meet your heroes and they are so normal it is brilliant and only adds to their appeal.
LOVELY GLOVE-LY
Do you think any Championship 'keepers - other than Rob Green - have a chance of making England's World Cup squad? Steven Symes
BEAGS SAYS: There are a few who stand a good chance, Steven, given the fact there are three spots up for grabs and a genuine chance of injuries. Scott Carson (Wigan) would be one who would come into Roy Hodgson's thoughts, with experience and current form major factors in his favour, while Tom Heaton is in terrific form for table-topping Burnley, conceding only seven goals, but Reading stopper Alex McCarthy could force his way in if he returns from injury and replicates his early-season high standards.
Send your question to Beags using the feedback form at the bottom of this page or at the bottom of any of Peter's articles...