Daggers drawn
Dagenham & Redbridge boss Wayne Burnett discusses a reversal in fortune and instilling belief.
Last Updated: 19/12/13 4:51pm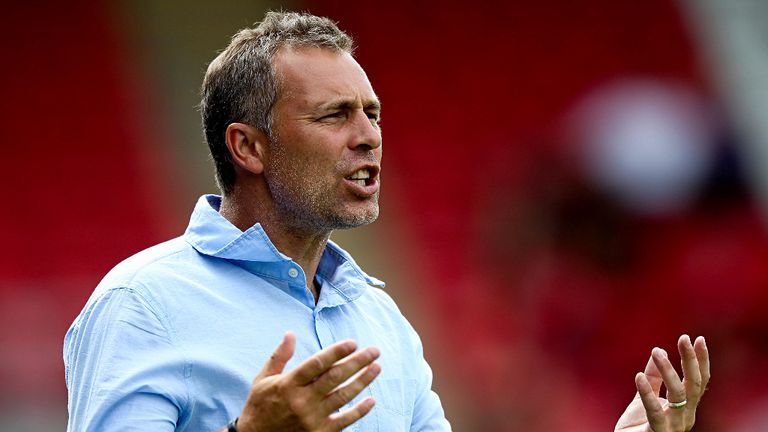 The 2013/14 campaign is now well under way, with divisions beginning to take shape.
Here at Sky Sports we will look to take you to the very heart of the Football League over the coming months, with our Spotlight features intended to give you a greater insight into the clubs and players that keep us on the edge of our seats.
We hope to bring you the views and thoughts of a representative from each of the 72 teams over the course of the season, with those involved asked to give their take on the division they compete in, the club that pays their wages and those we should all be keeping an eye on.
Dagenham's Wayne Burnett is next into the hot-seat, with the Daggers boss taking time out to discuss a reversal in fortune and instilling belief with Chris Burton.
The obvious place to start is, what's changed from last season to this?
We're scoring goals. We have got goals in our team and I think that's the difference, really. Last year we struggled to score goals, weren't really creating that much, but this year we have got goals all over the team, which is a big change and been quite significant. I think that's one of the reasons why we are doing okay.
Are you living proof as well of how important confidence and momentum can be in football?
I think that's it. Winning helps, it becomes habitual, you get in a rhythm and you get a bit of momentum and a bit of belief. I think that can be massive, certainly within football. We talk about momentum and how it can shift and change very quickly, but once you get rhythm and you get a little bit of momentum, it can be a powerful tool.
Are there any areas you are looking to tweak, you haven't kept too many clean sheets?
No we haven't. It has been a bit of a concern. Saying that, the back four have done fantastically well. We were concerned that we were conceding from set-pieces far too often, but we seem to have sorted that out a little now. We were concerned regarding re-starts - corners, free-kicks etc - but, hopefully, we seem to have ironed that out now.
It's better to focus on the positives isn't it, and Rhys Murphy has definitely been one of them?
He's come in, we knew about Rhys from his days at Arsenal - he has got fantastic movement, he's very enthusiastic, he wants to be better every day, he works incredibly hard and it's paying off. He is a very good footballer, he's an intelligent footballer, hence why he is getting chances, creating chances. At times his movement is excellent. The thing that has impressed me with him and the likes of Zavon Hines, Brian Saah and the people that we have brought in, is how hard they work. They have got fantastic work ethic and it's rubbing off. I have said to the players, we have brought players in that have a winning mentality. I'm not saying that the players here didn't have a winning mentality, but players that have seen it and understand what it's all about, how to win. It's rubbing off a bit on the other players.
So Rhys is someone you had on your radar for a while, because he could have fallen off after heading over to Holland?
He went over to Holland, he came back and it didn't work for him, for whatever reason. We have to get players that have maybe lost their way a little bit but there is stuff you can work on with them. If you can find ones that have the potential you can work with, and want to work and have a point to prove, they are out there, it's just finding them. Have you got enough time to work with them? Yes. Do they want to work? Yes. You can potentially get a good player on your hands. He is certainly a very good player.
That's what it's all about I suppose in League Two, finding hidden gems and giving players a stage to showcase their talent?
I say it to them every week, it is a stage. You are going out to showcase you talent, your ability, and go out there and express yourself and be the best you can possibly be. Once it's over, it's over. I might sound like an old fuddy-duddy, but there is no turning the clock back. One thing I say to the players is, 'You can't buy it, you can't save it, you can't get any more once it's gone' - and that's time. Use that as valuably as you possibly can because you aren't going to get it back. They go out there and they play with no fear. We don't them to play with any fear, we want them to be fearless and be creative and be all of the things that show how good a footballer they are. At the moment, they are all doing that. Sometimes the ones who score the goals and get the assists get the plaudits, but I've got a real emphasis on the team because without each other it doesn't work.
You haven't been dipping into the loan market as often as some, are you still looking or is that a market you prefer to avoid?
It's something we've looked into. At the moment we're okay. If I'm being totally honest, I have to get out before I get in. We are looking to loan one or two out and then we might look at bringing one or two in. There are some very, very good players at this football club, some very good players who want to get out and play games. I prefer to have my own players, I think you know what you are going to get from them week in, week out. But I have been at this football club for a number of years and we have brought in loan players that have done fantastically well. At the moment we have got competition for places and if I feel we need to strengthen, whether that be a loan or whatever else that may be, then I will have no hesitation in doing that.
When you have a settled side that's doing well, there is no need to add for the sake of it is there?
No, I don't think there is. You get a bit of continuity within the group, sometimes it can be detrimental bringing loan players in just for the sake of it. Unless I feel it is right, we'll continue with what we've got. We are reasonably strong, but we have got a lot of youngsters. We are a young team, a little bit naïve at times, a little bit inexperienced, but you are going to get that with young players. But you can mould them - they don't know what fear is, they don't know what pressure is - but can they sustain that for another five or six months? I don't know, I can't answer that question. But that's when we might dip into the loan market.
Player management is going to be crucial over the next few weeks isn't it, you've got seven games in November in three different competitions?
We go up to Hartlepool on Saturday, a very difficult place to go and they have been on a fantastic run in October. We go there knowing it's not going to be easy. Then we come back and we play two teams that have just been relegated from the Championship in Peterborough and Bristol City. Not easy games, but we're going into them with little expectation - they are favourites to win the football matches, the pressure is on them to a degree - and we will go out there and have a go. We know we are going to have to be at our best when we play the likes of Peterborough and Bristol City, but why can't we go there and give them a game?
The Peterborough game is in the JPT, is that a competition you're taking seriously?
We do. We want to win every game. We played in the Essex Senior Cup the other day, a local cup, and we want to win that. We are playing so-called lesser teams who are further down the pyramid, but I had no problem putting out a strong team because we want to win every game. I'm a firm believer that it does become a habit, winning, and if you can get the mind set of these players correct, I think it can help right through the club.
For you, your first taste of Football League management, are you enjoying it?
I love it. It's the best job in the world when you're winning - all managers will tell you that. But it's the most lonely place when you're not winning. It's amazing, because a football result can have such an effect - it certainly does me - on emotions. It can have a massive effect on my emotions. I find it very difficult to come to terms with at times. I struggle with defeat, I'm admitting that. The rest of the 72 Football League managers would probably say the same. But I'm coming to terms with it, I'm enjoying it, I enjoy working with the players every day, it's a joy to come in to work with the players I have here, but the bottom line is about winning football matches. I enjoy that, but not the losing part.