Brandon's Beard
Rochdale forward Ian Henderson discusses fundraising for a great cause and pushing for promotion.
Last Updated: 19/11/13 3:22pm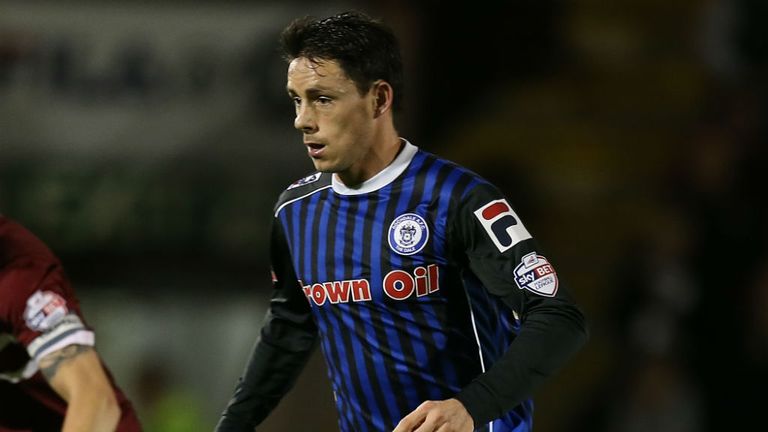 The 2013/14 campaign is now well under way, with divisions beginning to take shape.
Here at Sky Sports we will look to take you to the very heart of the Football League over the coming months, with our Spotlight features intended to give you a greater insight into the clubs and players that keep us on the edge of our seats.
We hope to bring you the views and thoughts of a representative from each of the 72 teams over the course of the season, with those involved asked to give their take on the division they compete in, the club that pays their wages and those we should all be keeping an eye on.
Rochdale's Ian Henderson is next into the hot-seat, with the charitable forward taking time out to discuss fundraising for a great cause and pushing for promotion with Chris Burton.
For people who don't know what the Brandon's Beard campaign is all about, give us an insight into what it is and why it's been set up?
Brandon's Beard came about when Chris Beech, the assistant manager, came in and said about Movember and his son's illness - cystic fibrosis - and how about doing something based around raising money for a vibrating bed for him. I have got a personal attachment to Brandon because when I signed he was in hospital - him getting good news of me signing at the club and his dad really liking me as a player and as a person, it raised spirits in their family. I have always been in contact with him since I have been at Rochdale, so the money to be raised is for a vibrating bed so they don't have to get up so early in the morning to start the physio and loosening up the mucus off his chest.
You have been very much at the forefront of getting the campaign set up haven't you, so it is obviously something that you feel very strongly about?
I like making money for charity. In the summer, I did the Three Peaks Challenge for Help for Heroes. It's just about giving back. I have been fortunate enough to have so much in my football career and through people helping me.
And you've had a great response haven't you - from Rochdale, the supporters and players at other clubs? It's been great.
The support from all of the players and the fans - not just at our football club, other football clubs have got involved. To see that spirit of wanting to help someone is incredible.
There are some auctions on the go aren't there - Keith Hill has made his Manager of the Month award available and the Sky Bet Football League has donated a signed ball? It's all through the club isn't it for anyone who wants to get involved?
Yeah, it is. There are going to be more gifts to auction off, I'm sure. I have said to Chris that I reckon we might even go close to 10,000. That's how much I personally believe in it and it would be a massive help to Brandon and the family.
It's obviously a great cause, but you must look like an odd bunch on the training ground - have there been a few strugglers?
It's been brilliant. The time lapses that we have been doing with the progress of the beard, it's been quite funny. There are some people who are growing just one strand of hair, then there are others like Matty Done who has got an incredible beard - and it's taken him from a 6.5 to 7.5!
The Exeter game this weekend is another special fundraising day isn't it?
Yeah, there is a day where I'm sure Brandon is going to be in and around the players. He was at the game at the weekend, away to Morecambe. You could just see in his eyes, he's lifted on a Saturday and you could tell that's what he looks forward to - the football.
It's a big day for all of you at the weekend isn't it because there's a chance now to really kick on in Sky Bet League Two?
Of course. We have identified the next five to six weeks, going up to Christmas, that's an important time in the season. We'll plant our seeds and hopefully they will come to fruition come May.
It's a ridiculously tight division isn't it, with five points separating the whole top half?
I personally don't look at leagues until January. January 1st is when I first start looking. Normally there would be some daylight between teams, but I understand that it is really, really tight. We're looking to develop more points over the coming games.
Like you say, it's not really the time of the season to be looking at league tables, it's just about staying in the mix isn't it?
Yeah. It's one of those ones where we have to consistently keep on winning, and if we're not winning then we have to draw. It seems like when we're winning, everyone else is winning. And when we're losing, or when we have lost, other teams have lost. It's about capitalising on the whole league.
I take it as a group you came into the season with one target, and that was to finish in the top three?
I've already expressed it publicly that I signed for the football club to get promoted, for no other reason. With the manager's plans and the backing of his staff and the players that have come into the football club, I have no doubt that we will get promoted.
And a couple more fresh faces in January to help you kick on when the games start to stack up wouldn't hurt would they?
I'm sure the manager is happy with the squad at the moment, but managers will never be truly happy because they will want more players and better competition for places. I'm sure there will be numbers added in January to help us push towards the end part of the season.
On a personal level, it sounds like you're happy, having been there for 9-10 months now are you feeling in a good place professionally?
I'm all set up professionally. I'm really, really comfortable and I have got a good understanding with all of the players and the manager. We're buying into the manager's philosophy of how he wants to play football - that's a possession-based team, counter-attacking. I'm really, really happy and very positive as well.
You signed a two-year contract, that's a nice bit of security isn't it and allows you to express yourself?
I'm back up here living with my partner and there comes a point in your life where you need a bit of stability and understanding of where you're going to be from one week to the next. Through that has come more game time, goals and top-end performances.
You're someone who likes to keep yourself busy on and off the field, are you confident it is going to be a memorable season in more ways than one?
I'm a confident person in myself and my own personal abilities. But what I do have is massive belief in my team-mates and the manager and the club's vision for the future.