FL72 Review: Don Goodman reflects on the Football League weekend
Every Monday night, the Sky Sports experts will review the weekend's Football League action on FL72. Check out Don Goodman's thoughts on the latest round of fixtures...
Last Updated: 04/12/13 10:48am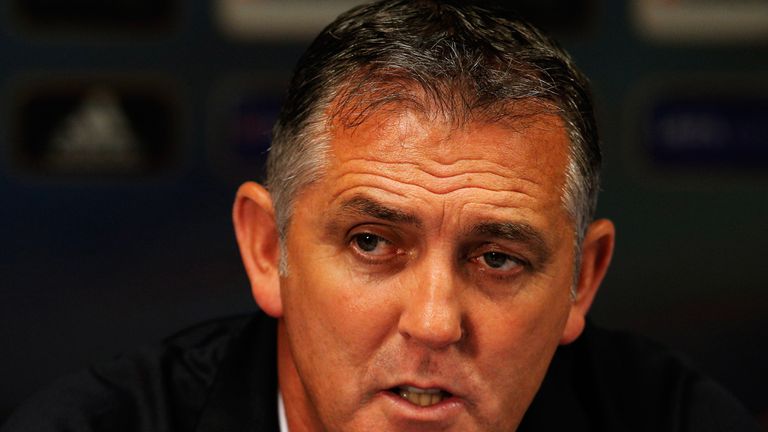 DON SAYS: We've seen it countless times, both in the Premier League and in the Championship, that for clubs playing in the Europa League it is a massive, massive grind. It really is taxing with all the traveling, all the games - and when you add that to a 46-game Championship campaign it really can be physically and mentally very hard to combine the two. Wigan are finding it very difficult. They haven't managed to get the points on the board everyone connected with the club would have liked but you have to question whether it is a fraction early to be sacking a manager who has the credentials of Owen. So often when a club takes the decision to sack a manager there is a positive reaction but when there's a negative reaction that doesn't get as highlighted as much, so maybe it's a little misconstrued by chairmen and board members who may expect an instant positive reaction, because they're not guaranteed it.
Dave Jones sacked by Sheffield Wednesday
DON SAYS: You look at Dave and think one win in 16 is the standout figure for him. I've seen several of their games and they've been competitive; they've only been properly turned over in two or three of their games this season maximum. Jones said in his post-match interview 'I'm not the one missing open goals'. They have been making lots and lots of chances, not taking them and ultimately paying the price. The common denominator for me in the three sackings is when you look at the goals they're conceding they're so very avoidable. Defensively it's been a bit of a nightmare for all of them.
David Flitcroft sacked by Barnsley
DON SAYS: I've seen Barnsley twice this season, at home against Sheffield Wednesday and away against Ipswich. They should probably have won both games, in my opinion, and they worked so hard for David - but they've conceded the most goals in the Championship and that ultimately is going to get you the sack. Another reason to feel sorry for David is that Barnsley's resources, by comparison to most of the other clubs, are way down in terms of what they can pay players, how much they can spend and ultimately year in, year out, Barnsley's remit when the Championship season kicks off is survival. Flitcroft showed last season that given time he could steer them in the right direction.
Leicester go top of the Championship
DON SAYS: Everybody should consider the disappointing nature of Leicester losing to Watford in that play-off semi-final last season; it must have been the most heartbreaking summer any footballer, manager, coaching staff and supporter could experience. Yet, they've dusted themselves down, they've got on with it and now they're the team to beat. Everybody has spoken about QPR and the magnificent start Burnley have had but Leicester have gone under the radar, they've now won 12 of their 17 games and they sit proudly at the top of the table. Nigel Pearson isn't daft enough to think the job's done; he's a wily old fox, he'll play it down and he'll want them to keep that consistency going. He's a very grounded manager and that is good for the players. It is easy, when you're having a successful season to get a little bit ahead of yourself and think this is going to be your year. I've played in teams where maybe one or two players have been guilty of that and we've ended up losing in play-offs and not ultimately achieving the goal we set out to do.
Peterborough get back to winning ways
GARRY SAYS: Peterborough rose to the occasion against Wolves, after losing their last five League One games. Darren Ferguson has had some harsh words to say about his team's performances recently, and rightly so. We watched them on Sky Sports really underperform against Walsall a few weeks ago when they go absolutely hammered them. Ferguson then went into attack mode on his players and said they could do better but it didn't happen in their next game so he had this one down as a must-win game. To be fair to his players they responded to the pressure and that's a big, big win, having gone five defeats on the trot.
Newport stun high-flying Chesterfield
DON SAYS: People must remember Newport are a team that have come out of the Conference. Newport is a very difficult place to go and pick up three points, as Chesterfield, who are one of the best teams in League Two, discovered to their cost. That fantastic home record (7-1-1) has moved Newport up the league and they're only three points off the top of the table. They've got a home record which is the envy of most and they have a feel-good factor about the place after coming out of the Conference last season. But I'm intrigued to see how it's going to unfold at the top of the table. There's one point between the top six and five between first and 10th. It's remarkable.