Get Noticed
Plymouth's Guy Branston discusses a new business venture and his hopes for a Merry Christmas.
Last Updated: 17/12/13 5:51pm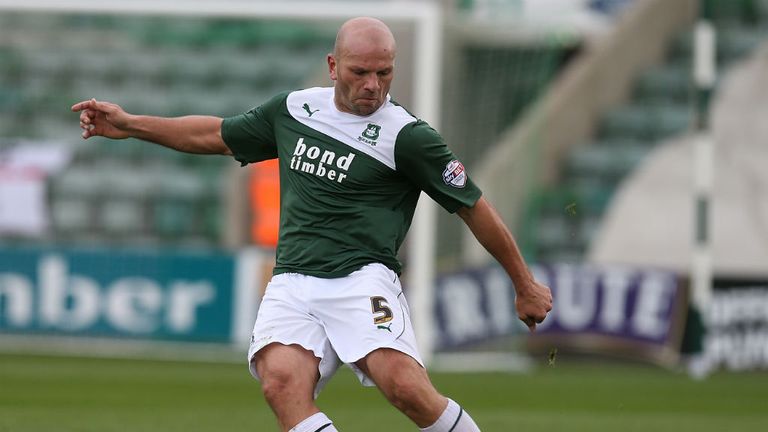 The 2013/14 campaign is now well under way, with divisions beginning to take shape.
Here at Sky Sports we will look to take you to the very heart of the Football League over the coming months, with our Spotlight features intended to give you a greater insight into the clubs and players that keep us on the edge of our seats.
We hope to bring you the views and thoughts of a representative from each of the 72 teams over the course of the season, with those involved asked to give their take on the division they compete in, the club that pays their wages and those we should all be keeping an eye on.
Plymouth Argyle's Guy Branston is next into the hot-seat, with the Pilgrims defender taking time out to discuss a new business venture and his hopes for a Merry Christmas with Chris Burton.
Having already launched All About Ballerz, you're back with a new business venture - tell us all about the new app and what the project is all about?
The Get Noticed App (@GetNoticedApp) is a versatile tool. It allows people to target who you are watching on screen or on film. We did it on the back of watching video footage on All About Ballerz and really missing the point of the video because it takes so long to watch the clip and not really know who we are watching. I built the app to really target who you are watching and identify to the viewer who you need to watch. It's like on Sky Sports when the circle goes around the players and it tracks them and you can track the player and their movement with your finger on the touch screen.
So this is totally separate to All About Ballerz? You're taking things in a different direction?
This is a totally different business, but All About Ballerz will definitely be using it. All About Ballerz customers will come to Get Noticed, download it, and use their video clips and then target themselves on their own videos. People can watch clips quicker and easier and identify themselves.
And this is something you intend to use across all sports, it's not purely a football product?
Exactly. I don't want to keep associating it with Ballerz because it's a completely different app and I don't want to just put it into the football industry. It's all sports and then we're going to move into different sectors as well - obviously security is an option. The one thing this app can do is attract your eye to, because of the tracking element, the person you are trying to highlight.
So this could stretch beyond sport?
That's what we're trying to do. We're trying to make it stretch further. We're targeting sport first because I know how many sportsmen want to get noticed out there and I'm in the sports industry myself. Obviously with the website that I have got, I know how hard it is for people to get attention within my own sporting area. But, every sport across the board - rugby, hockey, all team sports - it is something to get noticed. You can get someone to record and highlight it and send it off easily. We have got it all connected to social media - Twitter, Facebook, you can send it straight back to YouTube. You can download from YouTube instantly, there is a 3G and WiFi network, and you can then send it to all your email contacts quickly and easily. It saves video analysis guys so much money and so much time, and it saves football clubs time in having to send off video clips to experts when people can do it themselves with their phones.
With what you have got going on with Ballerz, and now this, are you trying to piece together a go-to market place for talent, for anyone to dip into whenever they can?
We've all got phones. It's not the 1990s now when you need a big load of equipment to get people recorded. With the Get Noticed App, you can record through the app, you can share through the app and you can highlight who you want to track and who you want to target. It's a one-stop shop for getting people noticed.
But for now, the day job is still very much Plymouth. How would you sum up how things have gone as we approach the halfway stage of the season?
Christmas is so important. It's a fantastic time to get amongst the league leaders and it's a fantastic time to get yourself away from the bottom. If we can pick up some points, which we have been doing lately, then we can push into the pack for the play-offs and promotion by the time Christmas finishes. We have got a lot of games, a lot of build-up and there is some apprehension because we have lost a couple of games. We now need to get the positivity around the place and keep that positivity and build a promotion run after Christmas.
You just need a few goals don't you, as defensively it's been sound enough?
Thanks for saying that as I've been out of the team! I'll take that as a compliment because I've been involved in a lot of the games. Yeah, we need goals, but we need goals from all over the pitch. Defenders need to score goals from corners, midfielders need to get plenty of shots off and get 10 goals themselves, and the forwards need to finish the chances that they have in the game. That's something we have been working on in training, we have been working hard like we do in the game and we'll be pushing on with that in the next few days in the build up to the home game against Bury on Saturday.
It's so tight in League Two isn't it that anything can happen, it's still very much all to play for?
It is. That's why the gaffer has been at us and trying to instil this positivity in the dressing room. Everyone is sticking together, building up and getting on with it. It's dead important that we as a football club have this image that we go out there and give it our best shot. We are going to give it our best shot, and that will hopefully be promotion and pushing for the play-offs. We've just been so positive in the last few weeks and it's a great place to be around.
Bury is big at the weekend isn't it, as they are in and around you, with a couple of away games then taking you through to the end of the year?
Definitely. We're building up to Bury, then Oxford and Wimbledon away, with Torquay at home on the 1st. It's a massive game for us. If we can pick up three points on Saturday, that sets up for Oxford and allows us to go for a scalp against one of the league leaders. And three points at Wimbledon would have us really confident for the Devon derby, and then anything can happen in January. Those 12 or 15 points you talk about from getting in the mix, it's feasible. It's an exciting time, Christmas is always exciting, but it's a busy time when you have to give your all for the team and hopefully be a part of a successful run.
The club deserve a lot of credit for being patient and sticking with the gaffer don't they, as it would have been easy with only three wins by mid-October to start panicking?
I'm a big believer in being patient with a manager who has a blueprint. The gaffer has set out his stall, brought his staff in, he has got lads in who he wants to be a success at the football club. I can never get my head around these impatient clubs where they just get rid of the manager, six games in and they bring in a new team and they wonder why the football club struggles. It's about backing managers. It's important that clubs back their managers, give them long contracts and give them time to organise the full squad, with the youth team as well and bringing them through. You need youth to come through, and we're trying to do that here. We're bringing them through and trying to promote the local talent that we have.
And everyone's still pulling in the same direction at Plymouth - with top-seven the only target?
Yeah, we're all pulling in that direction, myself included. I've found myself out of the team for 10 games now and I want the football club to be a success because I want to be a part of that success. I can see life after football as well, you know that, but I want to be a part of what John Sheridan is doing at this football club. I think we have the right man at the helm, he's the right man to lead us and I'll stick by him.
What's Christmas got in store for you, is there any time to relax or is it just busy, busy, busy?
There never is! I might as well just add to it by bringing out a new business called Get Noticed! It's just one of those things. We don't have a Christmas, we don't have anything to prepare for other than football, that's our mentality. We don't prepare for Christmas, we prepare for another game, and another game, and they come thick and fast. It's about keeping yourself fit, keeping yourself healthy, eating the right things, living right and hopefully getting those points that are, I suppose, the icing on the Christmas cake.