Craig Mackail-Smith, Kevin Davies and Guy Branston pick award winners from the Football League
Craig Mackail-Smith, Kevin Davies and Guy Branston pick their award winners from the FL72.
Last Updated: 16/01/14 11:24am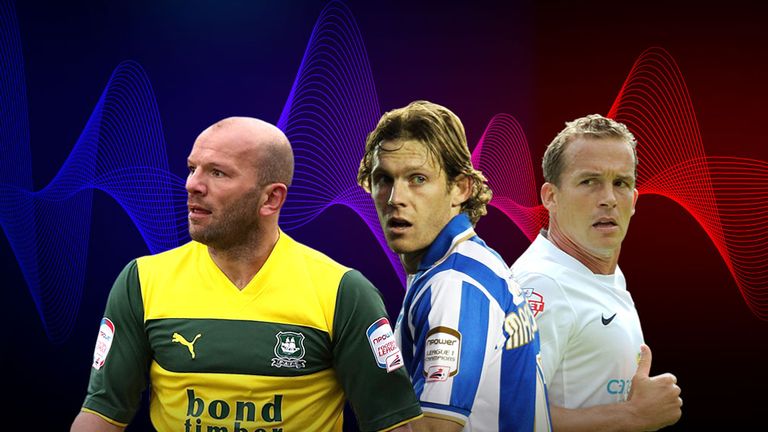 As well as a weekly blog from striker Kevin Phillips, we will also be speaking to some seasoned campaigners in the Football League.
Brighton striker Craig Mackail-Smith, Preston frontman Kevin Davies and Plymouth Argyle defender Guy Branston - who all appear on Sky Sports News Radio's Football League Hour - will be chatting to us about all manner of footballing issues.
Real Madrid and Portugal forward Cristiano Ronaldo picked up the FIFA Ballon d'Or for a second time after being named the world's greatest footballer at a ceremony in Zurich on Monday night but who would our trio of FL72 players nominate if the award was handed out in their own league? And, our panel of experts reveal the finest award they've picked up in their own footballing career...
CRAIG MACKAIL-SMITH
Ronaldo was definitely the rightful winner of the Ballon d'Or - he's been unbelievable over 2013 and his goal tally speaks for itself. The fact that he doesn't get injured is a credit to him and he just keeps going and going and getting better and better. He's been brilliant for Real Madrid but the fact that he single-handedly got Portugal to the World Cup proved he's the right person to get it.
I picked up the League One Player of the Season in 2011 when I was at Peterborough and that's the best individual award I've won so far, but hopefully I can win a few more before the end of my career.
MY CHAMPIONSHIP BALLON D'OR FINALISTS
JORDAN RHODES - BLACKBURN
He's just been unbelievable and is scoring goals for fun again this season. He had an outstanding season just gone and I think sooner or a later a club is going to take that chance on him and I think he'll carry on in the Premier League what he's been doing in the Championship.
LIAM BRIDCUTT - BRIGHTON
Over the past two seasons he's been our standout player. He's been Mr Consistent; he's been there every game and goes about his business without people noticing what he does. I think he's kind of our version of Claude Makelele; he just breaks the game up and gives the ball to the boys who can play and that's why a lot of Premier League clubs are looking at him at the moment.
CRAIG BRYSON - DERBY COUNTY
Craig's on absolute fire for a midfielder at the moment and is scoring goals left, right and centre for Derby. He's still young and I think he's got a great chance of playing in the Premier League, whether that's with Derby or someone else, he's been a key part of why they're doing so well in the Championship.
KEVIN DAVIES
I would have voted for Cristiano Ronaldo this year, his 69 goals in 59 matches during 2013 speaks for itself. I think it's great when someone who has worked so hard for it gets their reward. I know it's only an individual award but it must mean a lot to him.
In my first season with Bolton I was voted by the players and the fans as Player of the Year, which was fantastic after being released by Southampton at 26 and feeling like I was in a bit of a dodgy situation in my career. That nod at the end of the season was great especially with the players we had had in the dressing room - Okocha, Djorkaeff, Campo, Stelios; it was an honour to get their vote as well.
I also won 'The Player your Mum most fancies' at Bolton for six years running and of course that's right up there because it was the award that all the lads wanted to win. I'm sure they're all happy now I've left that they've now got a chance of winning it...
MY LEAGUE ONE BALLON D'OR FINALISTS
DANNY BATTH - WOLVES
We've played Wolves twice now this season and I've had two really good battles with their centre-back Danny Batth. When we played at the start of the season I actually caught him in the face but when we played them last weekend he had no grudge against me and we enjoyed another battle and I like that about him. He's a young player and I've watched him play a few games now and he's strong, shows good desire and is a good defender.
KEVIN LISBIE - LEYTON ORIENT
Kevin Lisbie is another old-timer like me. He's still going strong and scoring goals and Leyton Orient are doing really well in the league. He's 35-years-old now and has scored 11 goals this season, showing the younger players how to do it.
SAM SAUNDERS - BRENTFORD
He came on against us when we played them in December and scored a goal. He's a really good midfield player, one of the best players Brentford have got and one of the men who's help put them top of the league.
GUY BRANSTON
Ronaldo has all that creative ability, goals and his work rate is unbelievable, he's a brilliant pro and everyone who ever speaks about him raves about that; he deserved the award.
My greatest award was 'Most Improved Player' at six years of age....
Honestly though, in the 2010/11 season with Torquay I was selected in the PFA's Team of the Year. To be voted by the players for that award was probably my proudest moment in football and it was a fantastic achievement which made me really happy at the end of the season because I'd worked hard all year and then I got my reward by getting in that team full of great players.
MY LEAGUE TWO BALLON D'OR FINALISTS
LUKE McCORMICK - PLYMOUTH
He's from my own team but Luke McCormick is having a great season. He's been a top-drawer goalkeeper all season. It's unusual for 'keepers to get nominated for awards because they don't score goals but he's kept seven clean sheets this season for us which is very important.
SAM WINNALL - SCUNTHORPE
He's a top little striker and I've had my eye on him since he was at Burton, then at Wolves. He's got fantastic pace and fantastic strength for a little man and brilliant ability on the ball which means he can take you on, get past you then get his shots off early. I've been really impressed with him this year and he's come on leaps and bounds. He's still only young and he's done fantastically well for Scunthorpe.
ANTONI SARCEVIC - FLEETWOOD TOWN
This centre-midfielder is a big boy who gets his team playing, can score goals and is a real handful. He came from Chester and has been around the block a bit but he's really starting to find his feet at a football club that wants to go forward; he's running the show with his ability on the ball. I was impressed with him as a lad who has come from non-league and stepped up; he's probably the best mifielder I've seen this season.
Don't forget to tune in to the Football League Hour every Thursday night at 7pm on Sky Sports News Radio or download the podcast here