All to play for
Mansfield defender Ritchie Sutton discusses fourth tier bunching and working to tight budgets.
Last Updated: 27/02/14 3:55pm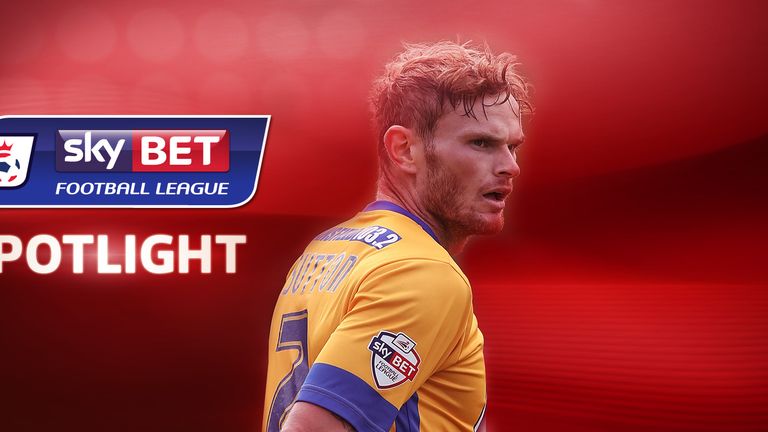 The 2013/14 campaign is now entering the final straight, with divisions beginning to take shape.
Here at Sky Sports, we will look to take you to the very heart of the Sky Bet Football League over the coming months, with our Spotlight features intended to give you a greater insight into the clubs and players that keep us on the edge of our seats.
We hope to bring you the views and thoughts of a representative from each of the 72 teams over the course of the season, with those involved asked to give their take on the division they compete in, the club that pays their wages and those we should all be keeping an eye on.
Mansfield's Ritchie Sutton is next into the hot-seat, with the Stags defender taking time out to discuss fourth tier bunching and working to tight budgets with Chris Burton.
As this is your first season back in the Football League, has it been a case of so far, so good - could be better, could be worse?
Yeah, if we get to the end of the season and we finish in a mid-table position. The main thing is staying up, to be honest. We're looking to stay up, but we're in a relegation battle at the moment so it's a bit of a hard task.
You started so well, was that a case of the feel-good factor carrying over from last season, and then you hit a wobble?
Possibly. Quite a lot of teams after they get promoted start off well in higher leagues, I think it's the buzz of it and you up your game a bit. Obviously teams don't know how to deal with you as well because they aren't used to you. I think there was a bit of that, but we were playing well as a team. We then hit a patch where we came unstuck and the quality of the teams in this league shone through.
You're working with a squad aren't you that hasn't got an awful lot of Football League experience, so it's been a bit of a learning curve for everyone?
Definitely. We have got a lot of players who this is their first time playing in the League. You look at the Bury game the other night and the experience they had - their keeper (Brian Jensen) has played in the Prem and (Daniel) Nardiello up front, they have a lot of high-level experience. It's difficult to compete but we have to do it.
You're proof, though, aren't you that you don't have to rip things up after winning promotion, you can keep faith with those who got you there in the first place?
Yeah. We comfortably beat Fleetwood last week 1-0 and they are a very good team, they beat Chesterfield who are top of the league. We have beaten some of the better teams. That's where we have picked a lot of our points up, away at some of the big clubs. We have dropped points against teams around about us, which is disappointing.
That's the case across the whole division though isn't it - you're sat in 20th right now and the play-offs aren't completely out of reach?
I think the top seven are a little bit above. Maybe everyone from eighth or ninth downwards are in a relegation battle. Any team down there that strings a few wins together, they are right out of it.
It's such a level playing field isn't it, and I suppose that keeps it interesting and intriguing to those looking in from the outside?
Definitely. I can't remember a league being like this. It looked like Northampton were gone at one point, but they have picked up and are right in with a shout of staying up now. The bottom two places, I think there are about 15 clubs who are going to be fearful.
March looks like it's going to be a big month doesn't it, you're either going to come through it looking fairly solid or sweating a bit?
Yeah. The teams down there, they have all got each other to play. We have got Northampton to play away, we've got Torquay to play at home, so we've got some massive games. We need to make sure we turn up for them.
As a group are you setting any targets - 50 points tends to be the magic number but it looks like it might take a bit more than that this season?
Barnet went down with 51 and we have looked at that. But this league looks a bit different this year. There are quite a lot of teams in the relegation battle. We have set ourselves a target of at least getting what Barnet got. But we're looking to get past that points tally.
On a personal level, are you happy enough with how things have gone this season?
Yeah, it's been brilliant for me. I've had my most consistent season in the Football League. I had a stint with (Port) Vale and picked up a few games, but I feel a lot more confident as a player now and feel as though I've upped my game this year - probably more so than playing in the Blue Square. It's been a good season for me.
Do you feel as though the system that Mansfield are playing works well for you and your game - with three at the back?
Definitely. I have always played a mix of right-back and centre-half anyway, so playing on the right side of the three is sort of in between and suits me down to the ground. I'm good at covering the wider areas but I'm part of the centre of defence as well, so that suits me perfectly.
Are any thoughts about the future and new contracts having to wait until the summer, when the club knows where they stand?
Yeah. I think all of the lads are the same. We've got to make sure that Mansfield stay up before anyone needs to be talking about sorting out new contracts. That's our main target at the minute, making sure we get that points tally to keep us in the league.
Working at that level and the tight budgets it brings, do you have to accept that you are going to be working year-to-year?
Definitely. It's like that. In the January window we saw a few teams around us, such as Bury and Northampton, spend big and it's started to pay off for them a bit now. We understand that funds can be tight, but we're confident we can do it with this squad so we just have to keep faith in it and keep going to the end.
I take it you would like to stay, that you feel settled having been there a few years now?
Yeah. This is my third year now and I'm looking to extend it into a fourth. I feel comfortable. It's probably the club that I have felt most at home at. I have been here a while and I understand the coaching staff and they understand me. It's a good club for me.
You don't want to be dusting off that journalism degree just yet do you?
Exactly! That's one for the future. I plan to keep that until later on.
Ritchie Sutton was talking to Sky Sports on behalf of Sky Bet, the Title Sponsor of The Football League.
For a wide range of match odds and specials on all Football League matches and a £5 free bet every week, go to skybet.com.