Quite a journey
Torquay midfielder Ben Harding discusses shaking off knocks, basement battling and epic away days.
Last Updated: 28/02/14 2:07pm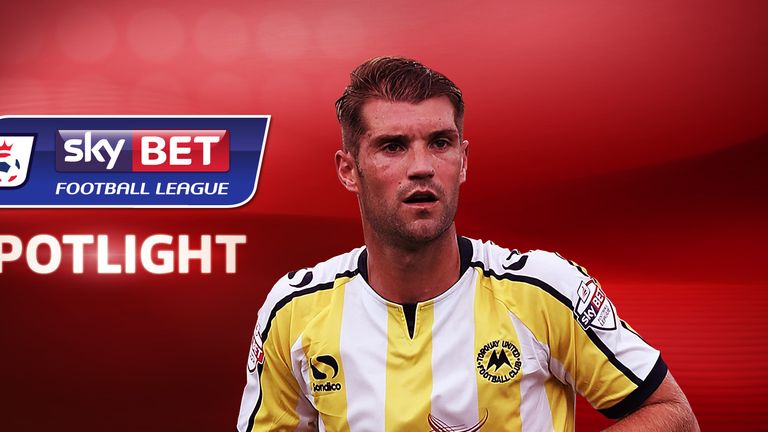 The 2013/14 campaign is now entering the final straight, with divisions beginning to take shape.
Here at Sky Sports, we will look to take you to the very heart of the Sky Bet Football League over the coming months, with our Spotlight features intended to give you a greater insight into the clubs and players that keep us on the edge of our seats.
We hope to bring you the views and thoughts of a representative from each of the 72 teams over the course of the season, with those involved asked to give their take on the division they compete in, the club that pays their wages and those we should all be keeping an eye on.
Torquay's Ben Harding is next into the hot-seat, with the Gulls midfielder taking time out to discuss shaking off knocks, basement battling and epic away days with Chris Burton.
First up, I take it you are delighted to be back involved after a lengthy spell on the sidelines?
Of course. It ended up being a four-month injury so it's just nice to be back out on the pitch and trying to help the team avoid relegation. That's the aim, so I just need to make sure I'm fit and ready to go.
After so long out, is it going to take a bit of time to get that match sharpness back and shake off any rustiness?
I think so. With any injury, when you have been out a while, the enthusiasm gets you back into it. It's just about touching up on match sharpness and a bit of fitness, which you're only going to get from matches. I felt good on Tuesday but I'm sure this Saturday will be a bit harder because it's the second game in five days, so I just need to make sure that I'm right. It's good, though, to be back out there.
Things haven't gone too well in your absence, it must have been hard watching on being unable to help out...
Definitely. It's always difficult when you're watching games and we're not getting the results we need. It's really difficult. But at the same time, it's football and you've just got to get on with it. It's always a difficult situation when you're not involved in the squad because there is not much you can really do, you're just watching on, but hopefully we can dig ourselves out of the hole we're in.
You've got to try and look at it positively haven't you - the only way is up?
Exactly. I think everyone believes that we can get out of this situation. We know it's going to be difficult, but we've got a few games where we'll be playing teams around us at the bottom. If we can nick points off them, that's only going to work in our favour. We've got a good enough squad to do it, it's just about putting those points on the board - which has been a bit of a problem for us this season. But in football, when you go on a bit of a run, you get that winning mentality and all of a sudden you find yourself in mid-table. You just never know what is going to happen.
It's so tight above the bottom two isn't it that half the division are still sweating on their League status?
It's crazy. I think there are quite a few teams on 38 points and we're on 30. It is a big task, but it only takes a couple of teams to go into freefall and then you find yourselves right on top of them again. It's definitely doable, we just need to make sure that we kept focused on what the aim is.
It just shows how competitive that division is doesn't it - you were involved at the top end with Northampton last season and now they are right down at the bottom with you?
I know, it's incredible. There has been a bit of a turnaround down there. I don't quite know why that's happened to them, but it seems that they have been in a bit of freefall and are one of those teams that shouldn't be in the situation they are in. But a lot of teams beat each other, you can be at the top of the league and all of a sudden find yourself in mid-table. This league is much of a muchness, the teams that can put the best runs together will obviously be the ones that do well. I just keep thinking about what Crewe did the other year, they were right down the bottom and then ended up going unbeaten through 18 games towards the end of the season and ended up getting promotion. You have to look at teams like that and try to stay positive.
On a personal level, this is obviously not what you were hoping for when you came in and, having missed so many games, do you feel that you've still got a bit of a point to prove?
Definitely. When I first came, I moved all of my family down and we were still getting used to the club. I wanted to hit the ground running but I haven't played the best football, so hopefully I can turn that around. I need to play well so I can prove to people that I'm a good player. With the new manager coming in, you want to prove to him that you're worth a place in the team. That's all part and parcel of football, proving to people that you are a good player and should be playing. I'm looking forward to the next 14 games.
You've had the change in manager, but Chris Hargreaves handed you the armband on Tuesday so that was a nice show of faith wasn't it?
Exactly. I was a bit surprised by it, but at the same time I was very willing and very happy to get the shout. You take that into the game and it gives you a bit of confidence. It was important that I had a good game on Tuesday, and I feel like I did. It was a good game to come back into. If we weren't down the bottom of the league, I think we would have come away saying that was a good point, but obviously because we need three points all the time at the minute, it's not as good as it could be. But it was a good performance.
A big month starts on Saturday doesn't it - eight games and March could really shape your season?
That's it. We have got a hell of a lot of games coming up thick and fast. If you can put a run together in this month, because there are so many games, you can find yourself creeping up that table quite quickly. Everyone is raring to get out of this position we're in, and hopefully we can do it.
First up is an epic trip to Hartlepool - is that just part and parcel of playing for Torquay, a lot of long away trips?
Yeah. I think when you sign here you realise that there is going to be a hell of a lot of travelling to the away games. But there are a few other teams in our league that have to do it, so it's part and parcel of it. It's all good fun!
It's not the kind of trip you want to make and leave empty-handed is it - it's vital you take something on Saturday?
Definitely. Hopefully we can come away with a positive result.
While it's a testing trip, I imagine it is one you are hoping to make again next season. Are you confident Torquay will stay up?
I am actually. People might think it sounds a bit stupid, but I am confident that we can do it. I'm really sure that we've got a good enough team to do it. There is no reason why we can't be getting three points from our games. That's the way we've got to look at it. Anything other than that and we'll be disappointed. We just need to enter each game thinking, 'We're taking three points from this and that's it'. Hopefully we can do that.
Ben Harding was talking to Sky Sports on behalf of Sky Bet, the Title Sponsor of The Football League.
For a wide range of match odds and specials on all Football League matches and a £5 free bet every week, go to skybet.com.