Pools winner
Hartlepool loanee Christian Burgess discusses goal droughts, late charges and colourful career paths.
Last Updated: 28/02/14 3:37pm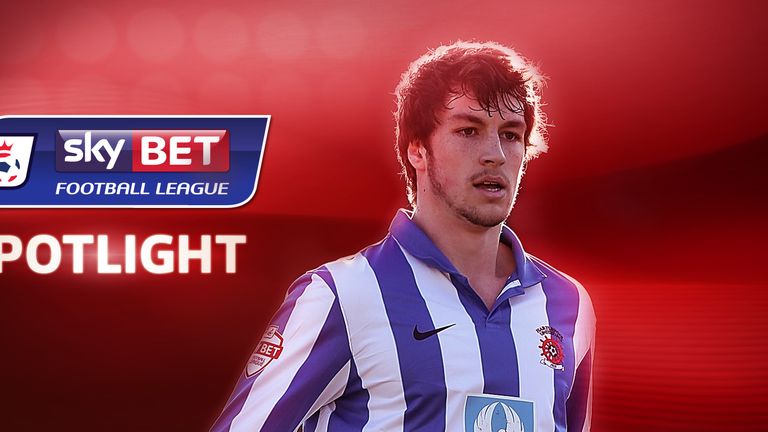 The 2013/14 campaign is now entering the final straight, with divisions beginning to take shape.
Here at Sky Sports, we will look to take you to the very heart of the Sky Bet Football League over the coming months, with our Spotlight features intended to give you a greater insight into the clubs and players that keep us on the edge of our seats.
We hope to bring you the views and thoughts of a representative from each of the 72 teams over the course of the season, with those involved asked to give their take on the division they compete in, the club that pays their wages and those we should all be keeping an eye on.
Hartlepool's Christian Burgess is next into the hot-seat, with on-loan defender taking time out to discuss goal droughts, late charges and colourful career paths with Chris Burton.
Given the way that the season started, you've done really well to get yourselves in the play-off mix haven't you?
Definitely. We didn't start off very well, we couldn't seem to score. We had a few bad defeats, especially at Rochdale away on the first day of the season. At one point we were up against it, but we never gave up the belief that we had this kind of form in us. The aim for most of the season has been to try and get in and around the play-offs and I think in the dressing room we certainly believe that we can do that.
I know you weren't part of the set-up last season, but did it feel like there were a few cobwebs that needed to be blown away at the start of the campaign?
I came in quite late, but I think the lads felt pretty confident. I think they had quite a good pre-season and there was a good buzz about the place when I came in. But it's quite a young side. I came in to the back four, which isn't always ideal when you're mixing up the back four and coming in when you haven't worked together a lot, but it just took a bit of time to settle. We took a bit of time to find our feet, but after that - ever since we won against Accrington at home - we kick-started our season and have gone on to show what we can do.
You mentioned the run without a goal - five games and then the 93rd minute in the sixth - it must have been some relief to see that come to an end...
Yeah, it was a big relief. It started our season really. We had our chances, we just couldn't seem to find the net. Things seemed to go against us and maybe we weren't as confident in front of goal. Since then, Luke James up front - I think he is our top scorer - he's got about 13 and has done fantastically well this season for such a young lad. All of the boys have really mixed in and we've had some good results, scoring three or four goals.
As is often the case, it only takes one result to spark a season into life doesn't it and you've done well to remain fairly consistent, because that isn't easy in League Two?
It's a very tough league to be consistent in. Everyone seems to be able to beat everyone in this league. We showed that last week when we lost to Northampton, who were bottom. They are not a bad side. We were down at the bottom and we were beating sides up at the top. We had some good results against teams above us. You only really need to get your noses in front and is often the case in this league, people sit back and it's hard to break them down.
Now you're seven points off the play-offs, but a few sides above you have started to wobble a bit haven't they?
We're in a good position just outside. We could have made some ground up against Northampton, we failed to do that. We have to put that right now. Teams up there, it will get hard towards the end of the season. Teams are starting to battle for their lives down at the bottom and teams are trying to hold on. Things can happen and all you need is a little run of games to push up the table. That's what we're hoping to do.
It's said every year, but there does tend to be one team that stages a late charge doesn't there, and that could be you?
There always is isn't there. It's better to have a late run and go into the play-offs in the best of shape. There always seems to be one and that could be us. The teams around us are good sides, though, and will be hoping that it's them. We just need to focus on every game as it comes, pick up points, keep our home form good and see what we can go and get away.
The next few could be crucial couldn't they - next four against sides in the bottom six?
Yeah. We had five of six, including Northampton, against sides in the bottom six, so we really need to pick up points. We've got Torquay on Saturday, which is a really important game at home. We drew 0-0 with them earlier in the season. It was quite a tough one, it was when we were down at the bottom part of the league. But it's a big game and hopefully we can get that win under our belt which pushes on. It's a good run of fixtures, really, to be looking at getting a run going. It looks ideal, but nothing is a given.
Like you say, you've already played Torquay this season, you've made that trip - does it take it out of you, even when you travel the day before?
It shouldn't take it out of you. I'm probably not experienced enough to say, having not done many of them, but it is a long trip and we'll be hoping to set off quickly and possibly catch them on the back foot. But as professional footballers they will travel the day before and they will look to make the journey worthwhile. There is nothing worse than going home after a defeat after travelling all that way, let me tell you.
On a personal level, I take it you have enjoyed the season - you've been an ever-present in the league?
It's been a really good season for me, I've really enjoyed it. It helps when you are playing games and the manager has got confidence in you. I have just learnt loads and loads from it. It's helped me and I've gained quite a bit of experience from it. Hopefully I'll be going back to Boro a better player.
Working with Colin Cooper must have helped as well, as a former international defender?
Yeah, the gaffer has been fantastic. He's always helped me along the way. It helps the standard that he has played at in his career in the same position as me. He's always been in my ear and helping me out and looking at videos. He's been really good. Higgy (Craig Hignett) as well, the assistant manager, he's been fantastic. I can't thank them enough really. The lads in the team as well, like big Sam Collins next to me in defence, he's been fantastic. It's just been a good experience all round and hopefully we can top that off, get some results and make the end of the season a good one.
Middlesbrough are your future aren't they, I take it you are hoping to get your big break there before too long?
Hopefully I will be going back next season and showing what I can do. Hopefully I can go there and take what I have learnt from Hartlepool in the year and be more reliable and work my way into the gaffer's plans. But you never in football, it goes many different ways, so we'll have to wait and see.
You know that better than anyone don't you - you've had some rollercoaster ride from being released by Spurs, going to university, then getting a chance in League Two and hopefully the Championship next season...
Not being taken on by Spurs and then going to university, anything could have happened from there. I have been a little bit fortunate, but I've worked hard. It shows it's never too late. A couple of other lads have done it as well, the young lads at Sunderland who they have signed, and Joe Lolley who has just been signed for Huddersfield from non-league. It's a big step, but I've enjoyed it massively. I've just got to keep pressing on, keep working hard and see what the future holds - hopefully it will be bright.
Christian Burgess was talking to Sky Sports on behalf of Sky Bet, the Title Sponsor of The Football League.
For a wide range of match odds and specials on all Football League matches and a £5 free bet every week, go to skybet.com.