Down to business
Accrington Stanley striker Danny Webber tells Sky Sports how he is keeping busy on and off the field.
Last Updated: 07/03/14 4:19pm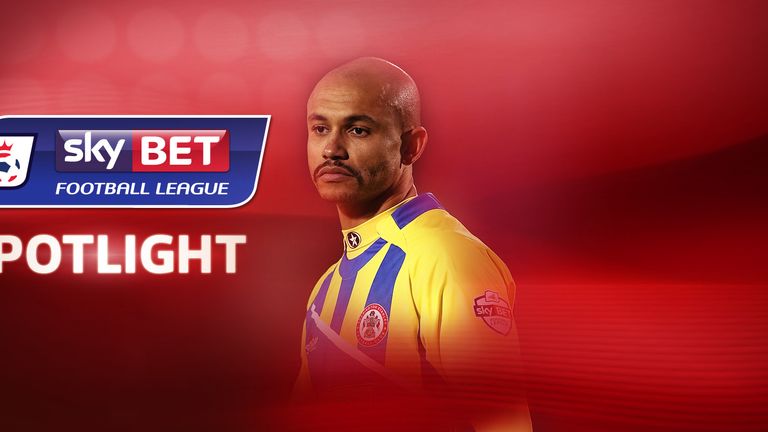 The 2013/14 campaign is now entering the final straight, with divisions beginning to take shape.
Here at Sky Sports, we will look to take you to the very heart of the Sky Bet Football League over the coming months, with our Spotlight features intended to give you a greater insight into the clubs and players that keep us on the edge of our seats.
We hope to bring you the views and thoughts of a representative from each of the 72 teams over the course of the season, with those involved asked to give their take on the division they compete in, the club that pays their wages and those we should all be keeping an eye on.
Accrington's Danny Webber is next into the hot-seat, with the Stanley striker taking time out to discuss business on and off the field with Mikey Burrows.
How have you found life in League Two - a fiercely competitive division?
It's been, personally, a new experience for me. There isn't much between top and bottom. I've not seen a team that has come and been that much better than teams that have been at the bottom, it's just about people who learn how to win and do it consistently better than others. I don't see a big difference between top and bottom, I think the league is a much of a muchness.
You've got about eight teams pushing for automatic promotion haven't you and about 10 teams that could get relegated?
Exactly, that's it. If you get off to a good start, you're obviously in with a better chance because you're not chasing. I think the pack that is down there at the moment, you could just flip a coin between them. On a Saturday, if you were a betting man and you did a coupon, you wouldn't have a clue and you'd probably lose every week.
Is the playing standard improving with players like yourself dropping down the divisions?
I think it is, yeah. There are people coming down who have played at a higher level who are trying to help raise the standard in League Two. The endeavour has always been there, the desire is there, it's just about being a little bit cuter on the pitch. You look at the likes of Gary McSheffrey, he's done well in the Premier League and in every league, and players like him will only add value to League Two and help to improve more than anything the young players in the division.
There are also a lot of up-and-coming coaches and managers in League Two, you're playing under one now in James Beattie - how impressed by him have you been?
I've been really impressed by the way he's taken to it, bearing in mind that he had no previous experience. He's taken to the job, he's 100 per cent committed, he's positive in everything that he does and I think it's good that ex-players, young players, who are current and know the game fresh in their mind are having the opportunity to get jobs at a League Two level to prove themselves. In effect, they are YTS for where they want to be in the future.
You've known him as a player and as a manager, how different is 'Beatts' to 'gaffer'?
He'd be the same if I wasn't a player, but being a player I realise my position as a player and him as a manager. Your friendship takes a back seat while you are in that capacity, it has to because he is the manager. But as far as his character is concerned, he's very positive. He comes in in the morning, he's full of energy, the same way he was as a player, and he gets involved in training. His approach is to always have a positive word to say to somebody, rather than the opposite.
Is there almost a feeling that Accrington is a club that is a work in progress, and that's the job he's trying to do?
One hundred per cent. I think they have come very far even from when I first walked through the door seven months ago. His idea was to change the DNA of the club, to do things more professionally with the limited resources that he has, and I think he has done a good job. It's not an easy job and it's not an overnight job, as turning around the DNA of most clubs won't be. I think he's made good progress.
You've got some big games coming up, a few of those up at the top, how tough are these next few weeks going to be and how much are they going to define your season?
I know people say you only look at your next game, but that is the way to approach it. We look at Chesterfield on Saturday and try to get something out of that game. As I said, top to bottom there isn't a lot between the teams so there is nothing to fear. It's just about us maintaining our focus and concentration for the full 95 minutes, making sure we do our jobs, and if we do that then I'm sure we'll come through this period quite well.
Have you thought about your future past the end of the season?
As it stands, not really. I've tried to live more in the present and enjoy what I'm doing on a day-to-day basis. Obviously the time is coming now where you think about the summer, so we'll see what happens. As it stands, I am going to get my UEFA B license, I will complete that in the summer and the first part of my A coaching license, so that's a possibility as somewhere that I could progress in the game.
And you are a businessman as well...
Yeah, I am. My injuries at Portsmouth when we were in the Premier League gave me the time out of football to realise that football and that salary isn't always going to be there. I started a couple of businesses and we trade in commodities like sugar, aluminium. We sort of act as an agent between - similar to a football agent - putting deals together. That's one of the things we do and we partner with other companies as well on social media projects, so there are numerous things that I've got going on outside of football.
Are you enjoying your football now as much as you have ever done?
I enjoy football as much as I did when I was 10 years old. I love actually kicking a football and playing football the same as going to play five-a-side with my friends. I love it. The game of football is and always will be one of the best things that I can go and do. With any job, with any sort of industry, there are politics that go with it that don't always get seen from the outside. That side of things is part and parcel, but that's the side I don't enjoy. However, the game of football I absolutely love. It's in my veins.
Tell us about Josh Windass, because his dad is talking about him being the new Windass...
I rate him highly, I really do. He's got a lot of ability, a lot of natural ability. Having played at a higher level, he sees the game in that way. It's just a case of him getting game time and developing his game. I think he's got a lot stronger, he's touching six foot, he's got really good potential to play at a higher level.
Is the football world ready for the second coming of Windass?
I think it's Windass in a different form. He's not exactly like his dad. He plays differently, he plays just in behind the frontman or in midfield. He's got a lot of creativity about him, which he will have got from his dad, but he just does it a different way with his own style. He'll be his own man in his own right.
Danny Webber was speaking to Sky Sports News Radio as part of the latest FL72 Weekly programme - broadcast every Thursday morning. In case you missed it, catch it again here.