Determined Dons
AFC Wimbledon skipper Alan Bennett discusses preserving League status and hidden gems.
Last Updated: 13/04/14 1:12pm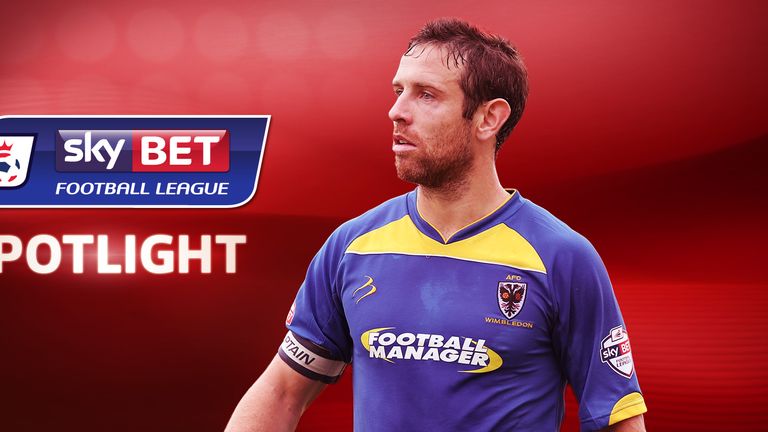 The 2013/14 campaign is now entering the final straight, with divisions beginning to take shape.
Here at Sky Sports, we will look to take you to the very heart of the Sky Bet Football League over the coming months, with our Spotlight features intended to give you a greater insight into the clubs and players that keep us on the edge of our seats.
We hope to bring you the views and thoughts of a representative from each of the 72 teams over the course of the season, with those involved asked to give their take on the division they compete in, the club that pays their wages and those we should all be keeping an eye on.
AFC Wimbledon's Alan Bennett is next into the hot-seat, with the Dons skipper taking time out to discuss preserving Football League status and unearthing hidden gems with Chris Burton.
First up, how are you shaping up for Saturday - you've been nursing a knock so will you be ready or do you need a bit more time?
I think Saturday will come a little bit too soon. It was against Mansfield in the last 15 minutes that I felt a bit of a thigh strain. I've joined back in jogging and running and movements, but I think Saturday will just come a little bit too soon for me. But I'll definitely be back involved next week for the two games next weekend.
The obvious question to ask at the moment is, with five games left, how many more points do you need to be absolutely safe?
To be absolutely safe...well, Barnet went down last season with 51 points, on goal difference, so that was the marker laid down last season. We're on 49, so obviously if we get another win then that moves us to 52, plus another draw would be 53. That would be the minimum. I think 53 should do it this year.
You need to get there as quickly as possible don't you, because with Morecambe and Accrington in your last two, they could become really nervy affairs if you're not safe by then?
Yeah. It's kind of similar to last year, when it was really tight. We couldn't get it wrapped up quickly, like we wanted to, so hopefully we can do this year. Those two games hanging over our heads could get bigger and bigger, but I definitely want it wrapped up as quickly as possible.
Does it help that Torquay have been cast adrift and look like they will be going - that leaves nine or ten teams sweating on things but only one gap to fill?
Again, it's similar to last season. There were two teams in it, we were one of them and Aldershot were the other. Us and Aldershot were the two teams and then there were maybe three above us who were still involved. This time, I think there are three teams on 49 and then it goes up to Cheltenham on 51. That's basically into the top half, so it's very tight all the way down. There are some teams that haven't won in 10, that are in really bad form, and our form has been fairly solid. We've maybe lost three in 10, had a couple of wins and a good few draws. It's not unbelievable form, but hopefully it will be enough to keep us up.
You have to take heart from how you've been doing in recent weeks don't you - becoming hard to beat is no bad thing...
Absolutely. We've just been struggling for goals. We lost our top scorer - Michael Smith, who was on loan from Charlton and went to Swindon in January. He had got 11 goals and was our top scorer and the focal point of our team. It's been a real tale of two halves for most of the season. We have been trying to find our way a little bit as a group of players. The job that the manager has done in terms of the finances has been fantastic. It's been incredible because going in to speak to players, he must be really hamstrung when they are speaking to other clubs and they can offer a lot more. He has done a really good job, but probably as a group of players we have underachieved a little bit.
You say that, but you finished 20th last season so anything above that is a step in the right direction isn't it?
Yeah, it is. The highest points total for Wimbledon in the Football League is 53 points. It's just that I know the mentality of the players in the group, I know the quality that I see every day in training and I know about this league because I've been in it a few times, got promoted and been in good teams. I just feel like that myself, that we set our standards quite high. We have got players like Andy Frampton and Barry Fuller who are winners at this level and the level above. You set your standards a bit higher then. That's where I am coming from, but on the flip side of that we have spoken about the constraints money-wise and where the club has been historically. If we can top the 53, which is a record for the club, then it will be a ground-breaking season.
On the history front, it's important to keep things in perspective isn't it and realise that the club will only be 12 years old at the end of the season?
One hundred per cent. We're just looking at it to this point. The club and the fans have been brilliant and it's kind of just plateauing that little bit. We're sitting at the big table now with the big clubs. It's been an important season that way, that we've stabilised and the manager has put his print on the team, which he has done. With five games to go, we're looking to maintain our Football League status and that's probably what we set out to achieve at the start of the season.
Is that what the ambition has to be for the club at the moment, is there a glass ceiling it will be difficult to break unless extra funds are pumped in from somewhere?
It would be foolish if I said there wasn't. Obviously the fans run the club at the moment so that obviously limits things in terms of budget. I don't really know the details so I can't really go into it, but you can see yourself that if you look back over League Two in the last four years, the teams that have the biggest budgets definitely end up in the top four. People who have a good squad, a good team, probably end up in the top seven. You can look at Crawley, Scunthorpe, anyone who has gone up in the last few years, Rotherham, they are all teams with big budgets. It's obviously a factor.
There are areas to address in the summer aren't there - Jack Midson is a goalscorer, but he's only got four and that's one area you need to look at isn't it?
Yeah, it is. I'm not pointing fingers at the strikers, being the club captain, it's up to everybody to chip in as well. The second top scorer is probably Andy Frampton, I think he's on four as well. As I said, Michael Smith was an absolute diamond. As a find by the gaffer, that was incredible. He knew exactly what he wanted and went and got it. I have worked with plenty of young players who have gone up through the levels and he's got everything that's required to do that - temperament, attitude, and he was flying. I think he was on 11 goals come Christmas and if he had stayed, I have no doubt that he would definitely have been pushing for the league's top scorer. But when players do well they move on, that's the way it is. For the manager and the staff, the challenge now is to find two or three more diamonds and bring them into the club next year. That's probably the realm that the manager has to work in. It worked really well this year and hopefully it will do again next year.
What does the summer hold for you, are you staying?
Yeah. I had a clause in my contract for appearances, and I hit that mid-season. That triggered another year, so I'm delighted to stay on. Personally-wise in the summer, I'm doing my coaching badges, I'm doing my B, and I'm going to wrap up a journalism degree through the PFA at Staffordshire. That's finishing soon. That will be my summer!
Keeping yourself busy then, while keeping one eye on the future?
You have to when you get into your 30s. I'm 32 now and it would be silly not to. It won't go on forever, I know that and you have to start looking around now for other ways of bringing in the money - you have to pay the mortgage. That will be my summer mainly. I'll have a week up in Staffordshire with the degree. We'll maybe get away for a bit as well, go back home, and then come back in ready to go.