Keeping up
Oxford United goalkeeper Ryan Clarke discusses play-off frustrations and committing to the cause.
Last Updated: 09/05/14 3:02pm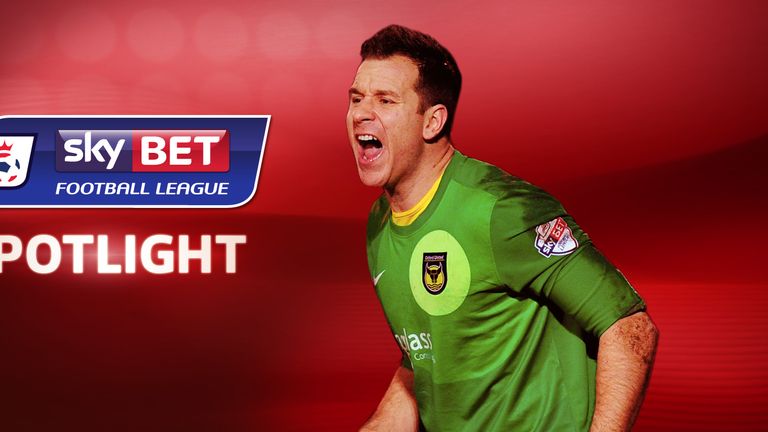 The 2013/14 campaign is now almost over, with only promotion issues to be decided.
Here at Sky Sports, we have endeavoured to take you to the very heart of the Sky Bet Football League over recent months, with our Spotlight features intended to give you a greater insight into the clubs and players that keep us on the edge of our seats.
We have looked to bring you the views and thoughts of a representative from each of the 72 teams over the course of the season, with those involved asked to give their take on the division they compete in, the club that pays their wages and those we should all be keeping an eye on.
Oxford's Ryan Clarke is next into the hot-seat, with the Us goalkeeper taking time out to discuss play-off frustrations and committing to the cause with Chris Burton.
A fairly obvious place to start, how would you sum up the season for Oxford as we look back on it now?
Frustrating, really. This year, we've gone from extreme highs to one almighty low. We had a good first-half to the season, being a couple of points clear at the top just before Christmas, to then going on a run which has been frustrating. But we've obviously had the new manager come in now and there is probably going to be a big turnaround at the club. I think there will be changes. Hopefully it will be for the better and what's happened won't happen again.
You've got to try and look at the positives haven't you - you put yourselves in the mix again - and then use those as motivation to go again next season?
Yes, we do. I think there is going to be a massive turnaround in the club over the summer, there will be a lot of changes, and hopefully the chairman backs the manager for the players he wants to bring in. Hopefully everyone comes back positive and there will be a few new faces. The manager will look to keep on a lot of the lads that are out of contract, but I'm sure there will be one or two changes either way.
There will be changes, but that's part and parcel of football isn't it and the intention is that you start next season stronger than you finished the last?
I don't think we can start it any worse! I'm pretty confident we'll do that because of the style of the manager we have got in charge. He's got a really good football philosophy. He knows results don't reflect too well on him at the moment, with the run-in that we had, but that was through no fault of his own, that's the players. He took over a team that was in a bad run of form and as a group we didn't dig ourselves out of it. I'm positive that with what the manager has put across to us and what he wants to do, that it will be a positive place to be next year. His CV speaks for itself, he's got a couple of promotions out of this league, so he's been there and done it. I'm sure that experience that he has got will stand us as a group of players in good stead.
This situation with missing out on the play-offs has happened a couple of times in the last few years, is it just a case of a long, hard season starting to take its toll towards the end?
I don't think so. I think, if I'm totally honest, we have had some rotten luck since I have been at the club. We haven't had a settled XI on a Saturday for quite a while. We've had so many injuries, to key players as well at some really important times. I don't think it's anything to do with the mentality at the club or the confidence of the players, I think we've just had some bad injuries at times. This season was more we went on a run and couldn't turn it around. But we've been there or thereabouts and I think we're due a time to stay there, albeit that should have been the season that has just gone.
Do you sometimes learn more from these situations than you do when everything is going well and life seems perfect?
I think so. I think you learn more about the players that you have got in the team. That's the main thing, because in terms of the teams that you are playing against every week, no disrespect, there is no massive gap in terms of ability, it's just a little bit of individual brilliance or that little bit of luck you get in games. But I think the biggest reason teams have finished above us is that they have tended to work harder than us, particularly at the back end of the season just gone. In the first half of the season, we were doing to teams what they were doing to us. You can't afford to take a step back, you have got to work hard all of the time. The first half of the season showed that we were working as hard as other teams, and it was paying off. But in the second half, teams were working harder than us and I think that is the main reason why we didn't get the results.
On a personal level, it's been a fairly productive year hasn't it - a new contract, and nice to get that done early and out of the way?
Yes, it was. The main aim for me at the start of the season was obviously just to get fit after the surgery I had on my shoulders. I wanted to get back fit and get my confidence back. Then it was a matter of treating every game as if it was your last because the operation scared me a little bit in terms of it could be your last game if you're injured. Fortunately that wasn't the case and for me personally, you have just got to treat every game as if it were your last and give 100 per cent in every game. Thankfully for me the performances came with that and I would like to think that my performances for the club earned my new contract.
With the surgery that you had, not too many players could come back from that in your position, so I suppose it makes you more appreciative of what you've got doesn't it?
Yes. The fact that it can call be taken away from you due to getting an injury or needing an operation is a scary thought. I have had a different mentality this year in terms of, once I was back fit, you can't afford to think about things, especially if they go wrong during a game, you can't dwell on it because it could be your last game. You've just got to get back out, concentrate on the next game and not let things affect you. Once I was back fit, it was about grabbing the opportunity. A career for a footballer isn't that long anyway, so you have to make the most of it and hopefully stay injury-free now.
Obviously you feel as though you are in the right place, you feel settled - with matters off the field to take into account as well, family etc?
Yes, I feel settled at the club. The main thing for me is that I want to win things now. I've had a couple of promotions, which seem quite a long time ago, with previous clubs and when I first joined Oxford. I'm at a stage now where next season is going to be massive. I want another promotion. It's all nice being settled at a club, but I want to have more than that. I want another promotion on my CV because you don't have much time in your career as a footballer and hopefully everything here behind the scenes is going to go in favour of helping us as a group of players, the manager, and hopefully gain that promotion next year.
For now, is it just about having a bit of a break, recharge the batteries - with a baby on the way - and then kick-on again?
Yes. I didn't have a break last year, I was doing my rehab all summer, so while I'm absolutely gutted that we didn't make the play-offs and the season isn't still going and has come to an end, I am looking forward to shutting my body down and giving myself a complete break. But at the same time, I'm looking forward to getting back in seven weeks - which seems like a long time, but I'm sure it will fly by and feel like it was a couple of days!