Matt Murray claims Carl Ikeme suffered racial abuse at Walsall in the past
Ex-Wolves keeper Matt Murray claims Carl Ikeme had suffered racial abuse in the past at Walsall, reports Rob Dorsett.
By Rob Dorsett
Last Updated: 13/03/14 11:03am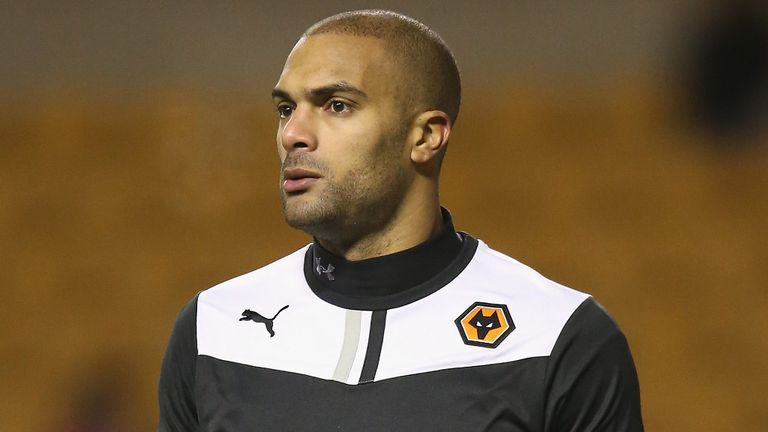 Murray says Ikeme felt compelled to speak out against the racist abuse he claims he suffered in Saturday's Black Country derby with Walsall, because he had suffered similar abuse at the same ground 20 months before.
Wolves made a formal complaint to Walsall and the Football Association on Monday after Ikeme reported he had been abused by a small number of individuals behind the goal at the Banks's Stadium in the second half.
George Elokobi, a substitute, claimed he was also a victim of racist abuse while he was warming up.
"I spoke to Carl on the phone after the game and you could hear the hurt in his voice," said Murray. "He should have been celebrating another clean sheet and a brilliant 3-0 win which kept Wolves top of League One. Instead, he was angry and shocked by the way he'd been treated."
Ikeme was understudy to Murray at Wolves for almost a decade after joining the club as a 15-year-old and the two men have been close ever since.
"Carl could hear the abuse very clearly from the pitch, so the stewards should have been able to as well. What was shouted is illegal, and immoral. It's so disappointing, because Walsall is a good club run by good football people, but a small minority in the crowd has tarnished their good reputation."
Murray says Ikeme has spoken to him about alleged racist abuse at the Banks's Stadium before, which he claims took place during a pre-season friendly between the two teams in July 2012.
"These people are cowards," he said. "Carl actually challenged them during that pre-season game to say the abuse to him again, to his face, in the car park after the game. No one turned up.
"It's time for the fans to start policing this themselves - if they hear racist abuse, tell a steward. It shouldn't always be down to the players to complain."
Walsall FC has promised that any supporter found guilty of such abuse, will be given a lifetime ban from the Banks's Stadium.
"What these idiots don't realise, is that the abuse actually spurs opposing players on," added Murray. "And it may actually cost their own club, if they get fined as a result. Even a small fine could cost Walsall dear, because the coaching staff there are great, and they're battling with a very small playing budget."
"It's scary that things like this still go on in football. Carl has a little girl, and I have kids too. We've got to change this ignorant minority's views, so that it isn't still going on when our kids are grown up."
In a statement today to Sky Sports News, Walsall FC said: "Walsall is a multi-cultural town and we do not tolerate discrimination of any kind.
"We work closely with 'Kick Racism out of Football' and our players regularly hold talks with local youngsters about the importance of social inclusion. We are unable to comment further on the allegations by Mr Ikeme as the matter is under investigation. However, we are taking this matter very seriously and have fully co-operated with the FA, West Midlands Police and Wolves."
Former Arsenal and West Bromwich Albion defender Brendon Batson, who has worked for the PFA, urged Walsall fans who heard the alleged abuse to come forward.
"There must have been other spectators who heard what was shouted," he said. "There is a process for dealing with these complaints which must now be followed. But even though there are now lots of anti-racism campaigns within football, we shouldn't be under any illusion that the problem has gone away."
Ex-Birmingham City and Derby County defender Michael Johnson is equally shocked by the alleged abuse. "It's disgusting," said Johnson, a former member of the FA's Inclusion Advisory Board.
"The West Midlands is one of the most diverse regions of this country, so this is particularly worrying. I'm sure the people involved, if they're from Walsall, have friends from different ethnic groups and so we must expose them, and embarrass them in the eyes of the public and their friends so that the community knows what these people are."
"You've got to applaud Elokobi and Ikeme for making this public," he added. "The law has to stand up and do something, because if the players don't have trust in the authorities that this sort of thing will be dealt with, they'll stop coming forward. If that happens, players may react differently on the pitch, taking the law into their own hands, and that's something we don't want to see."
Johnson has first-hand experience of racism. In 2000, specially-appointed bodyguards hurried him off the pitch at St Andrews in the middle of a match against West Bromwich Albion, after he'd received a hand written death threat from Neo-Nazi group Combat 18.
"Times have changed, and things are better," he said. "It's right that players now have the means of reporting homophobic, racist or other abuse to the football authorities.
"I'm sure this is a small minority of people damaging the reputation of Walsall's true fans. But we need to know who they are, and bring them to justice."