Swindon manager Paolo Di Canio is 'considering his position'
Paolo Di Canio is 'considering his position' as Swindon manager because of a rift with the board.
Last Updated: 01/02/13 9:59pm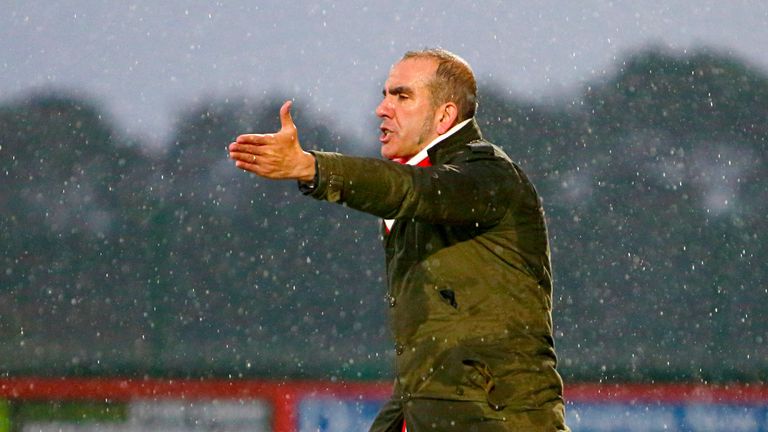 The controversial Italian was angered by the departure of winger Matt Ritchie - which he claims was orchestrated without his knowing - and is threatening to quit The County Ground as a result.
In a lengthy statement, Di Canio told the club's website: "It is with great regret that I issue this statement but unfortunately, the events of the last few days have left me with no alternative other than to consider my position and explain the reasons why. As ever, the great fans of Swindon Town Football Club deserve to know the truth.
"Without going into too much detail, our preparations for the game at Leyton Orient on Tuesday were severely undermined by an administrator for the club actively offering to sell our entire playing staff without any reference to me and contrary to the terms of my contract.
"We were assured that Matt Ritchie was going nowhere and money would be made available for the squad to be strengthened. Within an hour I received a phone call from Matt Ritchie telling me that the club had agreed to sell him and he was in the process of agreeing personal terms.
"I regard this as a clear breach of my contract with the club and moreover, a clear attempt to undermine my position notwithstanding the success we have achieved in the last 18 months. Matt Ritchie was sold behind my back.
"With the club selling one of our best players behind my back and continually making promises that are broken, I feel at this moment that my job is not just impossible but is untenable.
"Of course I shall remain professional and continue to achieve the best I can, but under these circumstances it is not easy.
"If it wasn't for the players and fans of Swindon Town, I would have walked away from this club a long time ago. I didn't because I was given repeated assurances that the project to achieve success was always in place and I wanted to deliver this for the players, staff and most of all, the fans of this great club."
The 44-year-old, who was a cult hero in his playing days with clubs such as Sheffield Wednesday and West Ham, took the Robins reins in May of 2011.