Paolo Di Canio has resigned as manager of League One side Swindon Town
Paolo Di Canio has resigned as manager of League One side Swindon Town over "broken promises".
Last Updated: 19/02/13 9:16am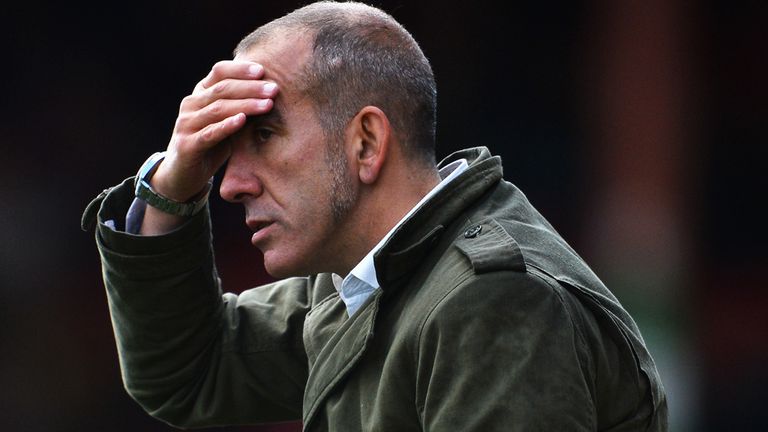 The 44-year-old Italian, who arrived in May 2011 after their relegation to League Two, released a statement to Swindon's Advertiser newspaper on Monday night announcing his decision following months of speculation concerning his future.
Di Canio insisted he would have remained as boss had the Football League agreed to the club's purchase by new owners by 1700 on Monday.
The statement read: "It is with great regret that I find myself having to make this further press statement. Last Tuesday, 12th February, I formally confirmed my resignation as Manager of Swindon Town Football Club with immediate effect.
"In my previous press statement on 1st February, I said that I was considering my future, as my position with the club had become untenable, after I found out that Matt Ritchie had been sold without my consent."
The club avoided administration after a takeover by a local consortium at the beginning of this month, but because the deal was yet to be ratified, the Football League refused to let three players join and winger Ritchie was sold to Bournemouth for £500,000 to raise funds.
Di Canio was upset with the player's exit and said at the time: "I am forced to consider my future as I don't know how I can continue to work in this environment."
Monday's statement in the Advertiser added: "There have been a number of broken promises made by the club. Despite these problems, I have delivered everything and more that was asked of me, by achieving promotion last year as Champions and competing this season for promotion to the Championship and being just 3 points from top place a year earlier than expected.
"I did not resign immediately, nor publicise my resignation after I had formally confirmed it, as I did not want to jeopardise the negotiations for the sale of the club and I wanted to listen to what the proposed new owners plans were.
"Following discussions, my representatives put forward a proposal that would secure my future at the club until at least the end of the season and quite possibly beyond as well. This proposal actually reduced the club's contractual liabilities to me in the interest of saving Swindon Town FC. At a meeting last Friday the proposed new owners accepted and said they were very happy with the new terms.
"I entered into a temporary arrangement with the proposed new owners to continue in my role as Manager but all this was agreed subject to Football League approval for the purchase of the Club being granted by 5:00pm on Monday 18th February.
"At the time of issuing this statement, I have had no further contact from the proposed new owners and I have been told that unfortunately Football League approval has not been granted yet and therefore my temporary arrangement has ended and my resignation stands."
Di Canio ended the statement by thanking the club's staff and players for their "professional behaviour and attitude "and the fans for their "incredible support".
When asked to clarify Di Canio's resignation, a Swindon spokesman said they were unable to expand on the statement.
The former West Ham and Lazio striker led Swindon to promotion as champions last season and steered them to the Johnstone's Paint Trophy final. They currently sit in sixth spot in League One - two points off the second automatic position.