MK Dons forward Alan Smith says he is unlikely to make the move into management when he retires
MK Dons' Alan Smith says he is unlikely to make the move into management when he eventually retires.
Last Updated: 25/09/12 9:22am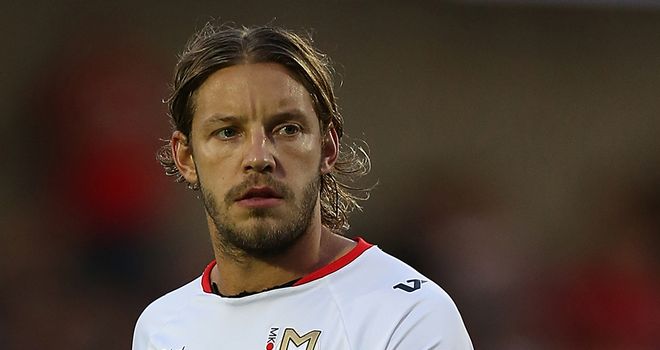 The 31-year-old, a former Leeds, Manchester United and Newcastle player, is plying his trade in League One with the Dons this season after enjoying a loan spell there last year.
Smith, who has seen his career blighted by injury, is eyeing the 500 appearance milestone before he hangs up his boots.
But the former England international does not see himself going down the management route.
"I might be too emotional to be a manager," he told the Daily Mail. "You love your players, don't you? And I'm not sure I could leave them out. I know how it feels.
"Hopefully I can finish my career here, play for another two or three years and get to more than 500 appearances. That would be good. I'm on 440-something now."
Smith admits he still feels the effects of the broken ankle he suffered while playing for United against Liverpool at Anfield in 2006.
He said: "If you saw me in the morning, you'd think I was 52 next month, not 32. But most people who dedicate their lives to sport go through this. Lots of players play with injuries. It makes you appreciate everything about this sport."
Ruined
He added: "My career was virtually ruined by my injury at Anfield and it was probably the biggest achievement in my career to play again, not only at the highest level, but at any level.
"When I look back, the injury made me a better person. Not a better footballer. There are deficiencies in my left ankle. It's probably 70 per cent different to my right. But, as a person, growing up, understanding what I'd achieved previously and making sure I tried to prolong my career, it really made me appreciate things."
Smith says his time on loan with the Dons last season reignited his love for the game and is targeting promotion this season.
"People might think I should have gone somewhere other than MK Dons but I had five months here last season and it relit my love for football," he said.
"The main focus is to get out of this division. Everyone here feels it's the start of something pretty special and that was part of the appeal for me."