Dave Jones felt some of his players were too keen to do well against MK Dons
Sheffield Wednesday boss Dave Jones was a frustrated man after watching his side held to a 0-0 draw by MK Dons.
Last Updated: 08/01/13 3:16pm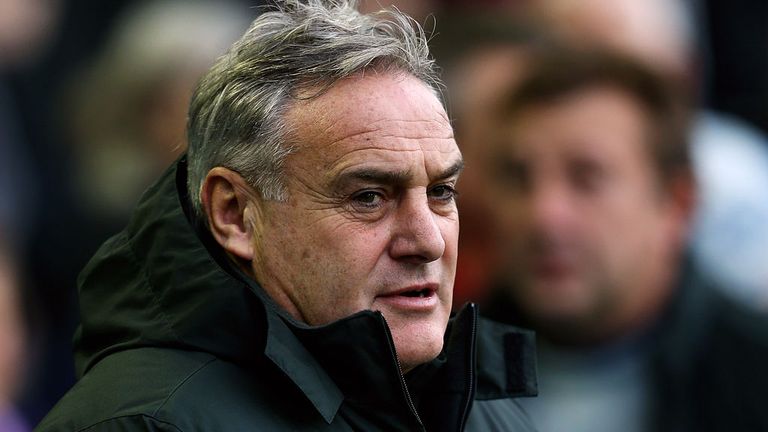 Championship side Wednesday had the better of the first half but it was League One MK Dons who went closest to winning it after the break, Shaun Williams hitting the post with a low shot.
Jones said: "If anyone was going to score, it was going to come from a set-play, it seemed.
"They had a spell probably a couple of minutes near the end when one or two flashed across, but nobody looked like they were going to score from open play.
"It was just frustrating because you want to do well. One or two (Wednesday players) looked a little bit nervous and took a safety option rather than risking a little bit more.
"Whether there's a little bit of fear here, I don't know. Sometimes you want to do too well, then forget and lose a little bit of focus.
"It was a hard-fought game and we're still in the tie, which is the important thing. If you're not going to win it, certainly don't lose it.
"We're disappointed but we've got another crack at it. As a player, you want to play. I don't adhere to the suggestion that we could do without another game."
MK Dons boss Karl Robinson thought his side were unlucky not to go through at the first attempt.
"I think we deserved to win," he said. "I thought the way we played was very, very good.
"To come to this great stadium - which is steeped in history - and put in a performance like that was nice to see.
"We had a lot of cohesion and a lot of strength. I really was pleased, especially as I had a number of youngsters in the squad.
"I see certain managers having to tinker with their team to rest one or two players but I have to tinker with it to play them.
"It's not that I'm tinkering with the team, it's just that I've not got a lot of choice. I'm enjoying it because it's a wonderful challenge for me.
"We try to conduct ourselves in a classy way and I think as a football club we've done that today.
"Dave Jones is someone I respect. I'm still learning my trade and I've got many years to try and achieve what he's achieved in his career."