MK Dons boss Karl Robinson wants to talk to Blackpool about manager's job
MK Dons manager Karl Robinson has confirmed he is willing to speak to Blackpool about the Bloomfield Road vacancy.
Last Updated: 15/01/13 11:33pm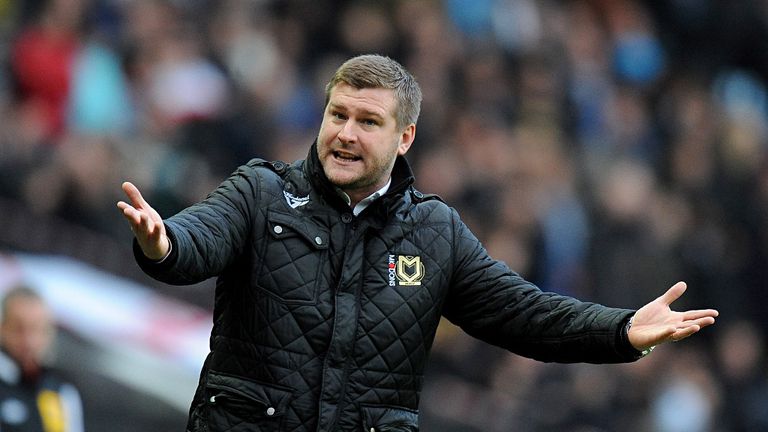 Blackpool made an official approach to the Dons to speak to Robinson in the build-up to Tuesday night's FA Cup win over Sheffield Wednesday.
Blackpool need a replacement for departed boss Michael Appleton, who joined Blackburn after less than three months in the job.
The Seasiders have already sought permission from Dundee United to speak to Peter Houston and those discussions are still pending, and Robinson has now emerged as an alternative candidate.
And Robinson admits he is prepared to talk to the Championship club.
He said: "I was being ill all day, I was at the doctor's this morning, struggling to make it to the game and then I was sat at home and I see on the
ticker 'Karl Robinson linked with Blackpool'.
"At that stage I wasn't meant to sit in the dugout, I was meant to sit in a room to watch the game because the doctor told me to stay out the way of everybody.
"But I thought I can't do that now because it will look a little bit suspect. All I do know is the chairman has asked for a meeting with me in half an hour and I'll know the truth then.
"I do believe something has happened but I don't know what it is - obviously I'll speak to the chairman then we'll see what happens from there really.
"I didn't want to know anything before the game because I think it's unfair to the football club.
"Whatever then happens I think it's then fair that my decision is made internally - that doesn't mean I'm staying or going, but Blackpool need to know first.
"My daughter is saying don't go because she likes her school!
"I'll show them (Blackpool) the respect they deserve but that doesn't matter what the decision is, I'll be in work as normal on Wednesday and I'm sure you'll know in due course."