MK only OK
MK Dons skipper Dean Lewington talks play-off frustration, personal milestones and contracts.
Last Updated: 27/05/13 11:41am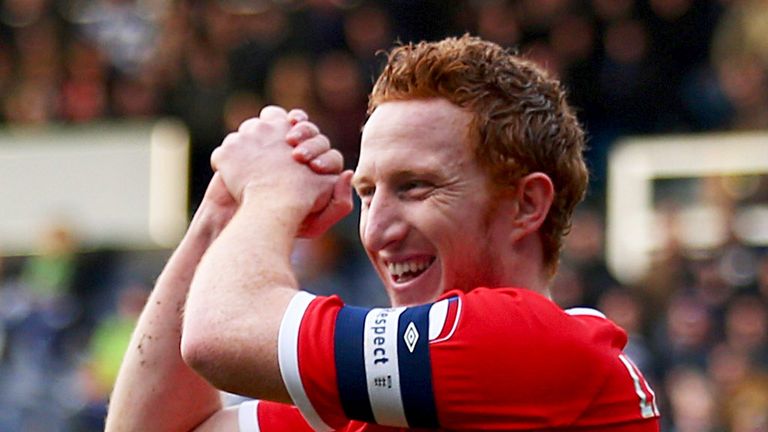 The 2012/13 campaign has entered the final straight, with promotion pushes and relegation battles about to reach a conclusion.
Here at Sky Sports, we continue to take you to the very heart of the Football League, with our Spotlight features intended to give you a greater insight into the clubs and players that keep us on the edge of our seats.
We are hoping to bring you the views and thoughts of a representative from each of the 72 teams over the course of the season, with those involved asked to give their take on the division they compete in, the club that pays their wages and those we should all be keeping an eye on.
Next in our hot seat is MK Dons' Dean Lewington, with the Dons skipper taking time out to discuss play-off frustrations, personal milestones and contract talks with Chris Burton.
Heading into the final game of the season, I take it there are strong feelings of disappointment and frustration within the camp?
Both of those. Probably frustration is the main feeling. It has been a shame really that we haven't managed to make it into the play-offs this year.
There was a run around Christmas and New Year wasn't there that dropped you out of the top-six and you never got back?
It was around the time of the cup competition. I think the cup games maybe disguised a poor bit of form in the league. By the time the cup run came to an end, we had slipped down the table and the games in hand that we had, we didn't win. We went from being in and amongst it to being way down the table. In that period, it really cost us. We had a strong start and quite a strong end, but it was that middle period that cost us.
There is an expectation around the club now isn't there after what you have achieved in the last few years?
Yeah, the last few years we have been consistently in the play-offs, in and around it every year. We have set ourselves that standard and people look to us as being one of the teams that will be competing each year.
And as players you demand that level of success from yourselves don't you?
Of course. Every player wants to do as well as they possibly can - be at the right end of the table, competing for the right things. It's not always as easy as that and best laid plans don't always happen that way. There have been a few ups and downs this year and that has left us a few points short in the end.
There have been a few surprise packages this season haven't there, and it's such a competitive division as well?
Yeovil are maybe the only surprise, really. Apart from that, I think the teams that have spent the most money are where their money suggests they should be. Bournemouth are a big-spending team, big wages, and the same can be said for Brentford and Sheffield United - the biggest spending teams in the league. It's not as easy as people think. Even though teams can be quite small, if they are getting backing from people, it forms a different picture. Bournemouth are one of the smaller clubs, but they have got the backing and that makes it very difficult to compete against.
The likes of yourselves and Tranmere started really well, but just weren't able to maintain it and have paid the price for inconsistency?
Tranmere were fantastic for the first part and have obviously faded. We have been in and around it, but we haven't really had a great run. We have had little fits and starts. That has been the main problem, that we haven't really had a great run at any point of the season. We suffered a really bad bit in the middle, we couldn't pick up wins, and you look at the table now and think if we had got just two wins then, that would have been enough to put us in the play-offs. That has cost us.
It's shaping up to be an interesting summer isn't it, because you can't stop other clubs looking at players, and possibly the manager?
Any lower league club knows that's the case. There are shorter contracts down at this level and that makes players available each year. That's part and parcel of football. The manager will be trying to get new players and do his business, and that's the way it will be. Let's see what the squad looks like when we come back for pre-season.
On a personal level, are you happy enough with how the season has gone?
My personal form has been okay. I have been pretty consistent in the way I play, so I have done okay. It's hard to be pleased when, as a team, you haven't done well. It's always tinged with disappointment when you know you haven't done enough to achieve what we wanted to at the start of the year.
You've passed 400 league appearances for the club, that's a nice milestone to have reached isn't it?
Yeah, it was good. It's a lot of games and a good achievement. I'm pleased to have done it. There have been a lot of milestones along the way and hopefully I can get to a few more.
Next year will be the tenth since the relocation, it would be a good year to do something special wouldn't it?
It will be the tenth year of being in Milton Keynes, the ninth year of the MK Dons. The club has come together well and the last few seasons, there has been a lot of work in the background - medical things, the stadium. They are all coming together now and knitted in to how we wanted them to be. We have to concentrate on the team and try to invest in the playing side of things. The club is a lot more established now and it would be nice to tie that in with some success. But it's going to be another difficult year. The league is very competitive and just because you have got a nice stadium, that doesn't mean you are going to do well. It will be another difficult season for us.
You've been a one-club man, over two different forms, are you hoping that remains the case?
We're in discussions at the moment with my contract and my preference would be to stay, but everything has to be right for that to happen. Let's see what happens in the summer. I have always been happy here, always enjoyed my football and hopefully we can get something sorted out.