Canaries remember Bond
Norwich on Wednesday night paid tribute to former City manager John Bond with a minute's silence ahead of their cup tie against Doncaster.
Last Updated: 26/09/12 9:18pm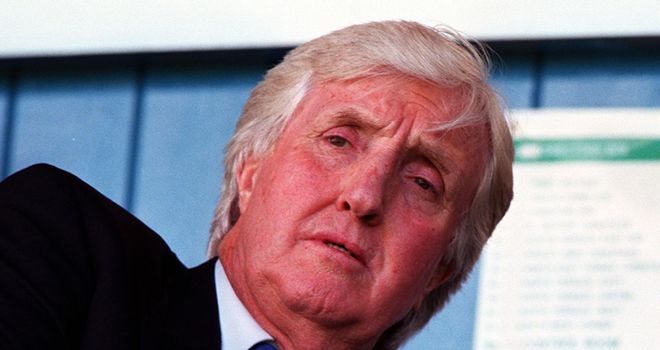 The Canaries held a minute's silence ahead of their Capital One Cup tie against Doncaster at Carrow Road, after he passed away aged 79.
Former West Ham defender Bond, an FA Cup winner as a player in 1964, started his managerial career with Bournemouth and led them to promotion from the old Fourth Division at the end of his first season in charge.
However, it was at Norwich during the mid-1970s that Bond developed into one of the game's most colourful characters, taking the Canaries back up into the top flight and to the 1975 League Cup final, which they lost to Aston Villa.
He remains the club's second-longest serving manager and was inducted into the club's Hall of Fame.
Norwich wore black armbands as a mark of respect, with the minute's silence impeccably observed around the stadium where Bond had overseen the team from 1973 until he left for Manchester City seven years later.
At City, he guided the team to the 1981 FA Cup final, which they lost to Tottenham after a replay in which Ricky Villa's famous solo goal proved the winner.
With Wednesday night's match not a sell-out, Norwich also plan to hold a minute's applause ahead of Saturday's Premier League clash against Liverpool.
A statement from Norwich said: "John Bond's contribution to Norwich City was massive and everyone at the club will miss him and wishes to pass on condolences to John's family - including son Kevin who made 161 appearances for the Canaries - and his many friends in football."
Former England midfielder Mark Barham was handed his Norwich debut as a 16-year-old by Bond against Manchester United in November 1979.
Barham said: "John Bond is a big loss to the football fraternity.
"He gave me my debut at just 16 - John just told me, 'Son, if you are good enough, you are old enough'.
"When John held a coaching session, everybody listened.
"Football has lost a gentleman and a scholar, who may have been flamboyant, but was an absolute diamond."
Manchester City also paid tribute to Bond.
City club ambassador and former player Mike Summerbee told BBC Radio Manchester: "I knew John from when I was 16 years old.
"I played for Swindon against him when he was at West Ham. We had some wonderful times off the field.
"He was such a lovely man and it's a very sad day.
"John was a football man, he knew the game inside out. As a person outside of football, he was a wonderful man.
"You could talk forever about his contribution to the game of football because he was so dedicated to the game and he loved the game so very much."
Bond also played for Torquay, and after leaving Maine Road in February 1983 he had spells in charge of Burnley, Swansea, Birmingham and Shrewsbury.
Howard Wilkinson, chairman of the League Managers' Association, paid tribute to the charismatic Bond.
"It is an extremely sad day for all his family, who have lost one of the few remaining people who spent their lives working mostly in the old Football League," he said.
"John was a real character with a great sense of humour and presence. He will be sadly missed."
Bond, born in Colchester, Essex, played 444 first-team games for the Hammers after coming through their academy, and was an ever-present as Ron Greenwood's side won the 1964 FA Cup with victory over Preston at Wembley.
Ken Brown played alongside Bond in the Irons defence and would later be his assistant at both Bournemouth and Norwich, before taking charge at Carrow Road himself and winning the Milk Cup in 1985.
On Wednesday Brown remembered his "special friend".
Speaking to West Ham's official website, www.whufc.com, Brown said: "John was a great character. He said what he thought and, at times, he riled people, but he was honest and felt he had to say what he felt had to be said, you always knew where you were with him.
"As a player, he was strong and I loved playing alongside him - but my memories are not just of a great team-mate, but as a special friend.
"We all knew he had been ill for a while - I checked in on him to see how he was doing, so it is very sad that he has now gone. I will miss him."