The FL72 Review with Peter Beagrie
Every Monday night the FL72 experts will review the Football League action on Sky Sports. First up, Peter Beagrie reflects on some of the key results from the opening weekend...
Last Updated: 25/09/13 12:07pm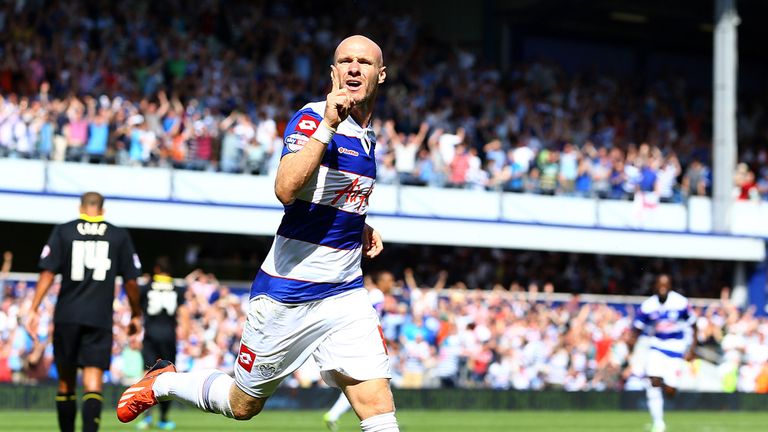 PETER SAYS: It was no coincidence to see Clint Hill throwing himself in the way of Sheffield Wednesday's goal and then berating everybody else because he knows the attitude has to be spot on. But QPR have ways and means of getting a goal. If you can score when you're not at your fluent best it can still bring a full complement of three points. The combination of Johnson and Zamora with the likes of Austin to come in shows the strength in depth that this team has got.
Reading 2-1 Ipswich
PETER SAYS: Reading have signed well. Danny Williams from Hoffenheim looks a good acquisition and Royston Drenthe can be anything he wants; a real character as described by Adkins. If you get him fit, as we saw at Everton, he can tear up this division. They came from behind and that resolution, solidity and spirit is what they need.
Barnsley 0-4 Wigan
PETER SAYS: Everybody will say this was the haves and the have-nots. Barnsley proved at the end of last season that when the chips are down they can play in a fluent and relaxed manner, but Wigan scored four goals through different scorers with a couple of debut goals as well. Grant Holt will score bundles in this division and I think Wigan are probably a better bet to entertain. By Christmas, if one of the sides are to run away with it then they could be the ones.
Burnley 1-1 Bolton
PETER SAYS: As far as Burnley were concerned, they were strong and organised although they will be disappointed with the goal they conceded. They'll probably be happier with the performance than the result, whereas the other manager, Dougie Freedman, when we spoke to him afterwards was happy with a point on reflection. In parts they played quite well, but it's quite debilitating when you lose players like Mark Davies and Stuart Holden.
Derby 1-1 Blackburn
PETER SAYS: Nigel Clough has torn up the blueprint at Derby and has gone more youthful, as a lot of managers have when they've got financial restraints. I think the Derby faithful are recognising that. Will Hughes and Jeff Hendrick have been given their opportunities by Nigel and they are flourishing under his tutelage.
Millwall 0-1 Yeovil
PETER SAYS: I don't see this as an upset at all. We all knew that Gary Johnson, going up into that division, would let his players go and express themselves. They all enjoy it, they all play with a smile on their faces. Huish Park might not be the biggest ground, but everyone sings and they generate an atmosphere there. Everybody has got on board the Gary Johnson bandwagon and he's just made for that football club.
Birmingham 0-1 Watford
PETER SAYS: It was business as usual for Watford. It was the same old faces as well. Matej Vydra hasn't come in, but Fernando Forestieri was playing in the deeper role and played in Troy Deeney who was outstanding last year. He's a great front-runner for them and is a guaranteed source of goals.
Bournemouth 2-1 Charlton
PETER SAYS: Lewis Grabban is now just around the corner from his old stomping ground of Crystal Palace and he's a real threat. He's strong good in the air and has a lot of individuality. He can score goals, but what he's added to his game is wanting to get on the ball, wanting to have a bearing and some desire and consistency that was lacking. He'll be a very big player for them. Three points on the board and another 135 to play for. It is going to be a long season for Bournemouth and several other teams because when you go past your starting XI it could be difficult.
Leeds 2-1 Brighton
PETER SAYS: Ken Bates. Love him or loathe him, Leeds have got a football club because of him. Now that he's gone there's an extra few thousand on the gate and in a packed house with that incredible atmosphere it's great to go and watch football there. There are three new acquisitions including the goalscorer Luke Murphy, who is a midfield player who can grab a goal. Matt Smith is a big aerial threat, but they genuinely lack some width and that's something Brian McDermott would like to add plus maybe another centre-half.
Sheffield United 2-1 Notts County
PETER SAYS: I was very impressed with Sheffield United. They had a great unbeaten pre-season and made a lot of acquisitions. They played really fluently and reacted really well after Notts County, who didn't give in all game, equalised. But Sheffield United always had a gear to go up into, they expressed themselves, made them defend the width of the pitch and made use of the extra man.
Crawley 3-2 Coventry
PETER SAYS: At 2-0 down it would be easy for Coventry to feel sorry for themselves and I must admit they were backed by an incredible number of fans, even though a few unfortunately let them down with their frustrations. It would be easy for them to bury their head in the sand and go under in this situation, but they got back to 2-2 and lost right in the last minute. There's reasons to be cheerful for Steven Pressley.
Fleetwood 3-1 Dagenham & Redbridge
PETER SAYS: I think the outstanding League Two team were Fleetwood. We wondered how well the recruitments would gel with seven new acquisitions in there, but there were three goals from debutants. In Ryan Cresswell and Mark Roberts they've got real leaders and Jeff Hughes is a long-striding left-sided player. They look like great signings for the football club.
Newport 4-1 Accrington
PETER SAYS: How often have we seen it where teams coming up from non-league football on a sound basis have momentum and belief? They've made some great acquisitions and Chris Zebroski is one of them, who can score goals and play in a wide area. The manager Justin Edinburgh has got his first opportunity in the league and wants to grasp it with both hands. They don't want to be hanging around above the relegation zone. They want to make a real statement.
Is your team not featured above? Don't forget you can see all of the Football League goals here on skysports.com every week.
Sky Sports subscribers can sign in to watch FL72 - Review here