Pirates setting sail
Bristol Rovers keeper Steve Mildenhall discusses reversal in fortunes, late goals and academic studies.
Last Updated: 27/05/13 11:49am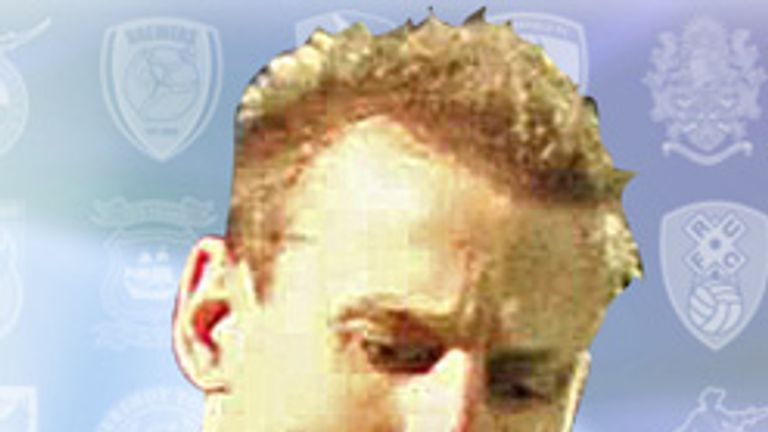 The 2012/13 campaign is about to enter the final straight, with promotion pushes and relegation battles now in full swing.
Here at Sky Sports we continue to take you to the very heart of the Football League, with our Spotlight features intended to give you a greater insight into the clubs and players that keep us on the edge of our seats.
We are hoping to bring you the views and thoughts of a representative from each of the 72 teams over the course of the season, with those involved asked to give their take on the division they compete in, the club that pays their wages and those we should all be keeping an eye on.
Bristol Rovers' Steve Mildenhall is next in the hot-seat, with the on-loan goalkeeper taking time out to discuss reversal in fortunes, late goals and academic studies with Chris Burton.
Things have really come together over recent weeks - what, if anything, has changed?
I only joined the club on 1st January, so I can't really speak for what happened before. I know the gaffer, John (Ward), had been in for a week or so and made a couple of signings. We got off to a win on the first day that I was there and we have just been working on shape, working on discipline, working on being hard to break down and hard to score against. I think we are bearing the fruit of that work, really. We have got some very good technical players here, some lads with real ability, and I think that has shown. Once we tightened things up at one end, we have gone on to score quite a few goals against teams that were flying high in the division.
So things have changed since you came in? You must have made the difference!
I'm not going to take the credit for that. I came in, Mark McChrystal was signed permanently from Tranmere, John-Joe O'Toole came in on loan from Colchester, Ryan Brunt has come in from Stoke the last couple of weeks. I think that's helped and the new manager has had time to imprint his philosophy on everyone and I think that has shown in the six games we've had since the turn of the year - we have won four, drawn one and lost one, against top of the table side Gillingham. But after that game we were bitterly disappointed we didn't get something out of it.
John Ward deserves plenty of credit doesn't he, as he has come in as someone who knows the club and helped to turn things around?
The gaffer has managed this club before so he knows what the supporters are after and he knows how the club works. It's hard to talk about what went on before because I know nothing about what went on before, but I can speak about what has happened since the gaffer has come in. We have worked hard on the training pitch on our formation, keeping our shape, being disciplined and working hard to stop people from being able to break us down. With the ability we have going forward, it's worked well.
The division is so tight isn't it that even after going on a positive run there is no room to relax?
We are, at this moment in time, four points clear with a game in hand on most of the people around us. At the time that I came in, we ended up going rock-bottom and then with our little run we have dragged quite a few people in with us. It's so tight, from where we are, it's only 11 points from the last play-off place. I'm not saying by any stretch of the imagination that's what we are looking, but the division is so tight that 11 points brings you from where we are, four points clear of relegation, to being in a play-off place. The results that we have got, the results that we have put together, we have put a run together and you never know what that can lead to.
You have also had a bit of luck haven't you? You've picked up a useful habit of scoring late goals.
Some people will say luck, but I'm sure if you speak to Sir Alex Ferguson at Man United, and all the times they have scored late on, he'll tell you that it's about working hard and not giving in. I think that's the way we look at it. You can probably say that once is lucky, but to do it in two consecutive games now... Barnet we led for long periods and looked comfortable, but then they went and equalised and the lads could easily have dropped their heads and said 'oh well, we've thrown the three points away and we're only going to get one', but they didn't, no-one gave up, everyone kept persevering, we did it the right way, we weren't gung-ho and being silly because we knew that at worst we could get something out of the game, but we went on and scored that winner. The same the other night. We played well but couldn't seem to get that opportunity to score a goal. Again, the lads haven't given in and it was literally the last five seconds and we are throwing things at them, everything bar the kitchen sink, I was about to come up for a corner but the gaffer was screaming at me not to. We didn't give up and Oliver Norburn has picked the ball up, he's let fly and it's gone in the top corner. I would say that's through our hard work and our belief, the fact that we haven't given up right until that final whistle.
It's going to be hard work over the next couple of months isn't it, with the games set to come thick and fast?
We have got this game Saturday and then I don't think there is a game the following Tuesday, but after that we have got a few Saturday-Tuesdays coming up where games have been postponed. But I think most players will say that it does take it out of you, but you want to play games. When it's Saturday-Tuesday they take care of themselves and you don't have a lot of time to train. The games come thick and fast, so you look to get hold of it and play your football. We need to keep that mentality. Have we put a good run together, yes, but that means nothing if over the next six games we don't keep that same application, the same desire, the same work rate and the same belief. If we don't, we will find ourselves back in the bottom two and looking to get out of that again. While we are away from that now with a little bit of a gap, we still have a game in hand on a few, we need to take full advantage of that and the way we play and the application we have put into games.
Having got a taste of life in League Two, what do you feel it takes to be successful at that level?
Not only at this level - at a lot of levels, from playing in the Championship last year and seeing the games this year - if you're organised, disciplined, know your jobs and are hard to break down, have a strong foundation, then you can breed success. Luckily we have got a team that technically, with the ball, we are very good. I don't know what happened before, but if you are tight and don't give many goals away, it sounds pretty basic, but if you do that then you give yourself a chance to win football matches. I think that goes right the way through this division and up to the Championship. If you look at Championship teams, they are well organised, hard to break down and any team that does that will breed success in any division.
Who at Bristol Rovers has really impressed you since you came in?
The whole group I have been very impressed with. There have been a few younger, fringe players that have done well. Ellis Harrison made his full debut for us against Fleetwood and set up a goal, then came on against Rotherham, he's only a young lad. He never shuts up talking, but he looks a good prospect. They have to keep working hard. There have been plenty of players that we've seen at a young age with potential, but if they don't have the right application they fall by the wayside. He's one, but there are a few. Oliver Norburn, Eliot Richards, there's a nucleus of some young players here that really are very good football players. When I say it surprised me a little, I don't mean that in a bad way. When I came into the team on loan, they were second from bottom and without knowing too much about it you think 'okay, there must be some sort of problem there'. But I came into the building and have seen the ability that's been shown to me over the course of the last six weeks and I was very surprised. There is a lot of ability at the football club.On a personal level, you are only on loan at the moment so what does the future hold?
As far as I am concerned, I came here to play football because I'm in the last year of my contract. I wasn't playing at Millwall, my contract is going to run out and I can probably say now that my time at Millwall is done. For me it was no good sitting around training every week but doing nothing at the weekend, just picking up my wages. There is no point in doing that. I am 33, I have always played at most clubs I've been to and the reason you play football is to play week in, week out. For me, it was important that I came out and played some football and I'm really enjoying it at the moment. I am just taking it week by week, keep playing until the end of the season and concentrate on making sure that Bristol Rovers stay in this division. Then we will take things when it comes to the summer and see where my future will lie.
You are keeping yourself busy off the field as well aren't you with a journalism course?
Hopefully I will graduate this summer. I have done it through the PFA, in conjunction with Staffordshire University. There is a few of us on the course that are doing it, it's a sports journalism and broadcasting course. I would love to stay in the game coaching-wise, I've take my coaching badges, and I would love to stay in it as a goalkeeping coach. But if I don't, then the next best thing is certainly going around commentating on or writing about sports events. It does interest me and it has been a really enjoyable course. Hopefully, unless I do something drastically terrible over the next four months, I should graduate in the summer.
Finally, what is the rest of the season about for you?
It's just about enjoying my football, getting out there, getting games under my belt and then we will take what may come over the summer, we will deal with that when it comes. At the moment I am really enjoying being at Bristol Rovers, I am enjoying working with a great bunch of lads, a great coaching group and a great bunch of supporters.