Pirates quest
Bristol Rovers loanee Chris Beardsley talks playing for your future and keeping busy off the field.
Last Updated: 21/02/14 1:21pm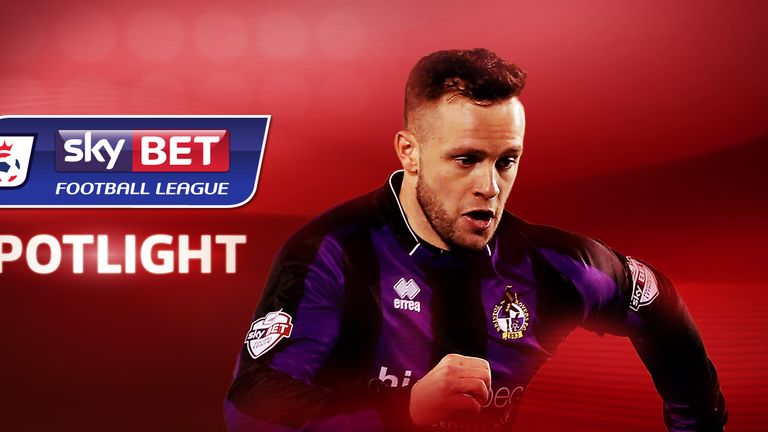 The 2013/14 campaign is now past the halfway stage, with divisions beginning to take shape.
Here at Sky Sports, we will look to take you to the very heart of the Sky Bet Football League over the coming months, with our Spotlight features intended to give you a greater insight into the clubs and players that keep us on the edge of our seats.
We hope to bring you the views and thoughts of a representative from each of the 72 teams over the course of the season, with those involved asked to give their take on the division they compete in, the club that pays their wages and those we should all be keeping an eye on.
Bristol Rovers' Chris Beardsley is next into the hot-seat, with the on-loan frontman taking time out to discuss playing for your future and keeping busy off the field with Chris Burton.
I take it that it was an easy choice for you to stay in January and that you are enjoying your time with Rovers?
Definitely. I needed to go out and get some football. I spoke to the manager in early November, I had a month and settled in quite well, then I got that extended for another month. I then got suspended for three games in December, so didn't really get much football in. The gaffer came to me and said, 'We want to take you until the end of the season', so it was good for me to know where I was and I've been getting some first team football.
It's all about game time isn't it and this deal appears to be beneficial to all parties - Bristol Rovers, Preston and yourself?
It is. I'd gone a while without much competitive football and it's surprising how long it takes to get back into the swing of things at a competitive level. Reserve team games and games behind closed doors don't really give you an accurate level of where you are at because you can't ever recreate the first team environment and pace of the games.
Is your focus now just purely on the run through to the end of the season, because I suppose there is a bit of uncertainty surrounding your long-term future?
Yeah. My long-term future appears to be away from Preston. I'm looking to see if there is maybe something long-term here, or somewhere else that might come up between now and then. At the minute I'm just enjoying my football and getting minutes under my belt.
It's something to worry about further down the line isn't it, with survival being the obvious priority at the minute?
It's game by game, really, not get too stuck in the situation that we're in. We just have to try and win the next game. I think that's the best way to look at your football full stop. If you sometimes get too far ahead of yourself, you lose what is right in front of you.
You're like most sides in the bottom half aren't you, you're always looking for that consistency - and that's why you are where you are?
Definitely. This league is as competitive as I have seen in many, many years. The boys at the top have obviously got a bit more consistency about them, because they have got more points on the board, but from eighth down to 20th-21st, there is not much in it at all points-wise and results-wise. I think we have got to really go and try and string a few results together and kick on. There is still quite a long way to go.
It is very tight isn't it, there is possibly still half the division that could get dragged into the basement battle?
Yeah. I think there are a lot involved in it. It will be all about looking after ourselves, not worrying about anyone else. At the end of the day, you can't affect anything else.
You've given yourselves a bit of a platform to build on haven't you - positive results in the last two, especially against Oxford?
In all honesty, we haven't been losing lots of games. It seems to be that we're not turning our draws into wins on a more consistent level. And the odd games that we should be coming away with at least a draw, we are losing through a sloppy goal or a mistake. We played Accrington at home a few weeks back on the back of beating Newport on the Saturday, we dominated possession and attempts on goal but lost to a sucker-punch in the 90th minute when we should at least have been coming away with a point. They are the games and the improvements that need to be made. We need to be winning those games 1-0, not losing them 1-0.
You've got some big games coming up as well haven't you, tough ones in your next two and March could be pivotal for everyone with so many fixtures to take in?
Obviously because of the weather, there are going to be teams that are playing back-to-back between now and the end of the season. It's going to test players and squad depth definitely, physically. On that front, we're in quite a good place. The gaffer has gone and got attacking experience, which was needed, and that's going to help us a lot more, in terms of strength in depth.
What have you made of the standard of League Two as a whole since dropping back down, has it improved since you were last at this level?
I wouldn't say it's raised, I would say that anyone can beat anyone. It's maybe a bit more of a level playing field. The only team that I have really thought were head and shoulders above everyone was Chesterfield, and maybe Rochdale in the second 45 minutes when we played against them. Apart from that, everyone has been much of a muchness. We took four points off Oxford, that tells a story in itself. We definitely have to be better away from home as well, that's another area where we can improve massively.
You only have to look at the likes of Phil Brown and John Gregory - former Premier League managers - now working in League Two to see that standards are trying to be raised from the bottom up aren't they?
Yeah. You can also look at the amount of players dropping down because of the foreigners at the top level. A lot of young Premier League players, or ex-Premier League players, are filtering down through the leagues. I would definitely say it's more of a level playing field and anyone can beat anyone.
On a personal level, are you setting any targets from this point in? It would be nice to open your account in the league wouldn't it?
Both goals I've got have been in the FA Cup, so yeah. I just want to help the team try to win as many games as possible, really. I can't get too far ahead of myself and want to play as big a part as I possibly can. When I was suspended it was more frustrating than anything. Being fit but not being able to contribute, as a footballer it can drive you mad at times.
It is always about the collective but for you, with the summer coming up and possible free agency, you've got to try and put yourself in the shop window as well haven't you?
Yeah. As a footballer, you have got to look at where you fit into the team, your role. Sometimes you have got to be unselfish and do what is best for the team and hope that in doing that you will be noticed for that. Sometimes players can be more selfish and it backfires on them because the team suffers and then they are seen as a player who hasn't made a positive impact.
Away from the field, are you keeping your eye in with the journalism stuff or is that something which has been out on the backburner for now?
I've been doing a bit. This summer I'm starting my UEFA A badge, so that's going to take priority. My wife is expecting a child as well in nine weeks, so I'm otherwise engaged! With the journalism, I do bits and bobs and have spoken to a few people about it and have been able to find a bit of media work whenever I can.
Chris Beardsley was talking to Sky Sports on behalf of Sky Bet, the Title Sponsor of The Football League.
For a wide range of match odds and specials on all Football League matches and a £5 free bet every week, go to skybet.com.