Posh push
Peterborough's Tommy Rowe discusses finding form, managerial stability and personal achievements.
Last Updated: 27/05/13 11:08am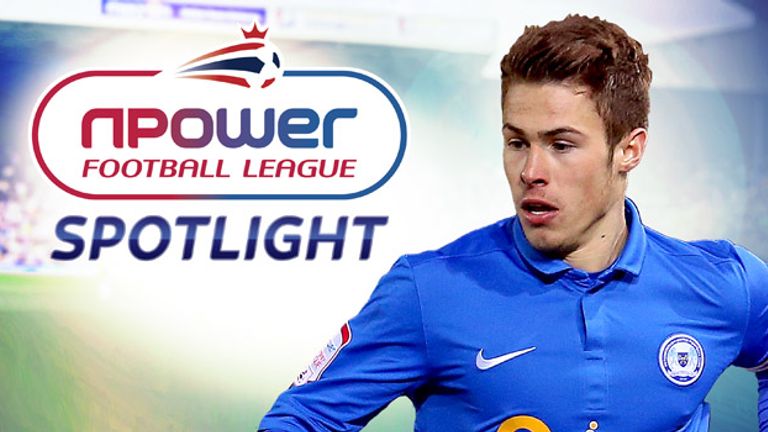 The 2012/13 campaign is about to enter the final straight, with promotion pushes and relegation battles now in full swing.
Here at Sky Sports, we continue to take you to the very heart of the Football League, with our Spotlight features intended to give you a greater insight into the clubs and players that keep us on the edge of our seats.
We are hoping to bring you the views and thoughts of a representative from each of the 72 teams over the course of the season, with those involved asked to give their take on the division they compete in, the club that pays their wages and those we should all be keeping an eye on.
Next in our hot seat is Peterborough's Tommy Rowe, with the Posh skipper taking time out to discuss finding form, managerial stability and personal achievements with Chris Burton.
I take it you are delighted with the response the whole squad has offered over the last few months after finding yourselves in a tricky situation?
Definitely. I think that has been the main key to our success at the moment, we are all pulling in the right direction and keeping the confidence throughout the squad. If we can continue that, then we can only get stronger.
You have only suffered four defeats since mid-December, what's changed?
I think it's the belief. We always believed that we could get that sort of form. We knew the ability in our squad was more than capable of getting them results. We had a bad start to the season, but the gaffer instilled the belief into us and we are back where we thought we should be.
Do you start to play with more freedom in some ways when you find yourself in trouble, because things can't get much worse?
Definitely. We couldn't have had a worse start, with seven defeats, so the pressure kind of goes after a few of them. For the lads, it was home and away games that we would go into with no pressure. Nobody was watching us, so the lads had a bit of freedom and that worked to our advantage.
Are you disappointed to still be in the bottom three given everything you have achieved of late?
There have been a few games where you could say we deserved to take a few more points but, in hindsight, the run of results we have had, we know we can push on from now. We see ourselves getting out of the bottom three and into a safe position.
You look at the clubs you have taken points off - Cardiff, Leicester, Leeds etc - you have shown what you are capable of haven't you?
The thing with that is, we have respect for every team in the division but we show respect and we understand that every game is just as important to get points out of. For us, we see every game as winnable. As difficult as it has been, we look at Cardiff at the weekend and know we have to take three points. In our position we can't falter in that.
You have got some big games to come haven't you - Cardiff, Middlesbrough, Watford, Brighton - you can't afford to relax and take your eye off the ball?
No. That's one of the reasons why we appreciate that every game is just as hard as the next. There is no way of saying that there is a team you can take points off. In my eyes, you just have to try and take as many points off as many teams as you can. That's the way we will look at it and we start with that against Cardiff on Saturday.
The club deserve a lot of credit don't they for sticking by Darren Ferguson - stability is key when the going gets tough?
All the lads fully back the gaffer. The chairman and everyone around the club does too, and we have the support of our fans. That group of people who are close to you have really got us over the line, and we all believe in the gaffer's philosophy and everything that he wants us to do on the field. In the last part of the season you can see that has come to fruition for us.
That's the whole philosophy of the club now isn't it, doing things right - they have just reported a profit and there aren't silly decisions being taken anymore?
No, there aren't. You have to take small gambles on players that deserve a chance, but other than that we look at the club and the philosophy is to get young players who want to go and learn and makes themselves better. Throughout the team we have got players that are thriving on each other's confidence and are trying to show each other that we can be a better team and produce some wins along the way.
On a personal level, are you happy enough with how the season has gone after a difficult start?
It was quite a terrible season for me at the beginning, having gone through one of the longest injury droughts that I have been through. For me to come through that and to have enjoyed some of the wins that the team has been able to produce has been fantastic. I just hope it continues and we see ourselves clear.
You've been involved in promotions and relegations with the club, where would staying up rank in your list of achievements?
It would definitely be at the very top of my list. It's one thing to win promotions, but when you are in this league and you know how much it means to me as an individual and to all of the players, it's something special to be involved in. We don't want to let go of it, we have had a taste of it and we are here to stay now. We know we have to fight for it with everything that we have got and if we continue to do that, I'm sure we will be safe.
You all want to be able to call yourselves Championship players don't you, you don't want to get into the summer and be thinking about life back in League One?
Nobody wants that. As much as those in League One will be looking at who comes down, we are hoping that we will be the team that proves everyone wrong. Everyone has written us off from day one in this division and said we will be relegated. For us, it's about proving people wrong and, more importantly, proving ourselves right that we have the capability of staying in this division.
Finally, who has impressed you this season - the likes of Dwight Gayle who have come in and impressed right away?
Definitely. Dwight has been very impressive considering that he has come from that non-league background. There have been other players coming through, young players like Joe Newell and even Michael Bostwick at centre-half, who has had to change position to help the team. He has done fantastic, but all through the team we have got players coming in with confidence and that is definitely good for the club.