Wembley wait
Peterborough striker Britt Assombalonga discusses the need to put JPT final thoughts to one side.
Last Updated: 20/02/14 4:22pm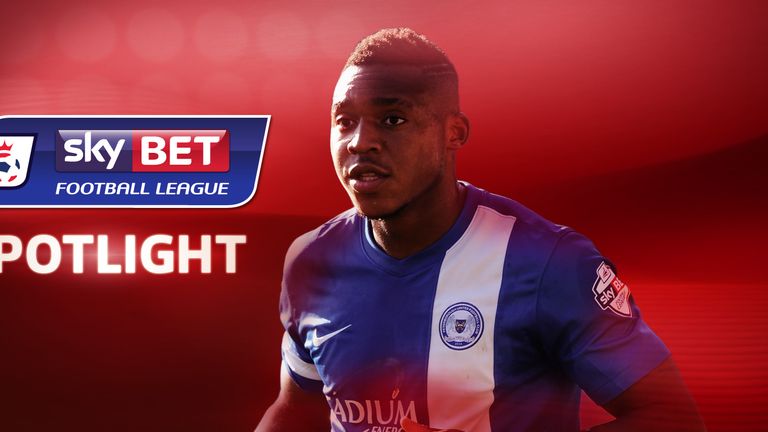 The 2013/14 campaign is now past the halfway stage, with divisions beginning to take shape.
Here at Sky Sports, we will look to take you to the very heart of the Sky Bet Football League over the coming months, with our Spotlight features intended to give you a greater insight into the clubs and players that keep us on the edge of our seats.
We hope to bring you the views and thoughts of a representative from each of the 72 teams over the course of the season, with those involved asked to give their take on the division they compete in, the club that pays their wages and those we should all be keeping an eye on.
Peterborough's Britt Assombalonga is next into the hot-seat, with the Posh striker taking time out to discuss the importance of putting Wembley dreams on hold as a promotion push gathers pace with Chris Burton.
It's been a good week hasn't it - any week that involves booking a day out at Wembley is a good week?
Definitely. It was tense playing at Swindon in the second leg. Actually getting to Wembley...it was the best feeling ever.
It's just reward isn't it for taking the JPT seriously, these incentives are there if you put everything into it?
You want to win trophies. As a team you want to win trophies and as an individual. To get to the final, we are now one game away from winning a trophy.
Is it something you spoke about as a group, taking the cup competitions seriously while looking to piece together a promotion push at the same time?
Yeah, we said that at the start of the season. We said that we want to win the JPT and get promoted as well. Obviously we wanted to get automatic promotion, but at the moment automatic is a bit of a long shot. But we're in the play-offs so if we can get another trip to Wembley, that will be good for us. The win to get us to Wembley, I think that is really going to push us on and get us promoted.
So you feel that the top two may have gone now - 15 points, even with a couple of games in hand, is a lot to make up isn't it?
It is a lot. They would really have to slip up. But football's football and anything can happen. They might go on a blip like we went on. Leyton Orient, they have lost a few. I know they beat Stevenage the other day, but teams are going to have blips. We had ours and this is going to be the most important part of the season.
You have had your wobbles haven't you, that must be frustrating because you started the season so well?
I know. The manager always says that we haven't turned into bad players overnight. It's just about mental strength and I think all of that is coming back to us now. I think the togetherness in the changing room has got even better, especially when we were going through a hard time. Everyone is sticking together.
You're going to need that in the next few weeks aren't you because Wembley is still a long way off, you've got a lot of games before that and you need to put it to the back of your mind?
Definitely. That's gone, we've done what we needed to do to get to Wembley and now there are no other cups in our heads, it's just straight league. We just have to focus on that, keep our heads down and when the day for Wembley comes, the day for Wembley comes.
You've got eight games to come before then and March looks like it could be a big month doesn't it?
March has got so many games. A lot of games have been called off and now we've got to play them in March, but everyone will look to keep fit and all the staff will make sure that we do the right things after games to keep us all fresh.
It's going to shape your season, though, isn't it - you will either be cemented inside the top six or playing catch-up?
There are a lot of games and it could go two ways. You can slip-up and other teams can catch up with you, but it's just about focusing on your games and don't lose them.
On a personal level, you took your tally for the season to 24 in midweek - you've got to be happy with that haven't you?
Definitely. I never thought I'd get 24 at the start of the season, but this season now is about going with the flow. I need to take every game and every goal as it comes.
There was a bit of pressure wasn't there as the club's record signing, but you seem to have handled that really well...
When you have got that in your head, everyone expects you to go and fire straight away. I think scoring on my debut, that relieved a lot of the pressure for me.
It must be nice for someone like you to come into a Peterborough side that is renowned for scoring goals - they've had the likes of McLean, Mackail-Smith, Boyd, Gayle in the past?
Definitely. I'm a striker and I want to be known as a goalscorer. Having the backing of people calling me a goalscorer, that has given me a confidence boost.
What is it about Peterborough? Why are you such a free-flowing, goalscoring side?
I don't know. I think attack is just the best form of defence.
You have lost Lee Tomlin, but there is an opportunity now isn't there for someone else to step up and fill that creative void and help you out up top?
Obviously he was a big player, a big player at this club. It was sad to see him go, but that's the football life. When you do well, you tend to move on. He has done well over the years helping the strikers to score goals, he's the assist man, but there are good enough players here to fill in.
Britt Assombalonga was talking to Sky Sports on behalf of Sky Bet, the Title Sponsor of The Football League.
For a wide range of match odds and specials on all Football League matches and a £5 free bet every week, go to skybet.com.