Testimonial time
Wycombe's long-serving midfielder Matt Bloomfield discusses the past, present and future.
Last Updated: 19/12/13 4:51pm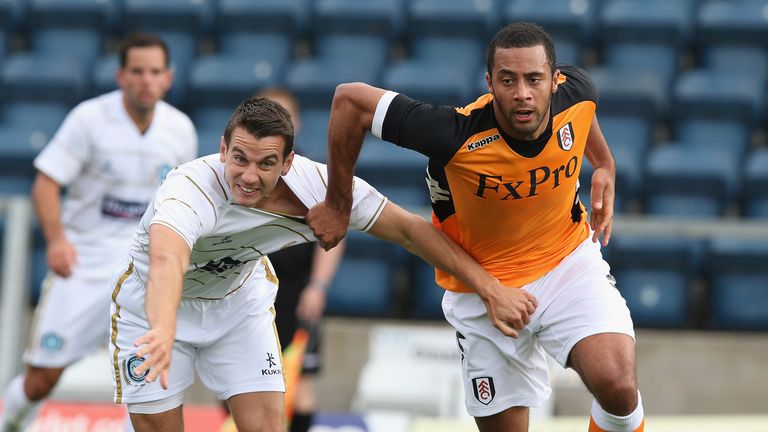 The 2013/14 campaign is now well under way, with divisions beginning to take shape.
Here at Sky Sports we will look to take you to the very heart of the Football League over the coming months, with our Spotlight features intended to give you a greater insight into the clubs and players that keep us on the edge of our seats.
We hope to bring you the views and thoughts of a representative from each of the 72 teams over the course of the season, with those involved asked to give their take on the division they compete in, the club that pays their wages and those we should all be keeping an eye on.
Wycombe's Matt Bloomfield is next into the hot-seat, with the long-serving Chairboys midfielder taking time out to discuss the past, present and future with Chris Burton.
You're about to enter your testimonial year, it's a good time to sit back and reflect on what you've achieved - are you looking back with happy memories?
Yeah, I'm looking back with lots of happy memories and with pride still being here 10 years later. It doesn't happen very often in football that people stay at one club for 10 years, so I'm looking back with pride and a lot of happy memories of the good times that there have been over the years.
You're right, it doesn't happen very often in the modern game, is that a reflection of loyalty both on your part and on the part of the club?
I think it is. Obviously the rewards are there if you move around, you can demand a higher wage to be brought into a club, so you don't usually find that players stay at clubs for 10 years very often. But I'm delighted that I decided to stay. There were a couple of times when I could have moved on, but I've always decided to stay. Equally, as much as it's been loyalty on my part, it's also been on the club's behalf. For instance, last summer when I had spent a year out injured and they backed me to get myself fit again. It's been a mutual thing over the last 10 years and I'm very proud that it happened.
When you first came in, you had just been released by Ipswich, did it feel like home right away? Did it feel like somewhere you could stay for a long time?
It was weird because I never expected to stay this long, obviously, but at the same time, I walked through the doors and felt at home right away. I felt comfortable and immediately had a good feeling about the place, but I never realised it would lead on to 10 years. But right away I felt comfortable and at home and that's how it's been throughout the 10 years.
You've had highs and lows, promotions and relegations, do you feel that you've experienced the whole package, the full rollercoaster of emotions?
I would say it probably has been a rollercoaster. The promotions, the relegations, the cup run that I had, there have been the highs and the lows and it has been a proper rollercoaster over the 10 years and I certainly wouldn't change it for a second.
What does 2014 hold for you, will the testimonial plans be keeping you busy?
It will be a busy time, really busy. I'm really excited. There have been some preliminary plans, but nothing can be officially put in place until I've served my 10 years - which will be 23rd December. Once that date has passed, I can actually put some official things together. I'm hoping to have a golf day and maybe an end of season game, or a pre-season game, and also a supporters' evening at the club. There are going to be three or four functions and I'm really excited to share the year with the supporters of Wycombe, my family, and really enjoy it. Things are going quite well for us on the pitch at the moment, as a club, so hopefully things can develop on that side and really make 2014 a year to remember.
On a personal note, I take it you are just delighted to be back out there at the moment aren't you after a year out?
Yeah, I am. I'm absolutely delighted. It was a long year and it was very arduous at times, it was really tough. To be back out playing football, to be back out on the training ground every day and be back out on a Saturday afternoon playing football, it really does mean a lot to me. I'm delighted to be back and feeling great in myself - long may that continue. I have hopefully got lots of happy years of football still left in me.
You are doing well at the moment, you've made a decent start, but there is still a lot of work to be done isn't there?
Of course. It's a very tough league, I know that well as I have played in it for a lot of seasons. Everyone can beat everyone else at times and it's whoever can put the best run together. We had two defeats, but now we've won on Saturday and we won in the Johnstone's Paint last week so we're hoping to start another little run. It's going to be a tough season, everyone knows that, and there are a lot of clubs who will be hoping that, come the end of the season, they are in the top seven places . We're one of them, so we'll see how things go and see where the season leads us. But we've had a solid enough start and given ourselves something to build on.
The top seven has to be the target doesn't it - 15th last season, I take it you all felt that was a bit of an underachievement?
I think first and foremost we want to make sure that we beat last season's finish. If we can get into the top-half of the table, then all well and good and anything from there can maybe lead on. If we can get into the top-half, that would be great. Who knows, come Christmas time, if we are still looking good, we might be able to build on that. But it's a long season in League Two and we need to keep everyone fit, keep key players fit at the right times, and who knows where the season will take us.
You're still in the JPT as well, are you taking that seriously?
Of course. We're taking that very seriously. We have got a tough game against Swindon in the next round, which will not be easy at all, but we beat League One opposition in the last round in Bristol City - who are a very good team - so we're taking that seriously as well. If we approach every game in the right frame of mind, you never know where it can lead you. A few years ago, in the League Cup, we had a bit of a run in 2006, so the Johnstone's Paint is something we would like to do well in as well. But we know full well that we have got a tough game at Swindon, they have got some good players so it's not going to be easy for one second, but we are looking forward to it.
And keeping yourself busy off the field - you had the trip to Africa in the summer, ambassadorial duties at the club, doing some writing - you don't like to stand still do you?
I don't. I get bored easily so I like to keep myself busy. Kenya was just the most wonderful experience, the most amazing week and something I would like to do again. I have got the little bits of writing I do on the side and I graduated from my degree last year, so that's good, and there's the ambassadorial stuff at the club as well. I like to keep myself busy. I know how lucky I am to do the job, something I dreamt of doing and something I love doing, so I try and make the most of what I can every day.
Do you feel that you have to make the most of the social standing that footballers enjoy and try to give something back in any way you can?
Yeah, 100 per cent. We are very lucky. You can try and help in certain situations, and that's what I try to do. The Premier League players can do so much more, but even in League Two you can still help a little bit. I do genuinely feel that I'm so lucky to do the job that I've always dreamt of doing, so I try to give back in any which way I can. That's my way of feeling that I'm giving something back for being so lucky to be a footballer.