Bees buzzing
Barnet keeper Graham Stack discusses basement battles, working under a legend and putting down roots.
Last Updated: 27/05/13 11:49am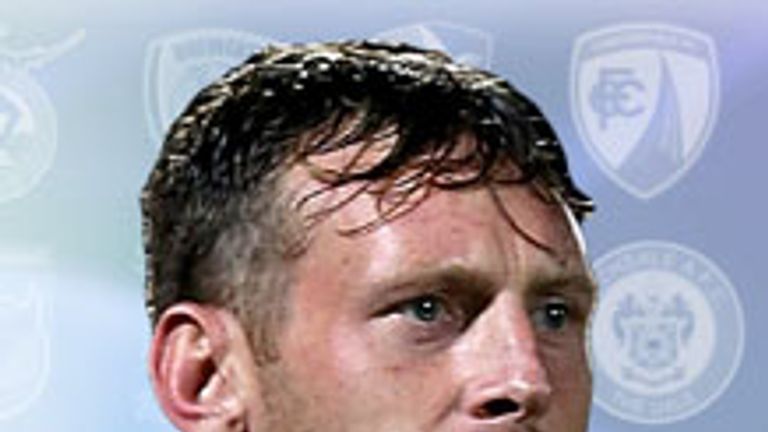 The 2012/13 campaign is about to enter the final straight, with promotion pushes and relegation battles now in full swing.
Here at Sky Sports we continue to take you to the very heart of the Football League, with our Spotlight features intended to give you a greater insight into the clubs and players that keep us on the edge of our seats.
We are hoping to bring you the views and thoughts of a representative from each of the 72 teams over the course of the season, with those involved asked to give their take on the division they compete in, the club that pays their wages and those we should all be keeping an eye on.
Barnet's Graham Stack is next in the hot-seat, with the Bees goalkeeper taking time out to discuss basement battles, working under a legend and putting down roots with Chris Burton.
How disappointing have the last couple of results been given that it appeared as though things were starting to pick up?
They have been two disappointing results. In this league if you get beat back-to-back defeats, all of a sudden you find yourself back in trouble. We have been on the flip side of that and had good runs, won back-to-back games, and you feel as though you are clawing your way out if it. The Burton game, they are doing well and are in the play-offs, we knew that was going to be a tough game, but having played them before and beaten them we were quite confident going into it that we should have got something out it, but having gone behind to a penalty after five minutes it was a bit of an uphill task for us. Away to Bristol Rovers, 8,500 supporters at a bottom of the table League Two clash spoke volumes for the size of their club really, and it was a massive game. You almost felt as though it was a six-pointer, in regards to where we both are in the league table, and it was disappointing to lose that late on after getting ourselves back in the game with a minute to go. Unfortunately we lost concentration and it proved very costly. We are very disappointed to have lost those games, definitely.
Things don't get any easier do they, with top of the table Port Vale next up?
We've turned over Rotherham away, we've turned over Gillingham away, we have beaten Bradford this season, we've beaten Burton this season, we beat Chesterfield away 1-0. In terms of playing the top sides, we seem to have done better than against the teams down and around us. Unfortunately for us, it seems to be when we have played the teams in and around us, the games you need to pick points up in, we have been disappointing. Port Vale are top of the table and probably, from what the lads have told me because I didn't play against them at the start of the season after not being signed in time, they are by far and away the best footballing side in the league, by all accounts. I think we play some good stuff, so it makes for a very good game. They have obviously got a lot going for them, top of the table, while we have got our own battle going on at the bottom of the table. There is a lot up for grabs for both teams at the weekend, so it should make for an exciting game.
It's so tight at the bottom, you only need a couple of positive results don't you and you will starting pulling clear of trouble?
I hate doing it, but it's natural that you keep an eye on other team's results as well. We played Friday night, so Saturday you are half glued to the TV and hoping that the teams in and around you don't pick up three points. We have had weeks like that before, where we beat Rotherham away, or whoever it may be, and after the game you want to know the results and you hear 'they've won, they've won' and you think 'urgh'. But the flip side of that is, had we gone to a place like Rotherham and not picked up three points then you'd feel really down and feel a lot worse. But you've won and expected to pull away, but then the other teams around you have picked up points as well. Over the course of the season these things tend to even themselves out, but it is concerning when you see the likes of Bristol Rovers the other week go to Fleetwood and win 3-0 and see AFC Wimbledon sign in the window Gary Alexander, someone who should score them goals. That's sending signals out there that everyone in the mix at the moment is giving it a go.
What is the mindset at the moment, is it about breaking the rest of the season down into manageable chunks?
I've always said that you have to take it a game at a time, you just have to do little groups - maybe four or five games at a time. You play Saturday-Tuesday-Saturday-Tuesday, you have got little groups of games which you look at and probably set yourself a target of nine points, or seven points, or whatever it might be. I think we've done that. We have probably exceeded expectations at times, with the teams we've played and the results we've got, but having lost two on the bounce we now need to assess it, look at the upcoming fixtures and try to take out of them what you can. We have gone on runs before, we have kicked on and we have kept clean sheets. Up until the game at the weekend, we hadn't conceded a goal in open play since Dagenham away, which was mid-December. That speaks volumes for us as a team. We conceded three or four penalties in that time, but they are little things. There have been improvements, no two ways about it, with the way results have been and in the performances. I don't want to make out that we have been playing some great stuff and not got results from being unlucky, but anyone who was at Bristol Rovers on Friday night would be very complimentary about the way we play football, and I think we have done that all season. That's not to say that will win you games. When you are down there fighting, you would be happy to win not playing pretty stuff, that goes for everyone, but we are trying to do it right. That's something Edgar Davids has tried to install, he wants to get away from just getting results, he's determined to do it by playing football.
What's it like working under Edgar Davids? A bit surreal, I imagine.
It's good. Since he's come in there has been a change. Unfortunately for us we lacked that bit of luck at times. I felt Robbo (Mark Robson) had a lot go against him - that's nothing to do with the club, that was just the way results went. We didn't get the rub of the green, but Edgar Davids has come in and everyone has bought into what he's trying to do. He's got such an aura, a presence, and he's been there and done it - he's one of the top 150 players of all time. He has got nothing but the utmost respect from his fellow team-mates. When he became manager, he has been in and out of the role because of the position he is in as player-manager, he has got that respect. There is that line with him that you know you don't go across, and he has installed that in our team. The discipline side to it he is very adamant on, application in training, sloppiness, he has got extremely high standards and that is something I want to have and want to aspire to, to hit the highest standards possible. With him being there, with his proven record, it is only a good thing for the club.On a personal note, you must be enjoying it having just signed a new three-year contract?
Obviously I was over the moon. The gaffer has come in and made me captain as well, which is a real privilege. I'm delighted not only to represent the club but to do it as club captain. My first season, only halfway through, and to be given that is something special and I'm really proud to be able to do that. As well as that, to be given a three-and-a-half-year extension, again was brilliant. I feel it is something I have worked extremely hard for and been rewarded. I'm 31, I'm no young pup, but at the same time I have probably got my best years ahead of me. It's nice to be more settled now because in recent years for me and my family it has been very much upheaval, there have been a lot of loan moves and I've travelled around the country, up to Scotland and out to Belgium for a year. It's nice to find my feet and my target for my time at Barnet is to achieve some success during my time here, be that promotion to League One or a great cup run, whatever it might be. At this moment in time I couldn't be happier. I would like to be in the play-offs, but that's not the case. I'm enjoying the challenge.
There aren't too many three-year contracts knocking around in League Two, so you must be delighted with it?
That's right. The chairman has gone out of his way. The manager did play a big role in getting that done. It's not to say there weren't other people out there enquiring, there was and it would be wrong of me to say that. But, I was only interested in staying at Barnet and I made that clear to the manager and the chairman. I was extremely happy, my kids had just started new schools and we just had my fourth child with my wife as well, so it just felt like the right time for me to put some roots down. With the length of it, it suited all of us. From a personal point of view, I feel as though I have played really well this season and people don't always get rewarded so it has been nice to get that recognition.
You have been fortunate enough to spend your career competing at a high level, so what have you made of League Two?
I have gone from being involved in the Premier League, through the Championship and gone on loan to a few Championship clubs, to finding myself up to Scotland and from there missing League One and coming straight into League Two. People ask the question of how I would compare it to the SPL and it's a tough one really because for me Celtic are country miles ahead of everyone else up in Scotland, not only for financial reasons and the supporter backing, but for the football team. It's a very competitive league League Two and I think the quality is underestimated at times. There are some very good players at this level. The thing for me that stands out is how capable everyone is of beating each other. Port Vale have been the standout team but they lost to Wycombe the other night. It's a very competitive league and one where you go into every game, whether it be home or away, knowing that on any given day you can go and turn over anyone.
Finally, who at Barnet has caught your eye and deserves plenty of praise for their efforts so far?
I think we have got a few. I don't like to pick individuals out because I think that's unfair, but in the team there has been a massive, massive improvement from what I initially saw when I came in. I think we have grown as a group together. The younger lads we had in the squad earlier in the season that probably weren't quite ready have gained valuable experience and as a team, from where we are now to where we were at the start of the season, we have come a long, long way. I think we have put ourselves in a very good position to kick on and get ourselves out of trouble.