Kevin Blackwell hoping Bury can come through their financial crisis
Bury manager Kevin Blackwell has told Sky Sports of his hope that the club can pull through their financial crisis.
Last Updated: 10/04/13 3:40pm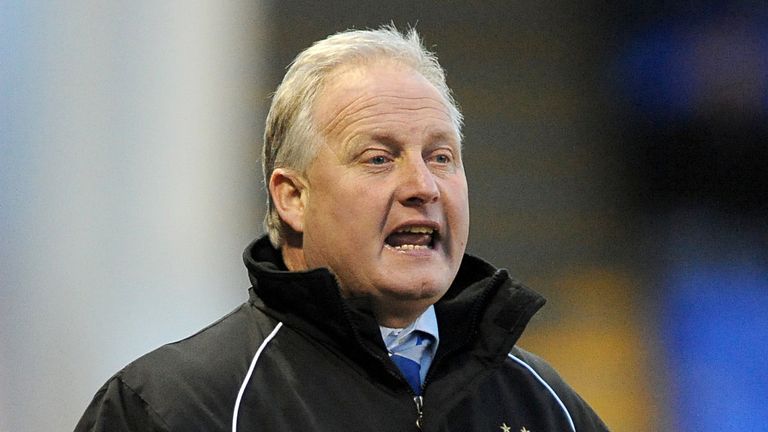 The club say they are in a critical financial situation and the board has pleaded for investment from local businesses to raise £1million to prevent Bury from being closed down.
Bury were given a short-term loan by the PFA but that money is now running out and Blackwell is hoping they can pull through.
"I think as players and manager we have to get on with what we see and there's not a lot we can do with the finances off the pitch and we have to try and get results on it," Blackwell told Sky Sports.
"But it is difficult with the transfer embargo, and being unable to bring players in. But it is important that the club survives and we do what we can."
Crowds have dropped at Gigg Lane this season and Blackwell admits it has been hard.
"It has been a difficult long winter, the weather has been terrible for everyone and trying to get fans in when you're down the bottom doesn't make it any easier," he said.
"But we are at a point where we all have to rally around the club as the statement issued today says if there isn't enough financial support there will not be professional football at Gigg Lane.
"It is a frustration for everyone concerned, and everyone is focusing on Bury Football Club. If you lose your football club it is a massive blow to the community and I hope the people of Bury realise this.
"I came here six months ago and found out six weeks in that the finances were not what I thought they were...and we have to work hard to keep it going and work hard from there."
Blackwell insists a number of clubs could find themselves in a similar situation and he thinks the Premier League could send more money down the system.
"We are talking about Bury Football Club but we could be talking about a number of other clubs. Finances are very tight in football and the credit crunch has caught up with the game," he said.
"Every Premier League club gets £35million next year. If everyone put £1million aside and every club in League One and Two got half a million each out of that then that would go a long way to sorting out the problems.
"We have to look at the finances in football further down. A lot of clubs send their young players down to the likes of Bury to develop."