Shaking things up
Bury defender Pablo Mills discusses the promise of an exciting future and finding the right fit.
Last Updated: 28/04/14 5:24pm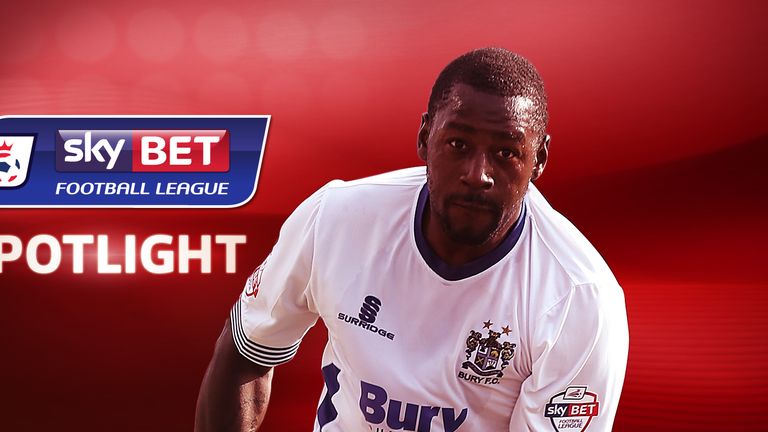 The 2013/14 campaign is now entering the final straight, with divisions beginning to take shape.
Here at Sky Sports, we will look to take you to the very heart of the Sky Bet Football League over the coming months, with our Spotlight features intended to give you a greater insight into the clubs and players that keep us on the edge of our seats.
We hope to bring you the views and thoughts of a representative from each of the 72 teams over the course of the season, with those involved asked to give their take on the division they compete in, the club that pays their wages and those we should all be keeping an eye on.
Bury's Pablo Mills is next into the hot-seat, with the Shakers defender taking time out to discuss the promise of an exciting future and finding the right fit with Chris Burton.
It was some game at the weekend - a 4-4 draw with Portsmouth - what was that like to be involved in as a player?
It was a weird one. We were comfortable and then there were 10 minutes when it ended up 4-4. It was bittersweet - our last home game of the season and not being able to finish off strongly with a win.
It was just one of those days wasn't it - conceding three times in the last 10 minutes is never nice, but these things happen in football don't they?
Yeah. Like I say, it was a bit strange - from being comfortable to conceding three goals in a short space of time, but these things do happen. It was just disappointing that we couldn't get the win.
You've had a few games recently where you've had late goals - scoring or conceding - you like to keep things interesting don't you?
No, for me personally I don't like it! I prefer the boring 1-0s, 2-0s, those games give me the most satisfaction. It's all about winning, and that's what we have been trying to do.
Since you arrived in January things have gone really well haven't they - you must have been surprised to find that they had struggled a bit early on?
Yeah. I don't know too much about Bury's situation, but after I heard of the interest I started asking around and people were saying it's a good club with the potential to go forward. The new manager that came in, he's got a good vision of how he wants to play the game, and that suits me. It's gone very well. It makes you think what would it have been like had it been the same since the start of the season?
I suppose you don't want the season to end do you in some ways?
Definitely not. I think I've hit good form and I think the team has hit good form as well. Things are going well. It would have been nice if there was a bit of an extension and who knows where we would have ended up, but it's not to be this season so we'll push on next year.
You've got one game left and the opportunity to finish ninth, that's not a bad season is it?
No. They were fighting relegation in January when I came in, a few months back. To finish ninth is a good effort. We got close to trying to sneak into the play-offs, so we've come a long way. It's been a weird one since January, but it's been a good journey. It's going to be interesting and it's going to be exciting for next season.
It's going to be a big summer isn't it, you always get plenty of comings and goings at that level with short contracts etc?
Yeah, it will be interesting to see the players the manager brings in. Like I say, he's got his own vision of what he wants and what kind of player he likes. It will be really interesting to see who he gets in.
At that level, without the big budgets, it becomes more about management doesn't it and bringing all of the right pieces together?
Definitely. You aren't going to get teams paying half-a-million for players, so the managers at this level really have to earn their money a bit more - managing players, improving them, bringing them on and trying to mould them into the way they want them to play. Since I have come in to Bury, the manager has been able to do that. All credit to him.
You've signed on for another year so you obviously feel that you are in the right place...
Yeah. Since I came in early January, it's felt right. The manager has made me express myself and played the way I've wanted to play for most of my career. He's had that faith in me and confidence in me and I think I have repaid him with the form I've shown. He's repaid me by playing me in every single game since I've been here.
Was it just about finding the right fit for you - it was only a short-term thing at Rotherham at the start of the season and you needed to find something else?
When I went to Rotherham, I was struggling for a club - I didn't have a club. I went to Rotherham at first just to train and keep fit. It just so happened that I got myself a short-term deal there but I was under no illusions that I was going to walk in there and play every week. I was just happy to be at a club and work every day and be able to train. I played more than I thought I would, to be honest. I thought I did myself justice in the games I played in and I gave my all. Then, I've come to Bury and the manager has had faith in me by playing me in every game and it's brought me on again. I've always known what I can do, but you only get consistency like that by playing games. I've had that here and it's starting to show.
It must be a nice fit at Bury - you've got a young manager, a few experienced heads in the side and a few youngsters as well, there's a good mix?
Yeah, there is. The manager is sure about what he does and what players he wants to bring in around the team. He has got a great mix of experienced players and youngsters and he's brought us all together. The club as a whole, everybody is on the same level and is trying to push forward. It's got a real homely feel. You can talk to anyone and it's a nice place to be around. It's a club where I have been able to express myself and that's shown in the form that I have been producing on the field.
You've seen plenty of League Two in your time, do you feel as though the standard has improved down the years and what does it take to be successful at that level?
It's getting tougher. Obviously every season there are good teams that come down and those that come up from the Conference. It's always been a competitive league. I've had promotion from this league and it takes a good squad, team spirit and a manager that believes - and players that believe as well in promotion. That's going to be our sole objective for next season.